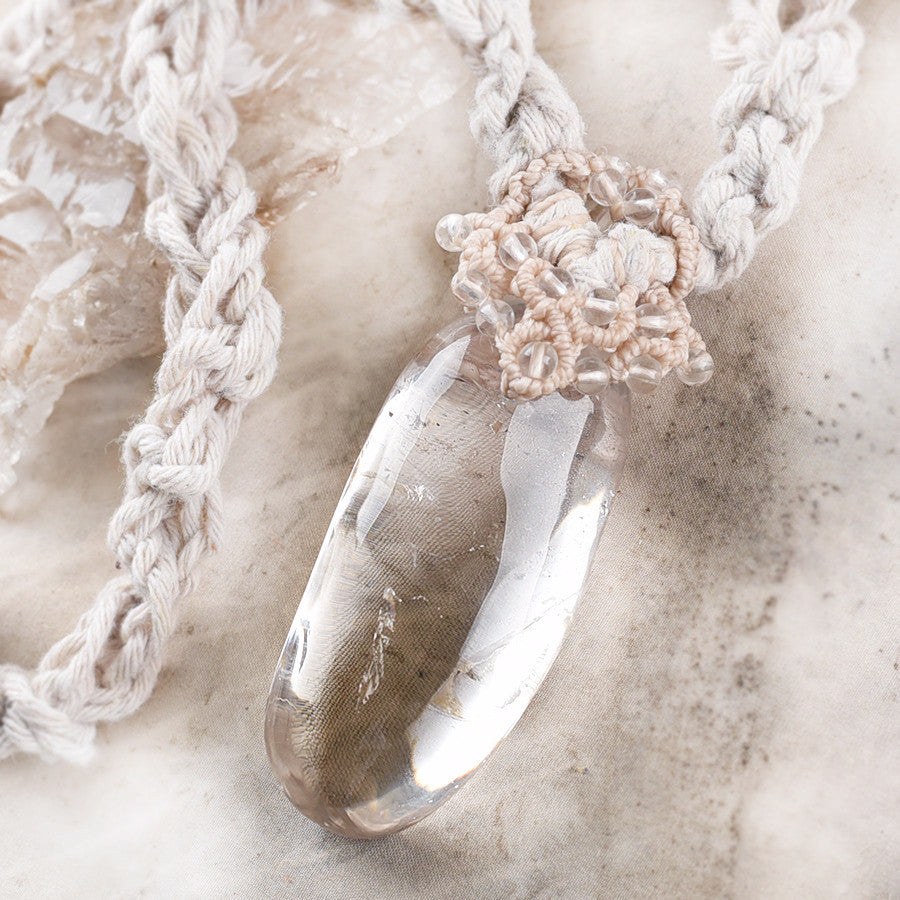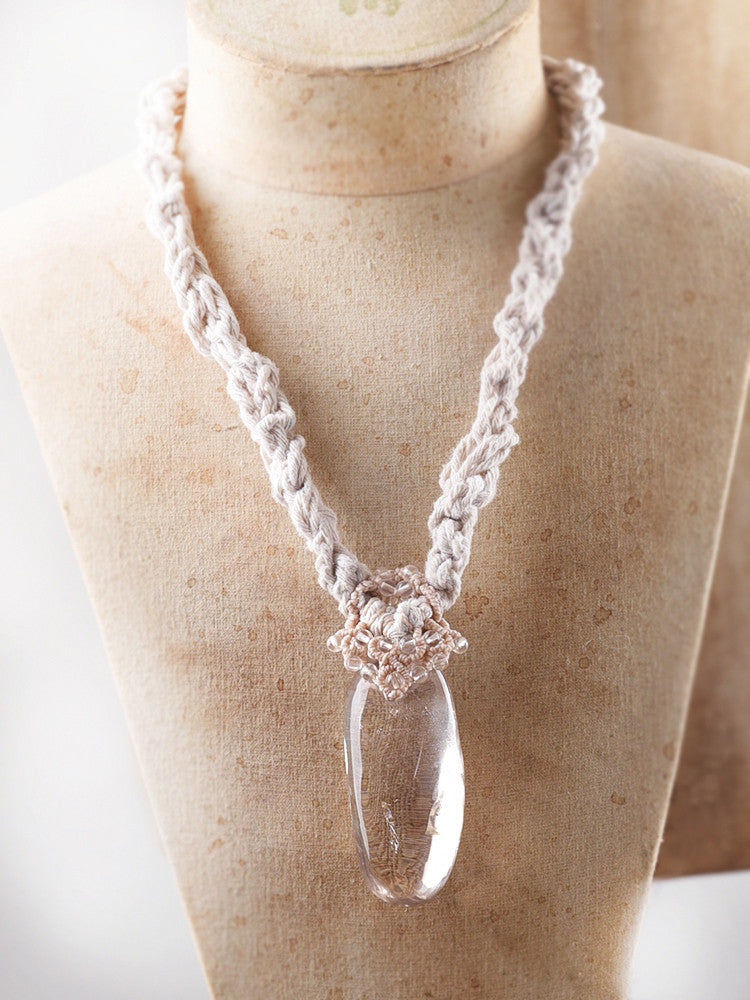 Clear Quartz crystal healing talisman in chunky cotton chain
DESCRIPTION
Ice clear, with a few whisps of crystalline landscape within, this polished Quartz pebble truly is a one-of-a-kind beauty. This smooth crystal attaches to a chunky cotton necklace chain with an intricate knotting in natural white micro-macrame cord, highlighted with small Quartz crystals. The chain is fully plied by hand with soft and thick unbleached cotton yarn, purposefully uneven in texture to create a natural, organic feel.

The chunky chain is just under 2 cm (0.8") wide, so perfect for those who love a larger style, an eye-catching statement necklace even though in light colour tone. This would also per perfect for someone who loves the lagenlook style in clothing. The chain is set length, short at 52 cm (20.5") all around but still slips over the head without the need for any closing clasp. The Quartz pebble is 6 cm (2.4") tall, 2.5" (1") at its widest and approx. 2 cm (0.8") thick.

There are no metals in this necklace so would be particularly suitable for those with metal sensitivities / metal allergy, energy workers and those who simply prefer not to wear metal.
You'll receive this crystal healing necklace in one of my handmade fabric draw-string pouches - great for the safe-keeping of the necklace. Gift-wrapped at no extra charge.
Read here about how to take care of your natural crystal jewellery.
CRYSTAL PROPERTIES
CLEAR QUARTZ
The universal master crystal that has a harmonising effect on all levels of being. Programmable by intention, so can be used for versatile purposes. Quartz can clear, enhance, amplify, transmute, balance, focus and transmit energy. Raises one's energetic vibration. Brings clarity and filters out distractions. A deep soul cleanser, attuning its keeper to their higher self. Each Quartz crystal is unique with its own character and teachings it offers, all are known as "Stones of Power" and "Master Healers".
Recently Viewed