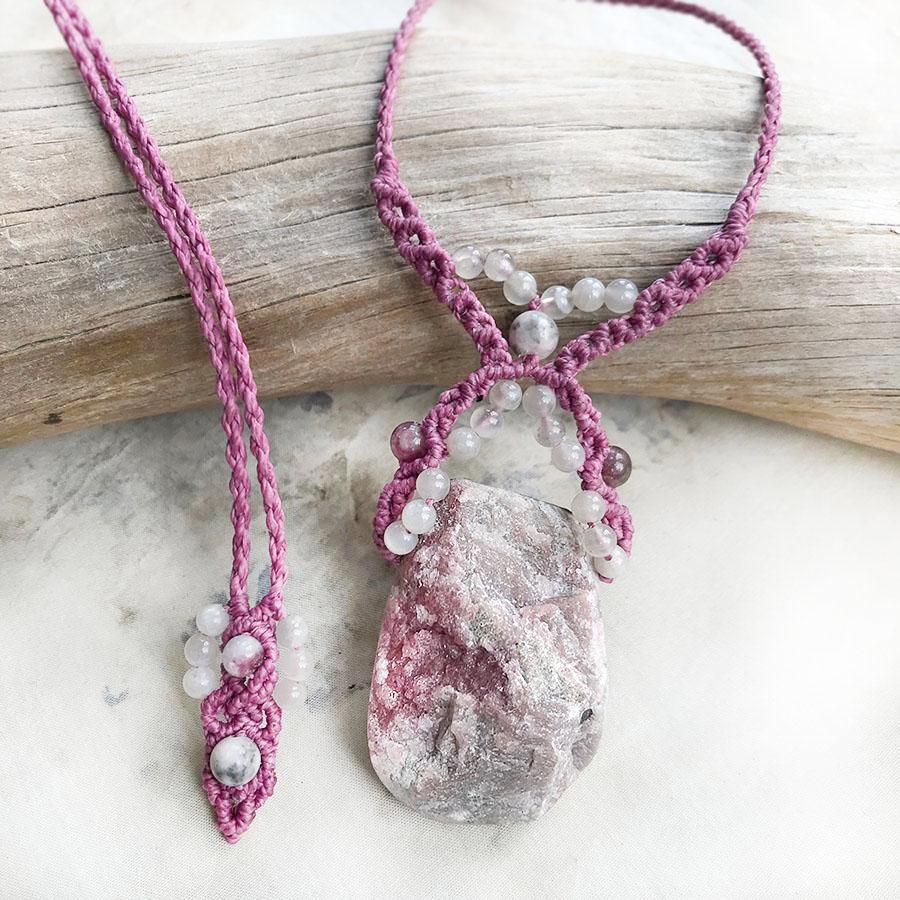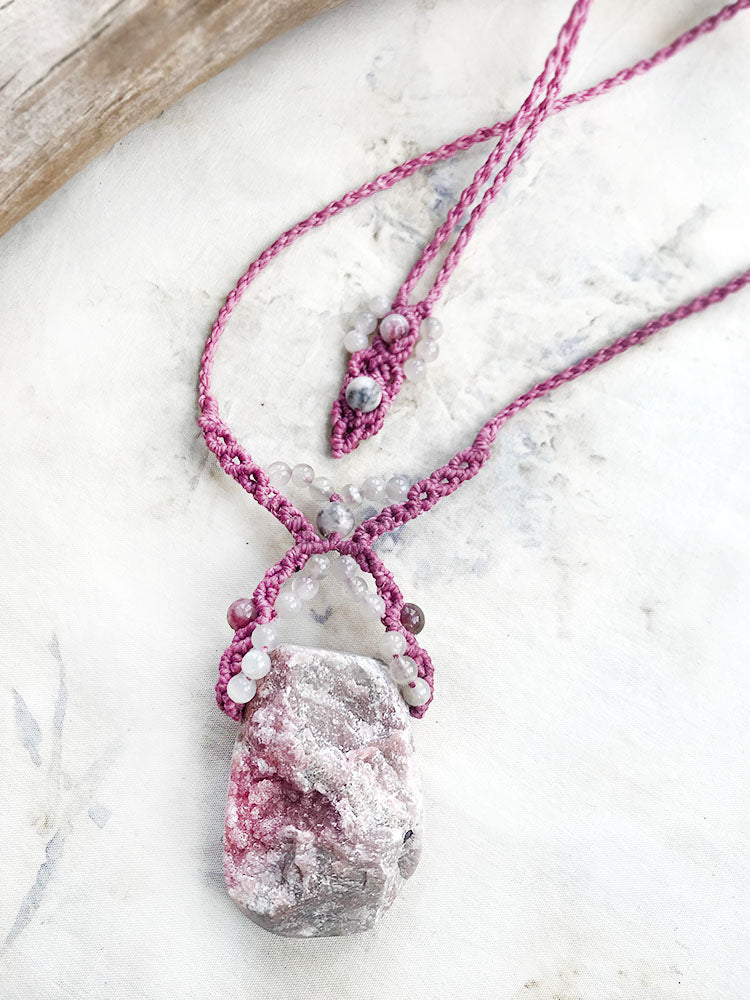 Cobaltoan Calcite crystal healing amulet
DESCRIPTION
Crystal healing necklace combining the energy of Cobaltoan Calcite with Moonstone, Tourmaline and Zebra Jasper. The natural, rough Cobaltoan Calcite is knotted with pink micro-macrame cord and includes a decorative detail, highlighted with matching crystals, at the end of the adjustable necklace weave.
The length of the necklace is adjustable from very short down to solar plexus level. The Cobaltoan Calcite is just over 4 cm (1.6") tall and approx. 3 cm (1.2") at its widest.
You'll receive this crystal healing necklace in one of my fabric draw-string pouches, great for the safe-keeping of the necklace. Gift-wrapped at no extra charge.

Read here how to take care of your crystal jewellery.
CRYSTAL PROPERTIES
COBALTOAN CALCITE
Stone of the pink ray, with strong heart-based healing energy. Wonderful support stone for any feminine-related conditions. Releases buried emotions, offering deep cleansing of energy blockages to create space for joy, happiness and new friendships to enter one's life. Assists in developing spiritual gifts and tuning into higher spiritual realms.
MOONSTONE
Useful for feeling balanced or when changing aspects in one's life. Symbolises 'new beginnings'. Brings calmness through awareness. Provides the energy to sustain you through stages of growth. A highly intuitive stone allowing self expression and creativity to flow. Provides protection while travelling. A bringer of good fortune. Stone of feminine wisdom, inner growth and strength. Calming and soothing stone, enhancing intuition and inspiration. White moonstone is stimulating for psychic perception, vision and dream work.
TOURMALINE
Stone of abundance, protection and healing. Aids understanding oneself and others. Soothing and supportive. Reduces fears and promotes self-confidence. Removes energetic blockages, balancing the male/female energy within the body.
ZEBRA JASPER
Also known as 'white tiger stone', encouraging you to enjoy the experiences life offers. Like all Jaspers, this too is soothing and balancing. Zebra Jasper lifts your mood and motivates you to take action, to overcome apathy. Helps you to see your true nature and find out what you truly desire.
Recently Viewed