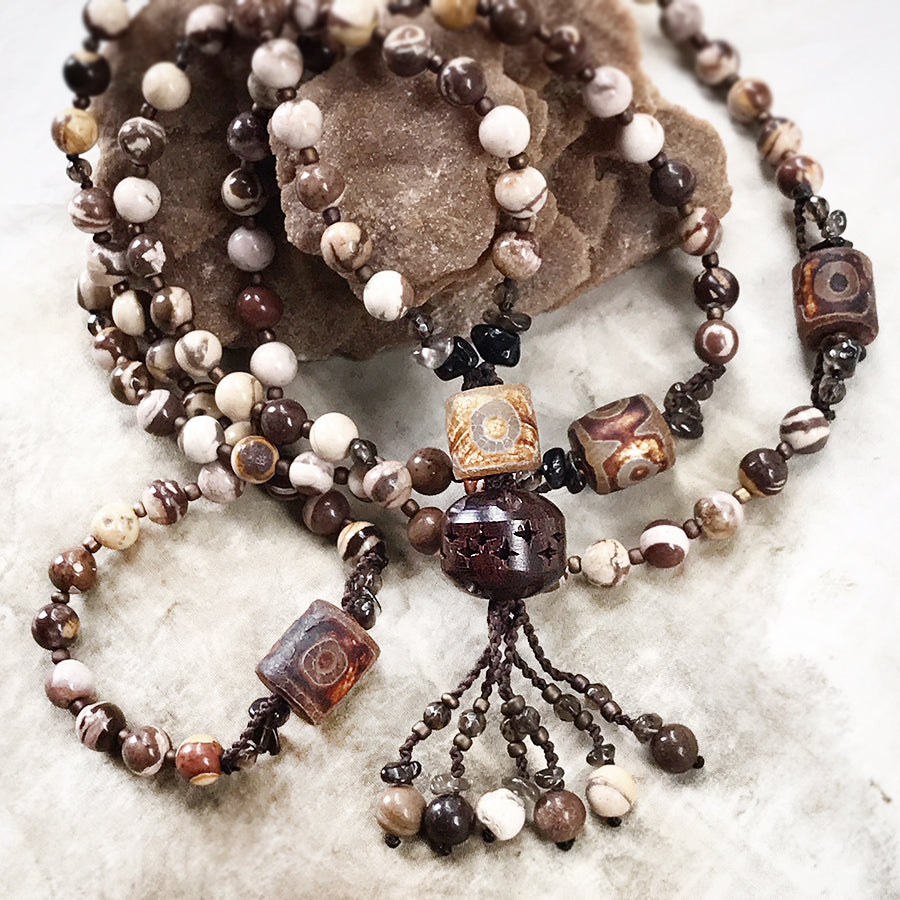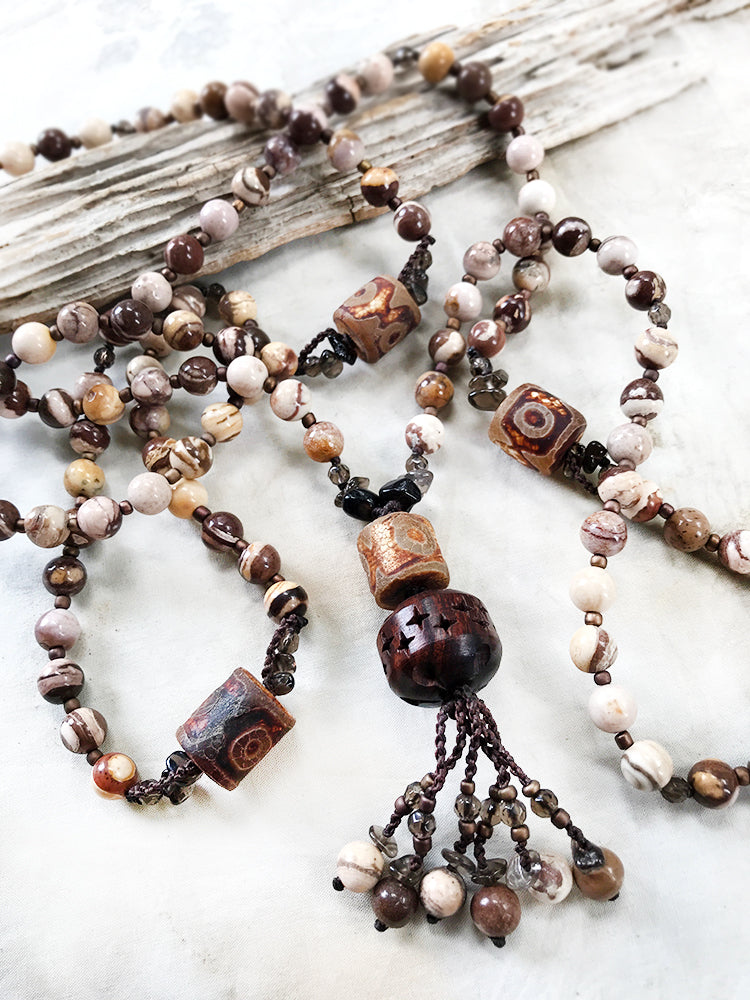 Coffee Bean Jasper mala with Dzi Agate & Smokey Quartz
DESCRIPTION
One of a kind, contemporary 108 bead meditation mala with Coffee Bean Jasper counter beads with beautiful natural patterning in colours of brown, beige and cream. The three dividers are a combination of dzi Agate and Smokey Quartz. The guru bead and 'tassel' consist of dzi Agate and Smokey Quartz with an additional bead of rosewood, carved with tiny stars.
The counter beads are spaced with matte brown glass seed beads, and knotted with dark brown micro-macrame cord at every nine bead interval around a small Smokey Quartz crystal.
All around length of mala: 127 cm (50") 
Counter bead diameter: 0.8 cm (0.3") 
The width of the divider Agate: approx. 1.5 cm (0.6") 
Length of guru bead combination: 7.5 cm (3")
This mala comes in one of my handmade soft black leather pouches for safe-keeping, and gift-wrapped for no extra charge. If you would rather have a fabric pouch, please let me know at the time of purchase.

Read more about Spirit Carrier mala beads
CRYSTAL PROPERTIES
COFFEE BEAN JASPER
Helps foster stability and balance. Aids in achieving a restful state and increase general sense of well-being. Said to be help in eliminating toxins from one's system, including possible negative thoughts in the way of a more cheerful outlook on life. Facilitates deep meditative states, and can help accessing past lives to release karmic issues. Shielding and protective, exudes a solid vibe contributing to vitality and overall health.
AGATE
The oldest good luck amulet. In ancient times Persian magicians were, according to legend, diverting storms with the powers of Agate. Considered a protective stone (especially for travel), said to shield its keeper against dangers. Increases inner stability, enhances personal courage and fosters self-confidence. Grounding and soothing. Balancing stone for one's energy system to experience oneness instead of duality.
SMOKEY QUARTZ
A grounding and calming stone that elevates moods and dissipates negative emotions. "A Stone of Serenity", it is comforting and protective for one's aura. Smokey Quartz is thought to assist in creative endeavours and also in setting personal boundaries. Offers protection against electromagnetic rays. A good healing stone for improving general feeling of well-being. Relieves anxiety and worry, wards off confusion. Shielding crystal to create a calm, safe environment.

Rosewood symbolism:
ROSEWOOD
Compassionate and loving heart qualities. The energy is primarily feminine, focused on spiritual, intuitive health and beauty. Spiritual and nourishing. Especially effective in spiritual healing. In matters dealing with beauty, rosewood can be very effective. Carried or worn as a charm, this wood will enhance female beauty and feminine grace.
Recently Viewed