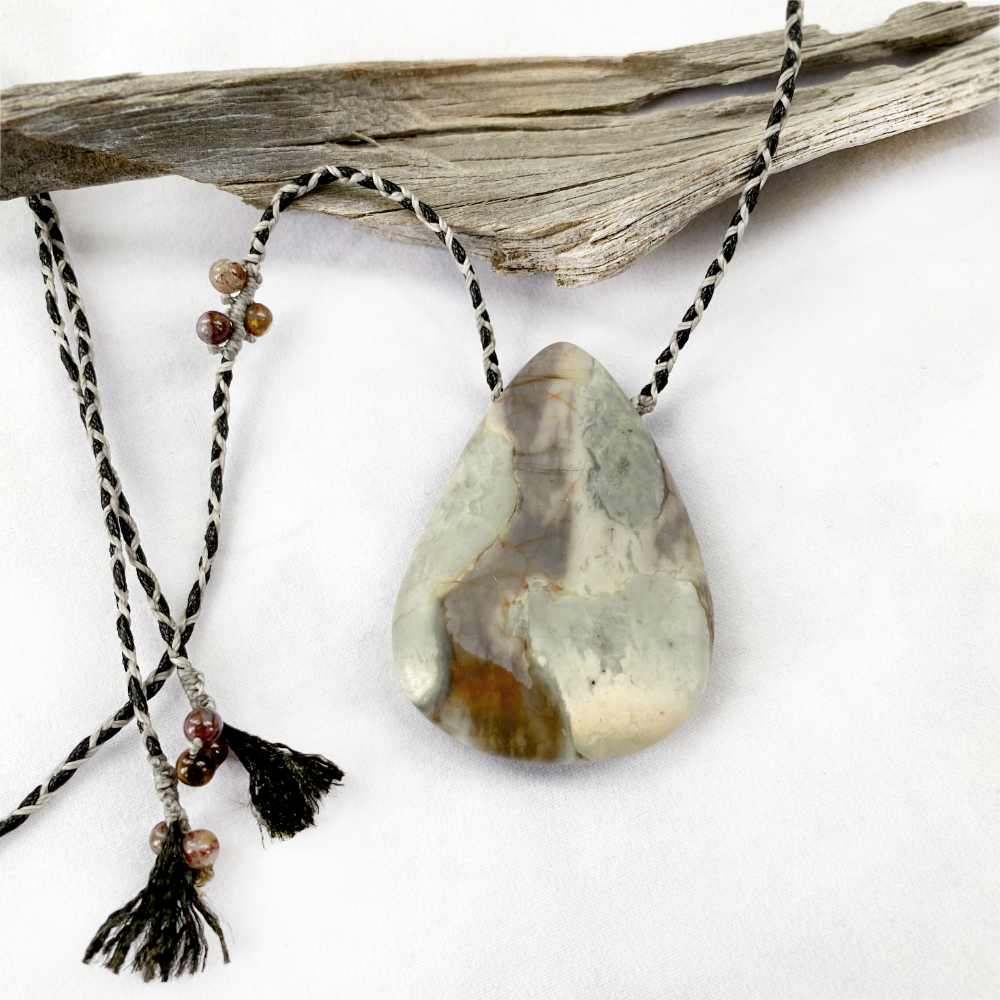 'Comfort Anchor' ~ Picasso Jasper crystal healing amulet
DESCRIPTION
Crystal healing amulet with a drop-shaped Picasso Jasper in painterly tones of grey, earthy orange and cream. Like an artfully abstract painting created by nature. The surface of the stone is velvety smooth, running your fingers along it feels calming and centering. You can elicit sensations of comfort by simply touching this stone, feeling its support take you to internal states of calm. The necklace is braided with black satin cord and light grey micro-macrame cord, featuring a small floret of PIetersite crystals on one side of the necklace braid. The ends of the adjustable necklace cords are adorned with the same and include a small soft satin tassel.
The necklace length is adjustable from as short as you wish down to solar plexus level. The Picasso Jasper is approx. 5 cm (2") tall and 3.5 cm (1.4") at its widest.
There are no metals in this necklace so would be particularly suitable for those with metal sensitivities, energy workers and those who simply prefer not to wear metal.
You'll receive this crystal healing necklace in one of Spirit Carrier's fabric draw-string pouches, great for the safe-keeping of the necklace. Gift-wrapped at no extra charge.

***Free Shipping Worldwide on this item***

Read here how to take care of your crystal jewellery.
CRYSTAL PROPERTIES
GREY PICASSO JASPER
Calming and harmonious, bringing clarity and inner awareness. Increases perseverance and self-control. Sooths and balances emotions. Assists in making decisions according to one's life purpose. Offers stability in times of change. Among the best all-round supportive healing stones to wear daily.
PIETERSITE (aka Tempest Stone)
Fosters calm and joyous peacefulness. Enhances intuition and insight. Aids in the acceptance and tolerance of others and life. Dispels illusions and aids one seeing the beauty within. High vibration stone used by many energy healers.
Recently Viewed