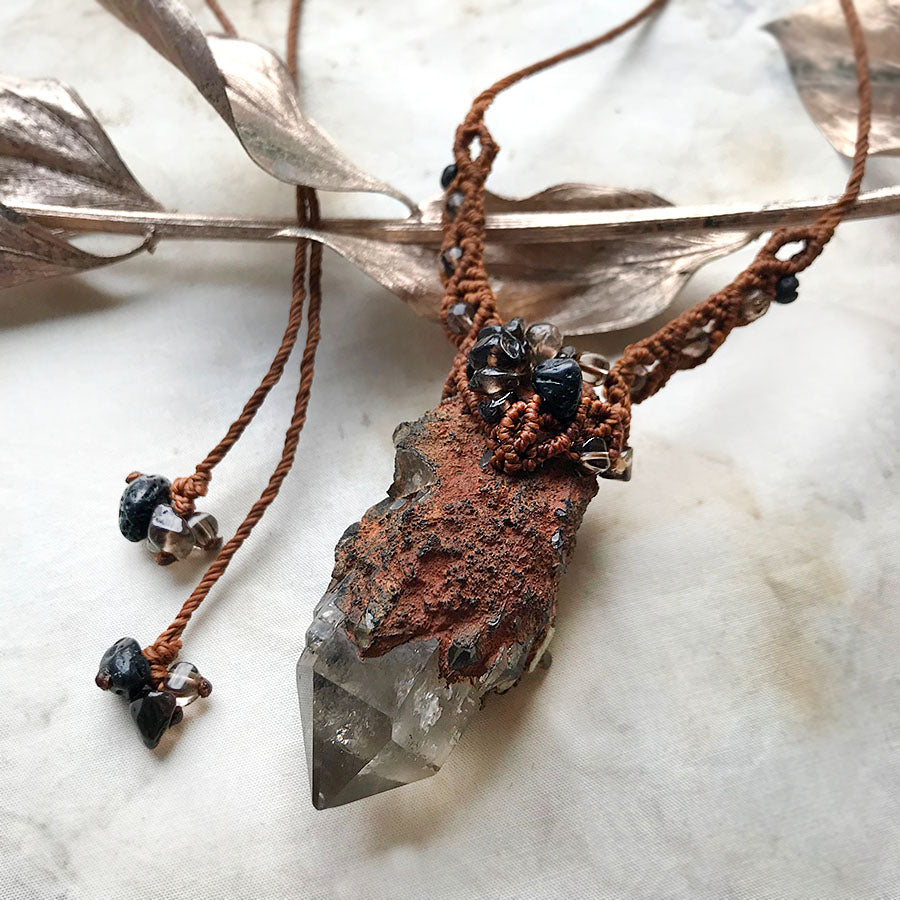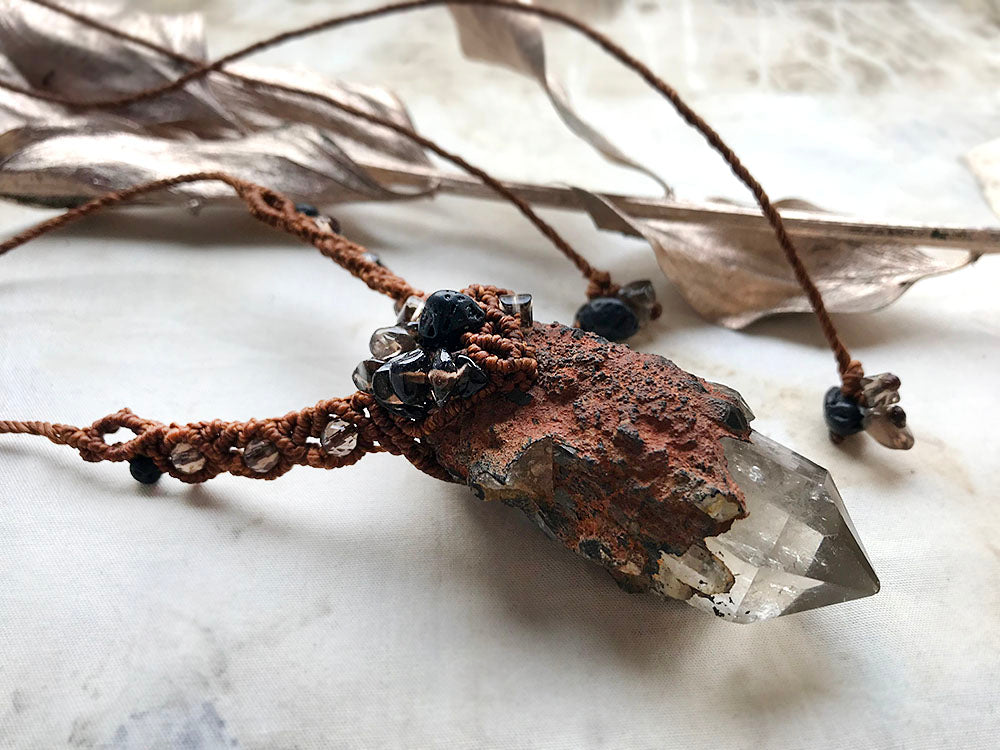 Congo Citrine crystal healing amulet
DESCRIPTION
Glorious natural Citrine crystal point from Congo, with subtle, close to smokey tone - all natural and un-heated. This special individual also shows a large crusting of iron on its surface, which is characteristic to these particular Citrines.  The necklace is minimally woven with rusty brown micro-macrame cord, and the knotting that attaches the stone to the necklace weave is highlighted with small crystals of Smokey Quartz and Lava stone which also adorn the ends of the adjustable length necklace cords. This necklace would also work well in "layering" together with other crystal amulets for an individual look.
The necklace length is adjustable from as short as you wish down to just above the solar plexus level. The Citrine measures approx. 6 cm (2.4") tall and 3 cm (1.2") at its widest.
You'll receive this crystal healing necklace in one of my handmade fabric draw-string pouches - great for the safe-keeping of the necklace. Gift-wrapped at no extra charge.

Read here how to take care of your crystal jewellery.
CRYSTAL PROPERTIES
CITRINE
Affects a powerful alignment with the higher self. Balances the emotions and helps in uplifting one's mood to be more sunny and cheerful. Brings clarity of thought, and attracts abundance and prosperity through joy. Powerful transformer in healing work. Increases self-confidence and optimism, cleanses the surrounding energies and promotes creative thinking. Releases, dissipates and transforms denser energies on all levels, mental, emotional and physical. Works to release limitations and blockages particularly around the sacral / solar plexus area.
SMOKEY QUARTZ
A grounding and calming stone that elevates moods and dissipates negative emotions. "A Stone of Serenity", it is comforting and protective for one's aura. Smokey Quartz is thought to assist in creative endeavours and also in setting personal boundaries. Offers protection against electromagnetic rays. A good healing stone for improving general feeling of well-being. Relieves anxiety and worry, wards off confusion. Shielding crystal to create a calm, safe environment.
LAVA STONE
Stone of vitality, assertiveness and passion. Provides stability in times of change. Grounding and protective. Supports courage and decisiveness. Helps in finding one's 'life path'. Encourages personal development and growth.
Recently Viewed