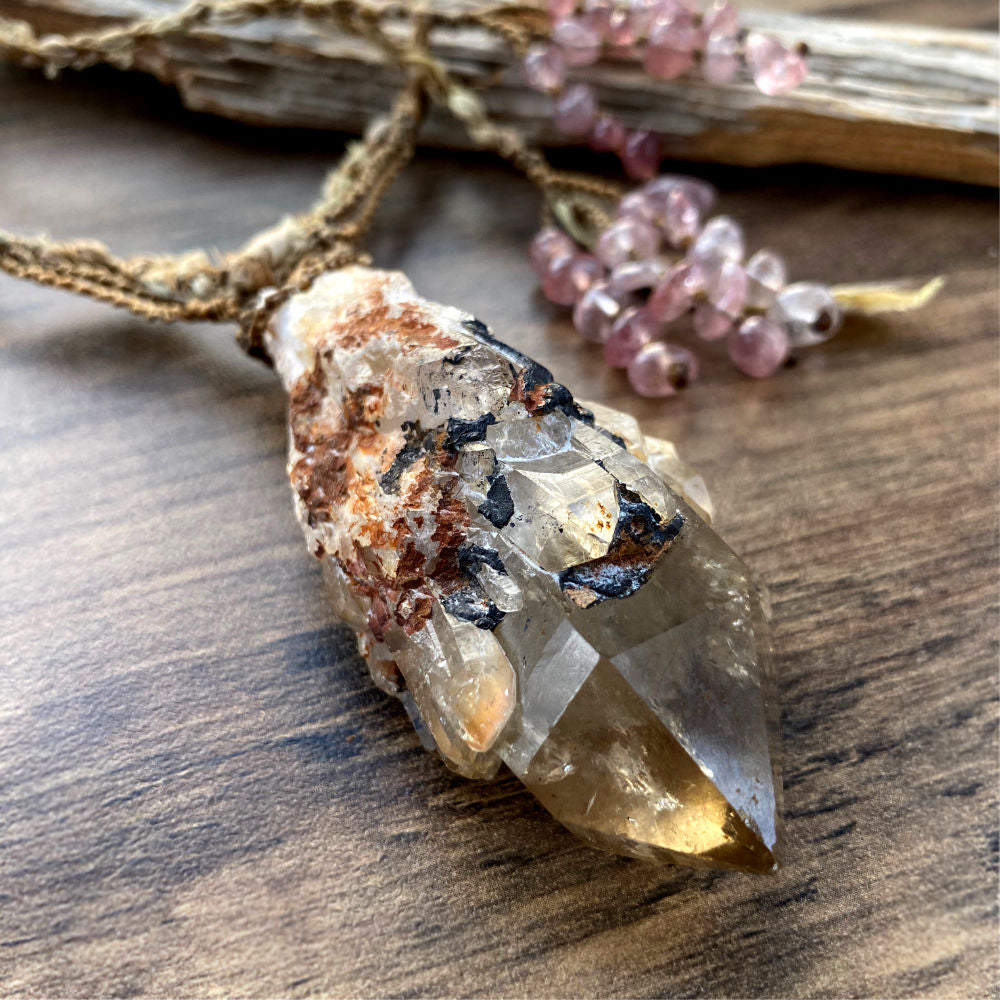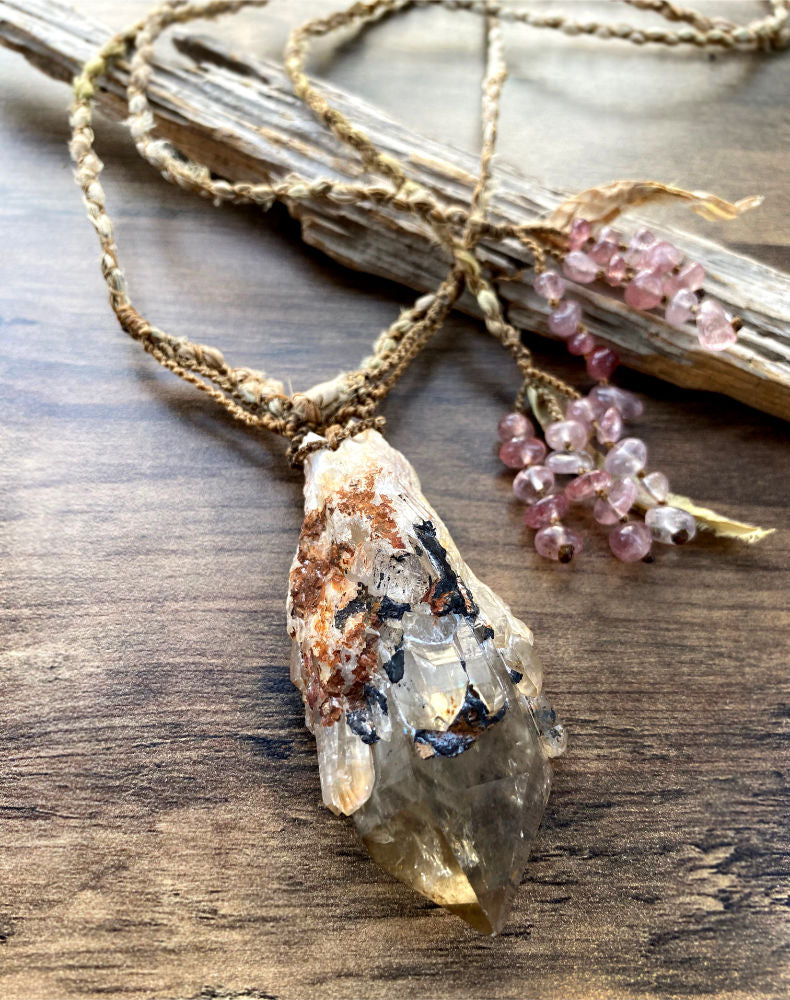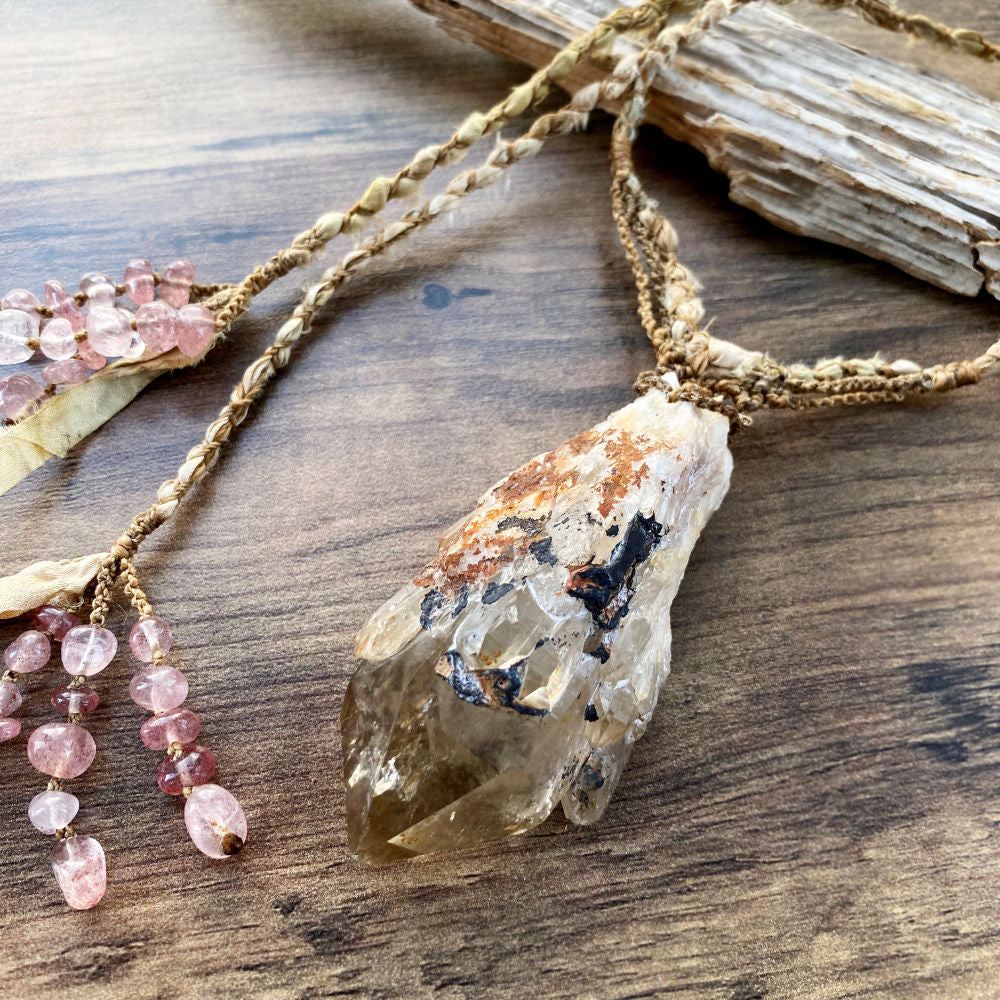 Congo Citrine crystal healing amulet
DESCRIPTION
A gorgeous, unique rarity - this is a large, raw Congo Citrine crystal point, showing the characteristic iron inclusions along the surface. When you peer into the crystal's point, you can see a phantom inside in the shape of a cloudy pyramid - breathtaking!

The minimal necklace braid is raw silk combined with golden brown micro-macrame cord to allow the pendant crystal take centre stage. I have botanically eco-dyed the raw silk with local windfall plants. The earthy tones vary along the braid, from brown and yellow to grey. The ends of the braids include crystal 'tassels' with Lepidochrocite Quartz, combining its beautiful crystal energy with that of the Citrine.
The Citrine point is large and weighty, and approx. 8 cm (3") tall. It's 3.5 cm (1.4") at its widest and approx. 2.5 cm (1"). The necklace braids are extra long at 60 cm (23.5") each and can be tied behind your neck at any point so you can have the Citrine hang at your chosen height. The necklace braids will arrive with a loosely tied reef knot so you can slip it on and wear straight away, but you can also easily loosen the reef knot to choose your own pendant length.
You'll receive this crystal healing necklace in one of my fabric draw-string pouches, great for the safe-keeping of the necklace. Gift-wrapped at no extra charge.

Read here how to take care of your crystal jewellery.
CRYSTAL PROPERTIES
CITRINE
Affects a powerful alignment with the higher self. Balances the emotions and helps in uplifting one's mood to be more sunny and cheerful. Brings clarity of thought, and attracts abundance and prosperity through joy. Powerful transformer in healing work. Increases self-confidence and optimism, cleanses the surrounding energies and promotes creative thinking. Releases, dissipates and transforms denser energies on all levels, mental, emotional and physical. Works to release limitations and blockages particularly around the sacral / solar plexus area.
LEPIDOCHROSITE IN QUARTZ
Stimulates intuitive spiritual awareness, at the same time gently grounding to Earth energy. Raises consciousness, and can be used for focusing intent during energy healing sessions. Calming and soothing, aids in releasing fears and aligning one with Divine will. A stone of 'allowing' and trusting the flow of life.
Recently Viewed