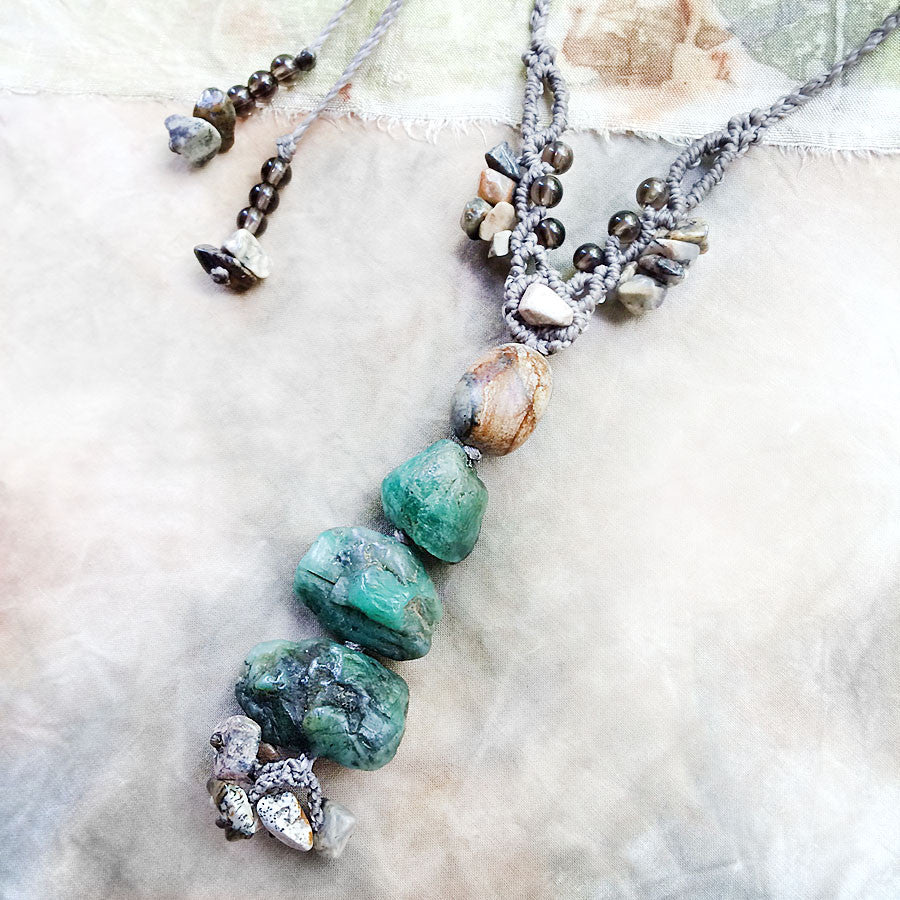 Crystal healing cairn amulet with raw Emerald, Silver Leaf Jasper & Smokey Quartz
DESCRIPTION
Crystal healing necklace, a tall cairn with rough Emerald, Silver Leaf Jasper and Smokey Quartz. The necklace is minimally braided with dark grey micro-macrame cord, very strong and durable, yet soft and comfortable to wear. The ends of the adjustable necklace cords are decorated with Silver Leaf Jasper and Smokey Quartz.

Emerald is among the four stones recognised as 'precious' (the other three being Sapphire, Ruby and Diamond) - other gems are considered 'semi-precious'.
The length of the necklace is adjustable by pulling the cords through a knotted channel. The adjusting range is from very short down to solar plexus level. The crystal cairn combined is approx. 7.5 cm (3") tall. The largest Emerald is approx. 2 cm (0.2") wide.
There are no metals in this necklace so would be particularly suitable for those with metal sensitivities, energy workers and those who simply prefer not to wear metal.
You'll receive this crystal healing necklace in one of my fabric draw-string pouches, great for the safe-keeping of the necklace. Gift-wrapped at no extra charge.
CRYSTAL PROPERTIES
EMERALD
Stone of love. Opening and nurturing to the heart chakra. Benefits heart-based intuition. Promotes joyous emotions, enhances emotional and spiritual balance. Restores confidence where needed. Brings visionary insight, especially relating to one's vocation. In crystal lore, Emerald is the sacred stone of the goddess Venus. It was the symbol of eternal life in ancient Egypt.
SILVER LEAF JASPER
Harmonious, protective stone. Considered a good amulet for times of travel (whether physical or astral). Instils a feeling of wholeness and serenity, a sense that all is well. Great support for one's will power and personal courage. Healing effect on emotional tension. Has been called a "stone of natural wisdom", awakening one's sense of joy in life.
SMOKEY QUARTZ
A grounding and calming stone that elevates moods and dissipates negative emotions. "A Stone of Serenity", it is comforting and protective for one's aura. Smokey Quartz is thought to assist in creative endeavours and also in setting personal boundaries. Offers EMF protection. A good healing stone for improving general feeling of well-being.
Recently Viewed