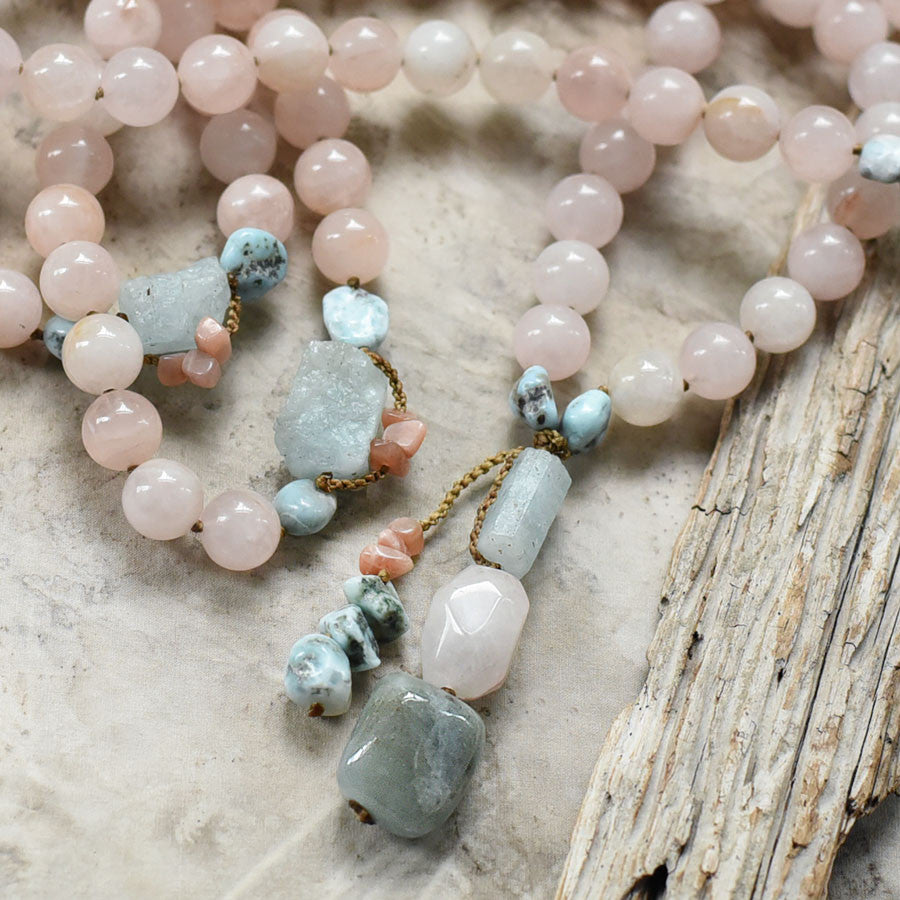 Rose Quartz mala with Aquamarine, Sunstone & Larimar
DESCRIPTION
One of a kind, contemporary 108 bead meditation mala with Rose Quartz counter beads. This is a large, weighty, luxurious mala. The three dividers are a combination of Aquamarine and Larimar, highlighted with Sunstone. The guru bead consists of Aquamarine, faceted Rose Quartz and Larimar with a strand of Larimar and Sunstone.
Each counter bead is knotted one by one for durability and ease of handling, using muted golden brown micro-macrame cord. 
All around length of mala: 152 cm (60")
Counter bead diameter: 1.2 cm (0.5")
The width of the divider combination: approx. 4 cm (1.6")
Length of guru bead crystal combination: 7 cm (2.8")
Please note that Spirit Carrier malas come usually in three sizes, determined by the diameter of the main counter beads - either 0.8 cm, 1 cm or 1.2 cm. This mala is the largest size with 1.2 cm counter bead diameter.
This mala comes in one of my handmade soft brown leather pouches for safe-keeping. If you would rather have a fabric pouch, please let me know at the time of purchase.
Read more about Spirit Carrier mala beads
CRYSTAL PROPERTIES
ROSE QUARTZ
Powerful love stone, love that is all-encompassing and unconditional. Vibrates its loving energy to all chakras, offering gentle healing. Soothing and calming. Dissolves anger and resentment. Good for raising one's self-esteem and feelings of self-worth. Balances emotions and is said to support all types of healing.
AQUAMARINE
Connected with the throat chakra, easing verbal self-expression. Helps you communicate your own truth and find your voice. Helps in looking at emotional situations from other perspectives, assists in opening up intuition and to calmly be in the flow of life. Aquamarine also aids in reaching deep meditative states. Resonates with the energy of the ocean. Stone of courage and protection.
LARIMAR
A relatively rare stone, only found in the Dominican Republic. In crystal lore it is associated with the ancient civilization on Lemuria, and also sometimes called a "Dolphin Stone". Larimar is soothing and uplifting, bringing tranquility into heart and mind. It is said to support self-expression, creativity and patience.
SUNSTONE
Joyful and nurturing, restores one's enjoyment of life, providing a sense of abundance. Encourages independence and originality. Makes you feel alive and enthusiastic. A good stone for workplace, bringing opportunities. Sunstone can be a source of strength after experiencing losses.
Recently Viewed