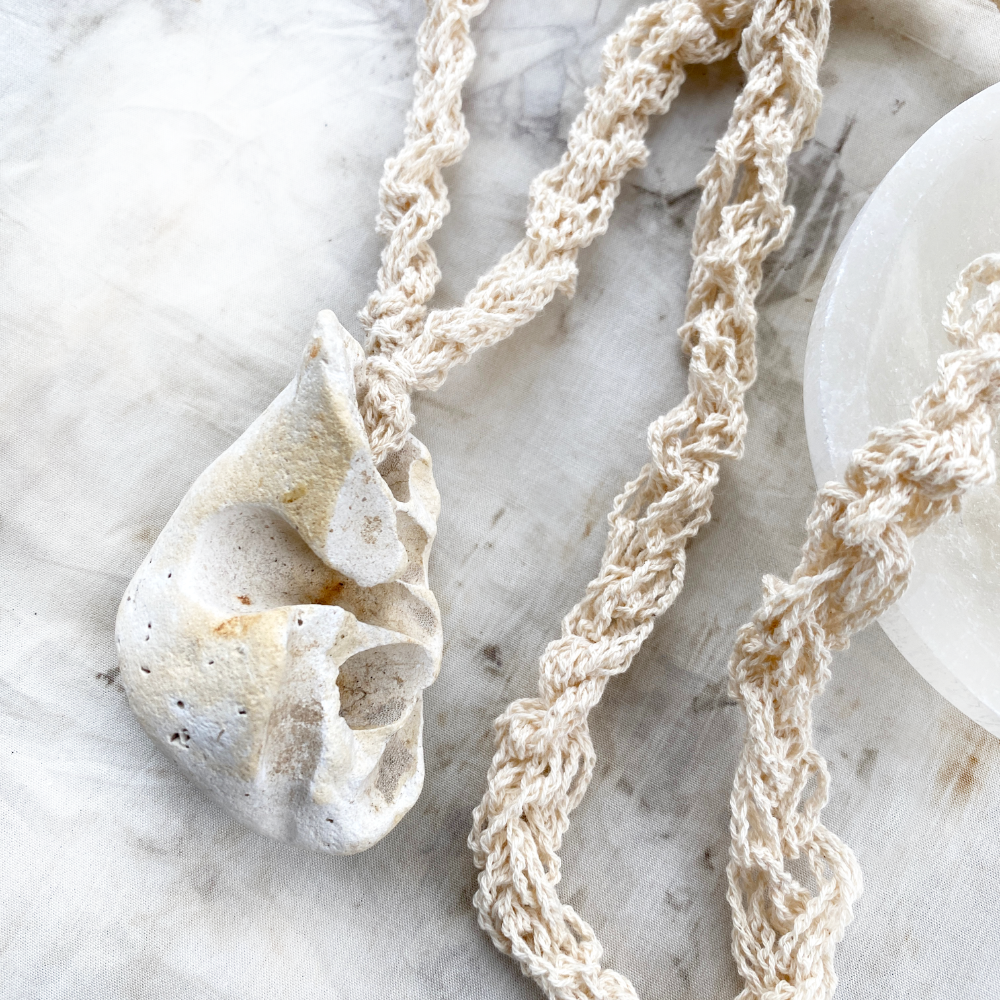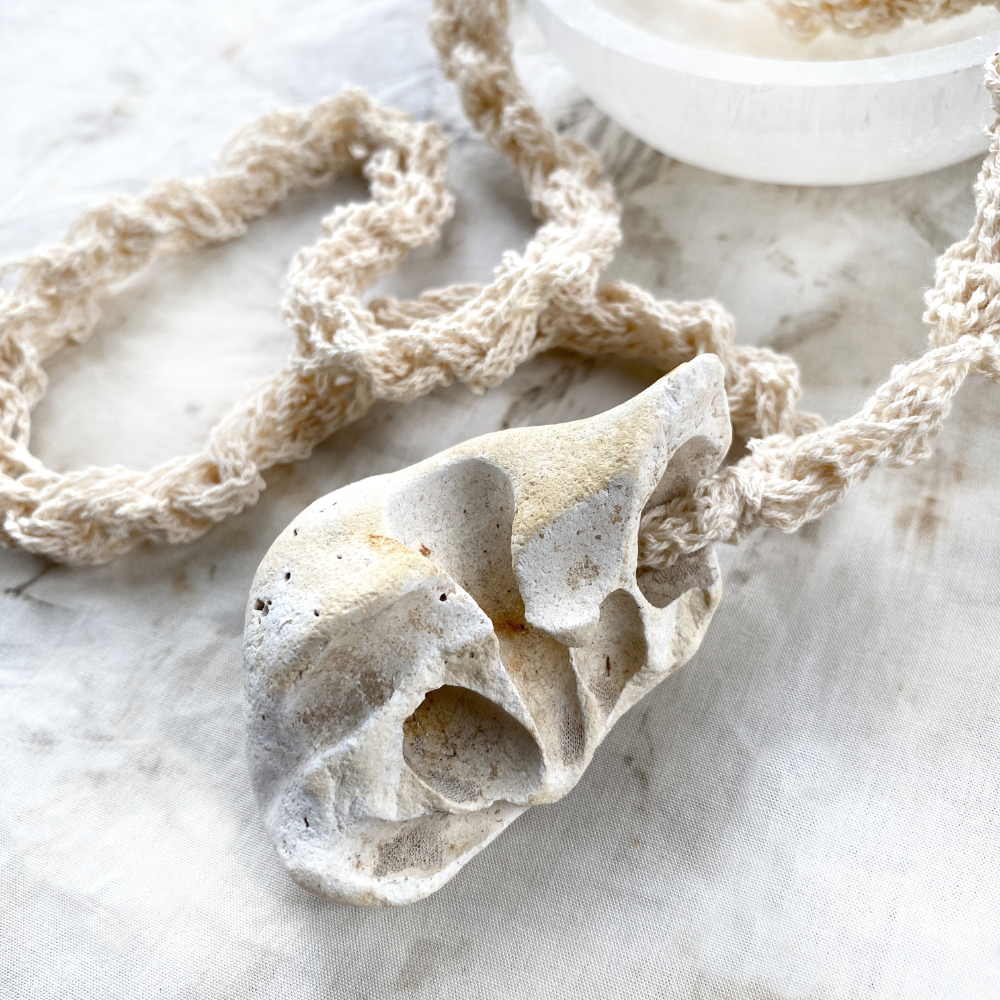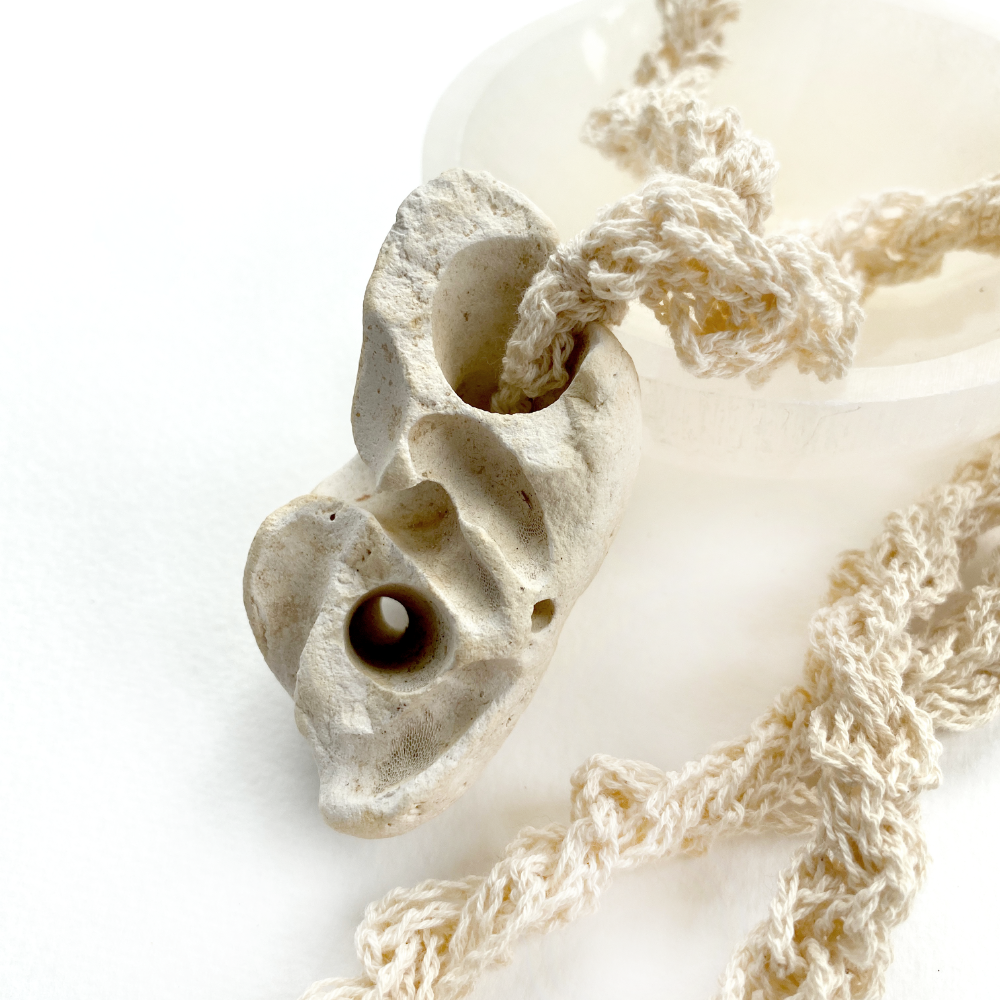 'Cosmic Pathways' talisman necklace
DESCRIPTION
The most unusual pebble of Limestone Chalk - both rough and smooth at the same time, truly a one-of-a-kind beauty: a Hagstone with three natural holes, strung to be wearable through one of them. The necklace is a chunky chain of handwoven linen yarn and nothing else - soft and thick, purposefully uneven in texture to create a natural, organic feel. This stone feels particularly tactile and wonderful to hold so while wearing this talisman, you could also use it as a touchstone to center yourself whenever needed out in the world.

The chunky chain is approx. 1.5 cm (0.6") wide, so perfect for those who prefer a prominent style, a unique statement necklace. This would also be perfect for someone who loves the lagenlook style in clothing. The chain is long and set length, approx. 90 cm (35") all around and slips over the head without the need for any closing clasp. The Limestone pebble is 7 cm (2.8") in its longest dimension and approx. 4 cm (1.6") thick.

There are no metals in this necklace so would be particularly suitable for those with metal sensitivities / metal allergy, energy workers and those who simply prefer not to wear metal.
You'll receive this crystal healing necklace in one of Spirit Carrier's handmade fabric draw-string pouches - great for the safe-keeping of the necklace. Gift-wrapped at no extra charge.

Read here how to take care of your crystal jewellery.
CRYSTAL PROPERTIES
WHITE LIMESTONE (aka Limestone Chalk)
The great purifier. Cleansing, calming and comforting. Amplifies healing through all chakras. Helps in breaking negative and stagnant emotional patterns. Eliminates laziness, encourages taking action. Supports in regaining an optimistic outlook and restoring balance on all levels of being. Useful for shielding from the harmful effects of electromagnetic smog. Promotes mental clarity and tranquility. Helps strengthen and develop psychic abilities.
Recently Viewed