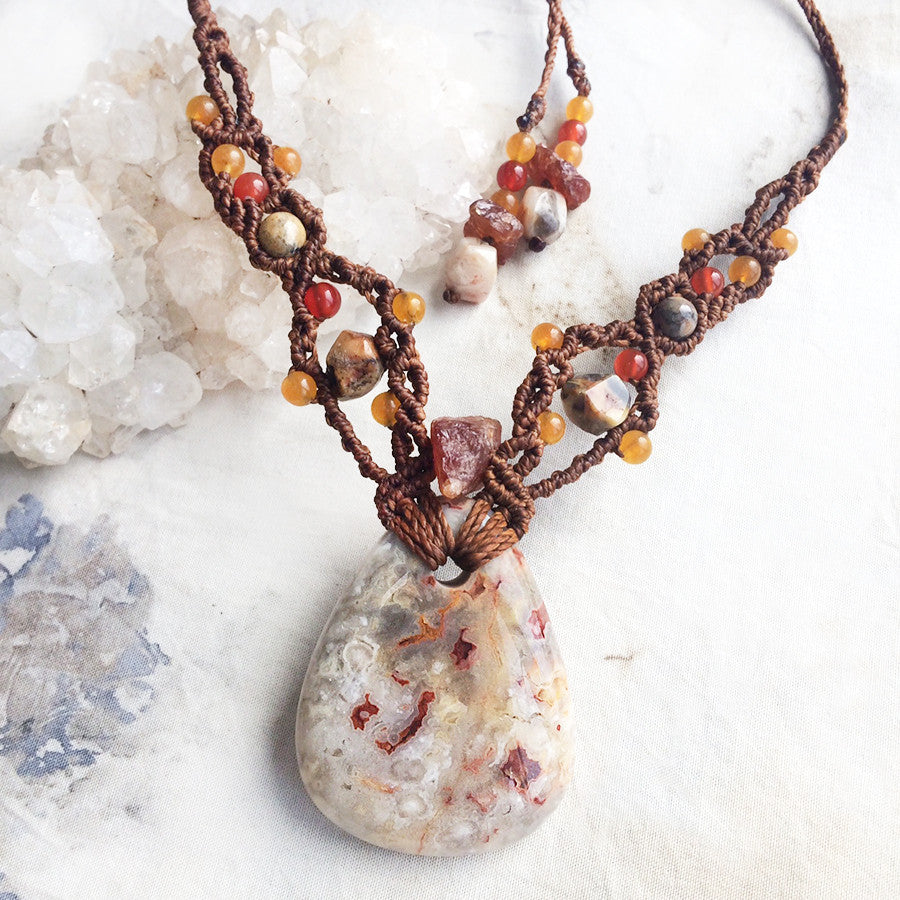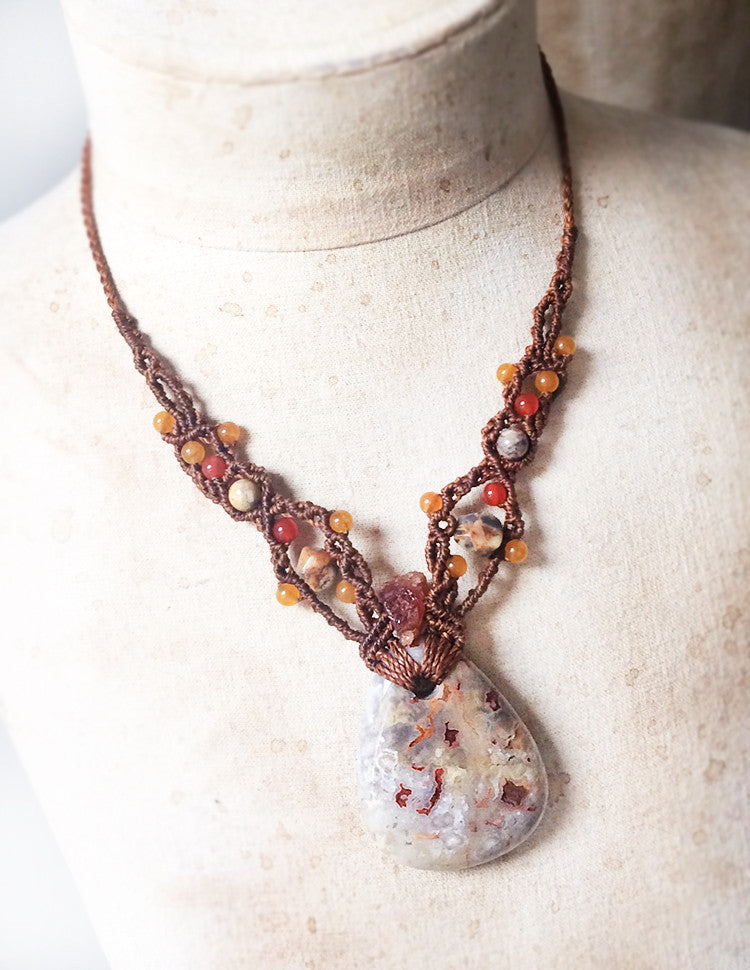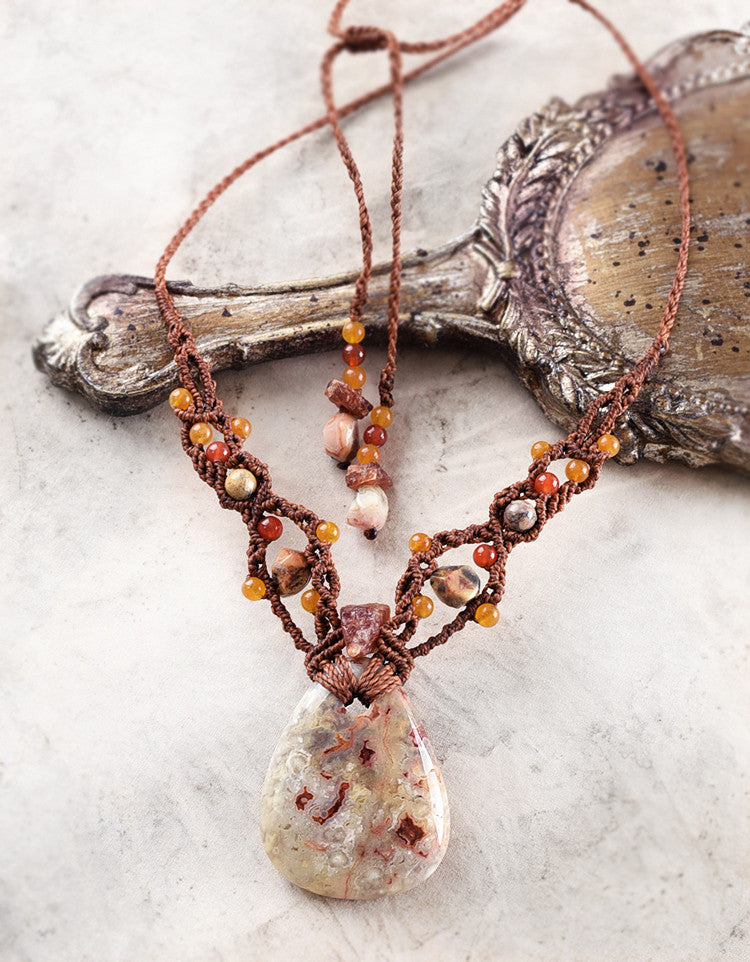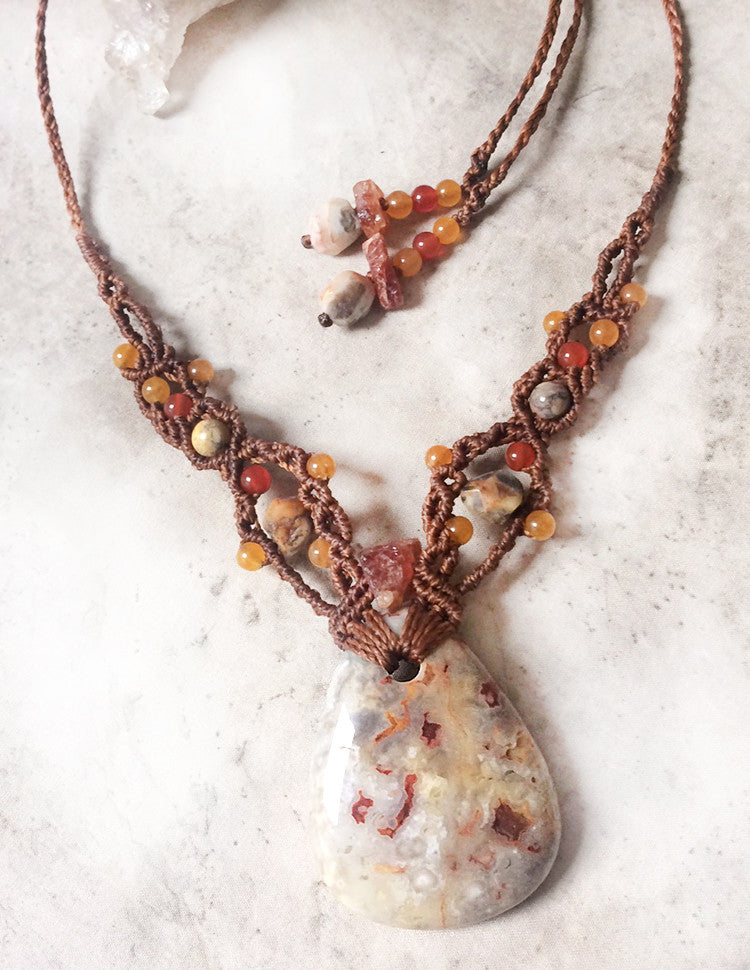 Crazy Lace Agate crystal healing amulet
DESCRIPTION
Crystal healing amulet with a smooth Crazy Lace Agate, showing intricately beautiful natural patterning. The necklace is knotted with reddish brown micro-macrame cord, highlighted with Spessartine Garnet, Yellow Calcite and Carnelian. The ends of the adjustable necklace cords are decorated with matching crystals.
The Crazy Lace Agate is just under 4.5 cm (1.8") tall, just over 3 cm (1.2") at its widest. The length of the necklace is adjustable from as short as you wish down to heart level. This is a shorter adjustment range than the usual solar plexus length in Spirit Carrier necklaces as the knotting is in a shape that would make this necklace best worn shorter than as a long pendant. 
You'll receive this crystal healing necklace in one of my fabric draw-string pouches, great for the safe-keeping of the necklace. Gift-wrapped at no extra charge.

Read here how to take care of your crystal jewellery.
CRYSTAL PROPERTIES
CRAZY LACE AGATE
A stone of laughter and happiness, offering support and encouragement, elevating one's mood and promoting optimism. Uplifting stone that alleviates emotional pain and promotes self-acceptance. Useful for overcoming any kind of trauma, encouraging one to start over. Promotes inner stability.
SPESSARTINE GARNET
Elevates mood and allows experiences of 'emotional sunshine' into one's life, thus making life more fulfilling. Helps in overcoming the fear of new experiences, encouraging you to live more spontaneously. Balances and vitalises the sacral chakra, supporting creative pursuits and intuition.
YELLOW CALCITE
Associated with self-confidence, inner strength and hope. Effective in helping to clear away old outworn energy patterns and increasing personal motivation and drive. Helps in releasing self-doubt. Assists in learning new things quickly, increasing memory.
CARNELIAN
Known as a stone of motivation and courage. Stimulates creativity and increases one's sense of self-worth. Balancing for body's energy levels, restoring vitality and motivation. Said to attract prosperity, new resources and good luck. A success stone that helps you follow through with plans. Stone of action that aids in overcoming procrastination. Helps in gaining more understanding of one's inner self. Stimulating to the Sacral Chakra, which, when in balance, allows one to enjoy life, feel its joys and pleasures, be flexible and 'go with the flow'.
Recently Viewed