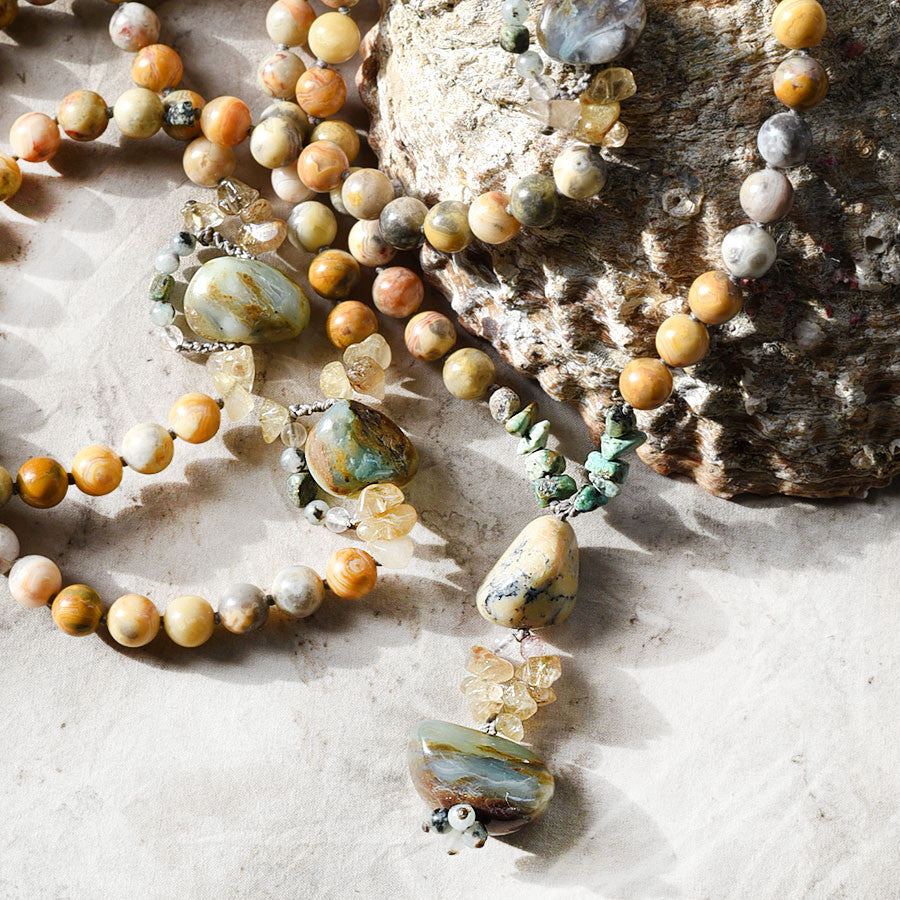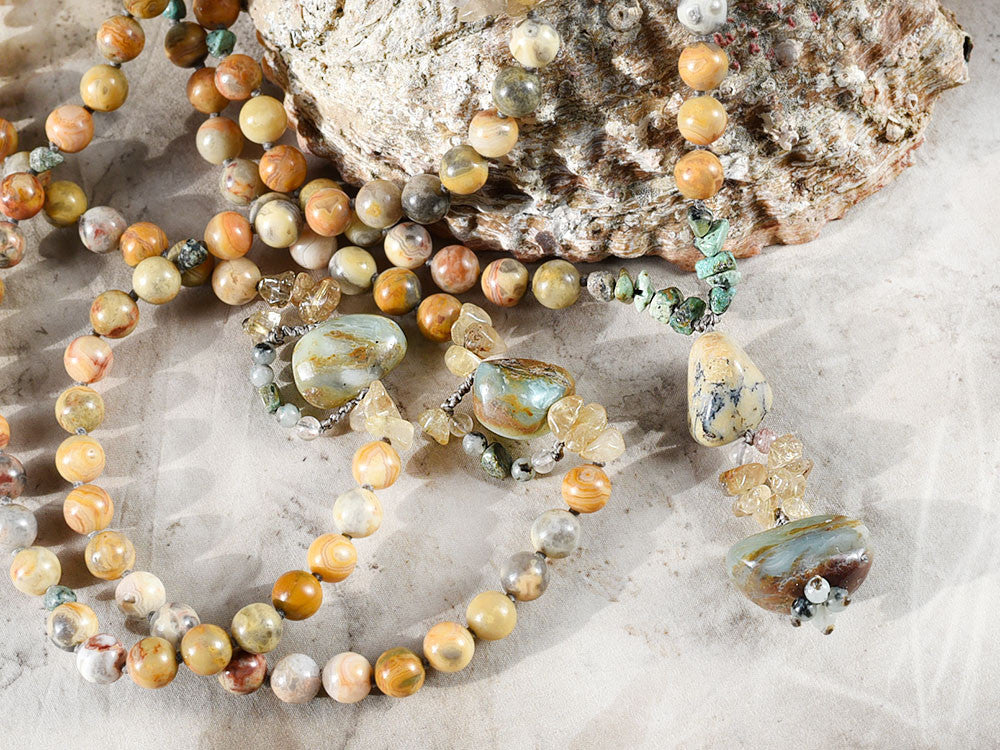 Crazy Lace Agate mala with Andean Blue Opal, Merlinite, Gold Rutile Quartz & African Turquoise Jasper
DESCRIPTION
One of a kind, contemporary 108 bead meditation mala with Crazy Lace Agate beads. The three dividers are a combination of Andean Blue Opal, African Turquoise Jasper, Gold Rutile Quartz and Sesame Jasper. The guru bead consists of Merlinite, Gold Rutile Quartz, Andean Blue Opal and Sesame Jasper. This mala has a joyful, uplifting vibe with many energetic dimensions to explore and draw support from. Crazy Lace Agate is a glorious stone in its natural artistry, each bead like an abstract painting in its own right!
Each counter bead is knotted one by one for durability and ease of handling, using aqua tone micro-macrame cord. 
All around length of mala: 122 cm (48")
Counter bead diameter: 0.8 cm (0.3")
The width of the divider combination: approx. 4 cm (1.6")
Length of guru bead crystal combination: 6 cm (2.4")
Please note that Spirit Carrier malas come usually in three sizes, determined by the diameter of the main counter beads - either 8 mm, 10 mm or 12 mm. This mala is the smallest size with 8 mm counter bead diameter and is probably more suited to be worn on you than the larger, heavier malas. The 8 mm size mala also includes a divider bead at intervals of every nine counter beads - in this one the small divider is African Turquoise Jasper.
This mala comes in one of my handmade soft brown leather pouches for safe-keeping. If you would rather have a fabric pouch, please let me know at the time of purchase. Gift-wrapped at no extra charge.
Read more about Spirit Carrier mala beads
CRYSTAL PROPERTIES
CRAZY LACE AGATE
A stone of laughter and happiness, offering support and encouragement, elevating one's mood and promoting optimism. Uplifting stone that alleviates emotional pain and promotes self-acceptance. Useful for overcoming any kind of trauma, encouraging one to start over. Promotes inner stability.
ANDEAN BLUE OPAL
Relatively rare stone. Associated with the throat chakra, linking it with the heart chakra. Known as the stone of courage, self-esteem and communication. Energising stone, said to help with fatigue. Great aid to creative endeavours. Soothing for those overwhelmed by life. Useful for those who transmute outside energy through their own body.
AFRICAN TURQUOISE JASPER
Calming and soothing stone that creates a feeling of tranquility and comfort. Encourages personal growth, opening the mind to new ideas and possibilities. Also known as an abundance stone.
MERLINITE
Stone of spiritual development, assisting in accessing multiple realms including akashic records. Softens one's emotional guards in aid of making deeper connections with out fellow humans. Helps with integrating one's shadow self as well as attracting spiritual guides.
GOLD RUTILE QUARTZ
A master assistant in self-discovery, a companion in finding one's inner truth, purpose and destiny. Joyful and energising. Thought to offer protection against psychic attacks and help in healing karmic issues. Gold Rutile Quartz is thought to be helpful in manifesting one's dreams into reality.
SESAME JASPER (aka Kiwi Jasper)
Known as the 'supreme nurturer', bringing tranquility and a sense of wholeness. Balances one's Yin & Yang energies. Provides courage to tackle problems. Energising. Facilitates shamanic journeying. Offers protection against electromagnetic radiation.
Recently Viewed