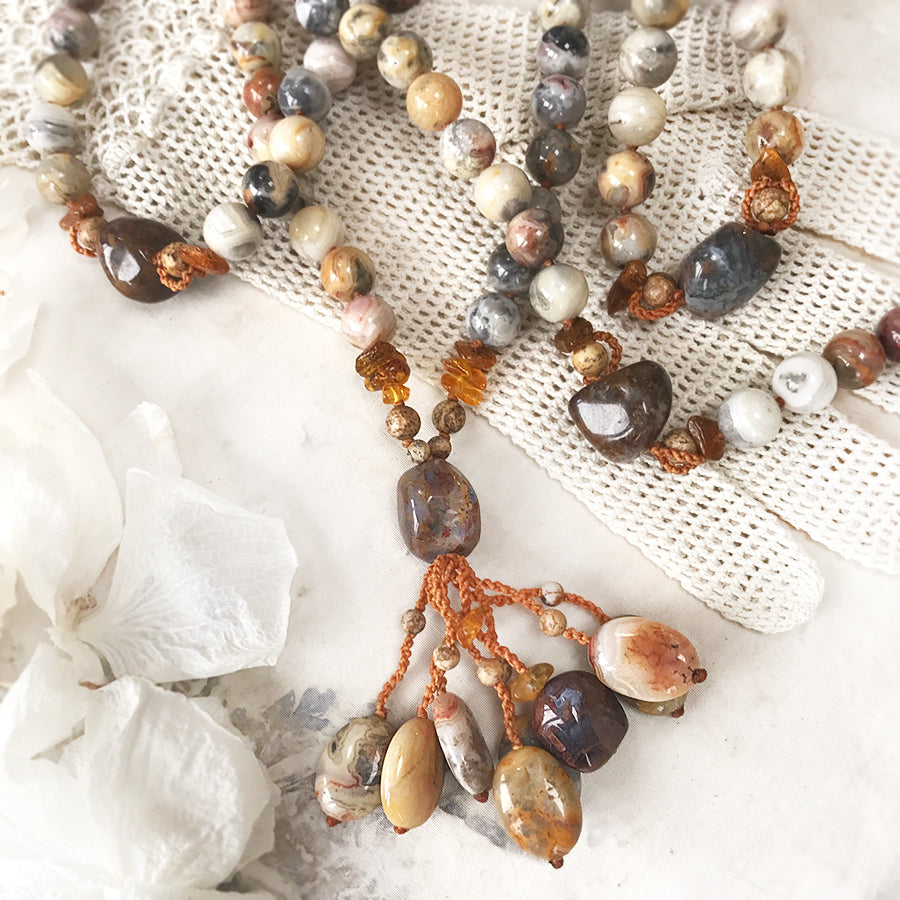 Crazy Lace Agate meditation mala
DESCRIPTION
One of a kind, contemporary 108 bead meditation mala with Crazy Lace Agate beads. This is a weighty mala with warm and joyful presence. The three dividers are a combination of Pietersite, Amber and Picture Jasper. The guru bead consists of Pietersite, and a 'tassel' of Crazy Lace Agate and Pietersite with Amber and Picture Jasper highlights.
Each counter bead is knotted one by one for durability and ease of handling, using muted orange micro-macrame cord. 
All around length of mala: 133 cm (52")
Counter bead diameter: 1 cm i.e. 10 mm (0.4")
The width of the divider combination: up to 4 cm (1.6")
Length of guru bead crystal combination: 7 cm (2.75")
Please note that Spirit Carrier malas come usually in three sizes, determined by the diameter of the main counter beads - either 8 mm, 10 mm or 12 mm. This mala is the middle size with 10 mm counter bead diameter.
This mala comes in one of my handmade soft brown leather pouches for safe-keeping. If you would rather have a fabric pouch, please let me know at the time of purchase.

Read more about Spirit Carrier mala beads
CRYSTAL PROPERTIES
CRAZY LACE AGATE
A stone of laughter and happiness, offering support and encouragement, elevating one's mood and promoting optimism. Uplifting stone that alleviates emotional pain and promotes self-acceptance. Useful for overcoming any kind of trauma, encouraging one to start over. Promotes inner stability.
PIETERSITE (aka Tempest Stone)
Fosters calm and joyous peacefulness. Enhances intuition and insight. Aids in the acceptance and tolerance of others and life. Dispels illusions and aids one seeing the beauty within. High vibration stone used by many energy healers.
AMBER
Amber is like sunshine solidified, offering a wonderful sense of health and wellbeing. Transmutes negative energies into positive, excellent for psychic protection. Cheers you up and helps you take action to make your ideas reality - ideal manifestation aid. Cleansing effect on the body, mind and spirit, promoting self-confidence and creative self-expression. Encourages spontaneity, patience and inner wisdom.
PICTURE JASPER
Nurturing, comforting stone, associated with expanded creativity, invention and initiative. Helps in grounding one's ideas into reality. Believed to contain hidden messages from the past, connecting and grounding into the earth energies. Harmonious stone offering psychic protection during shamanic journeying as well as activating the third eye chakra. Inspires creative visualisation and is excellent for overcoming any creative blocks and clear away past hurts. Good confidence stone, particularly helpful in business pursuits. Revered in many native cultures as sacred of courage and wisdom.
Recently Viewed