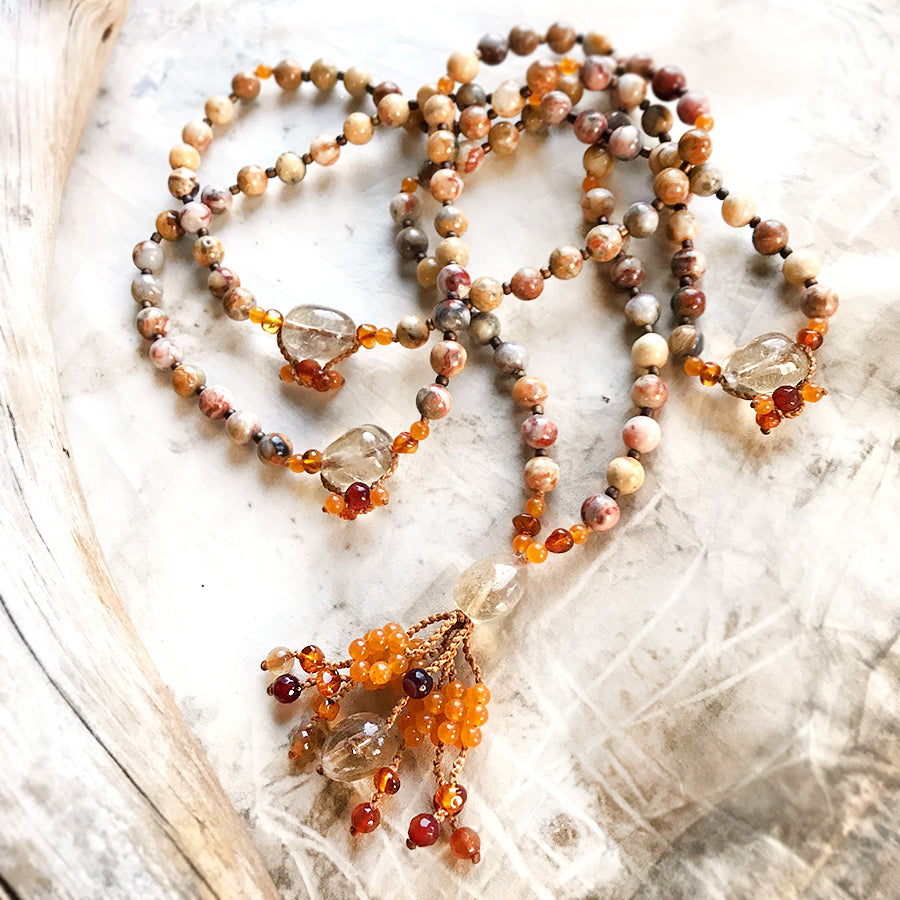 Crazy Lace Agate meditation mala
DESCRIPTION
One of a kind, contemporary 108 bead meditation mala with Crazy Lace Agate counter beads. The three dividers are a combination of Citrine, Amber, Carnelian and yellow Calcite. The guru bead consists of Citrine and a 'tassel' of seven knotted strands, six of them ending in Carnelian, one ending in Citrine. This is a bright, joyful mala yet deep reaching in its energy.
The Agate counter beads are spaced with small, matte brown glass seed beads in asymmetrical organic shapes. The mala is knotted with orange micro-macrame cord, including a small yellow Calcite crystal at every nine bead intervals. Whilst this mala is long, it's not too heavy, so would suit wearing wrapped around either longer or shorter. 
All around length of mala: 131 cm (51.5") 
Counter bead diameter: 0.8 cm (0.3") 
The size of the divider Citrines: approx. 2 cm (0.8")
Length of guru bead & tassel combination: 7 cm (2.75")
This mala comes in one of my handmade soft brown leather pouches for safe-keeping. If you would rather have a fabric pouch, please let me know at the time of purchase. 
You'll receive this mala gift-wrapped at no extra charge.

Read more about Spirit Carrier mala beads
CRYSTAL PROPERTIES
CRAZY LACE AGATE
A stone of laughter and happiness, offering support and encouragement, elevating one's mood and promoting optimism. Uplifting stone that alleviates emotional pain and promotes self-acceptance. Useful for overcoming any kind of trauma, encouraging one to start over. Promotes inner stability.
CITRINE
Affects a powerful alignment with the higher self. Balances the emotions and helps in uplifting one's mood to be more sunny and cheerful. Brings clarity of thought, and attracts abundance and prosperity through joy. Powerful transformer in healing work. Increases self-confidence and optimism, cleanses the surrounding energies and promotes creative thinking. Releases, dissipates and transforms denser energies on all levels, mental, emotional and physical. Works to release limitations and blockages particularly around the sacral / solar plexus area.
YELLOW CALCITE
Associated with self-confidence, inner strength and hope. Effective in helping to clear away old outworn energy patterns and increasing personal motivation and drive. Helps in releasing self-doubt. Assists in learning new things quickly, increasing memory.
AMBER
Amber is like sunshine solidified, offering a wonderful sense of health and wellbeing. Transmutes negative energies into positive, excellent for psychic protection. Cheers you up and helps you take action to make your ideas reality - ideal manifestation aid. Cleansing effect on the body, mind and spirit, promoting self-confidence and creative self-expression. Encourages spontaneity, patience and inner wisdom.
CARNELIAN
Known as a stone of motivation and courage. Stimulates creativity and increases one's sense of self-worth. Balancing for body's energy levels, restoring vitality and motivation. Said to attract prosperity, new resources and good luck. A success stone that helps you follow through with plans. Stone of action that aids in overcoming procrastination. Helps in gaining more understanding of one's inner self. Stimulating to the Sacral Chakra, which, when in balance, allows one to enjoy life, feel its joys and pleasures, be flexible and 'go with the flow'.
Recently Viewed