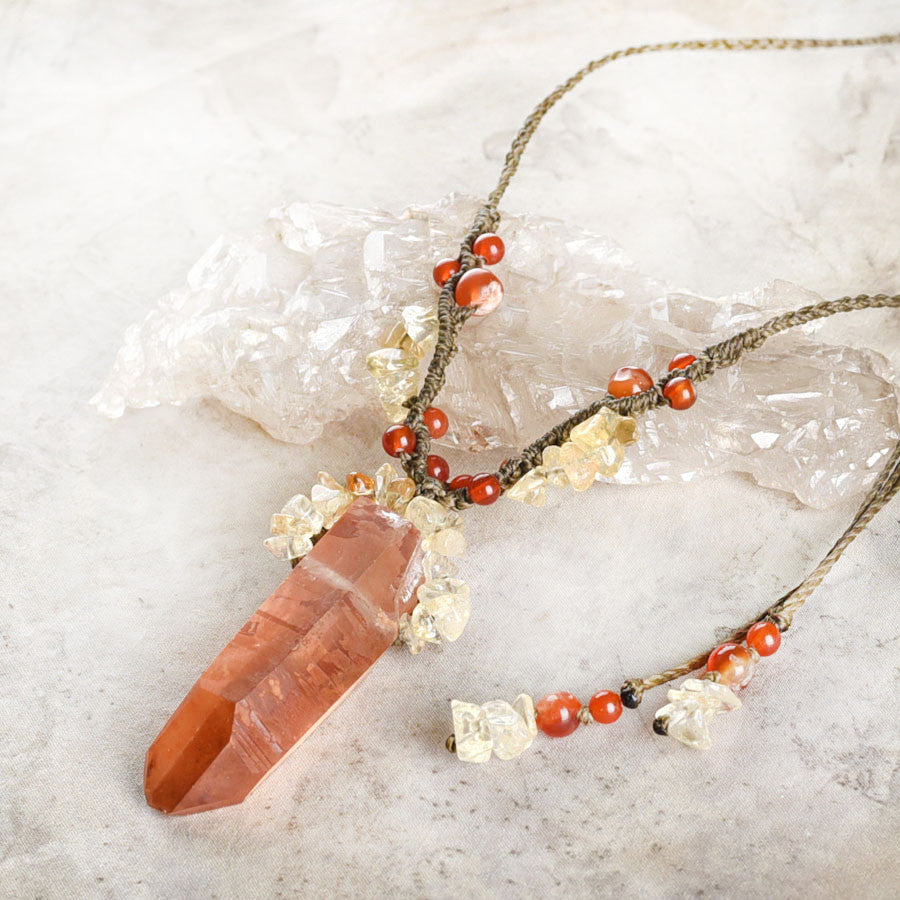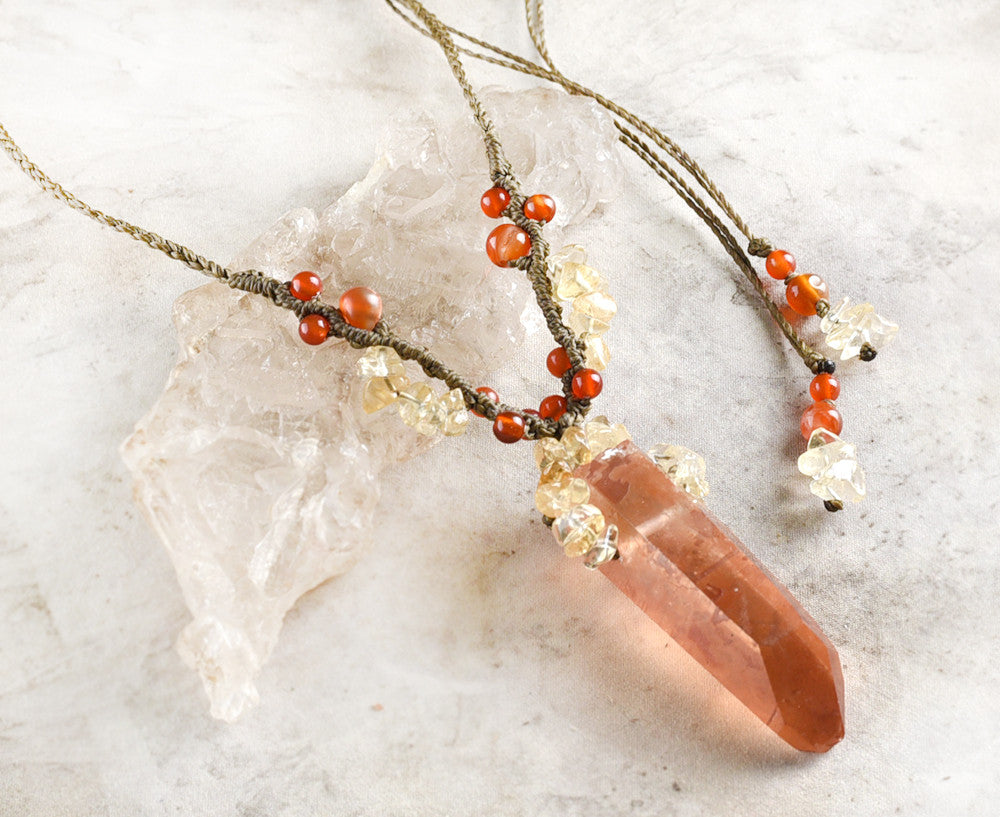 'Creative Flow' ~ Tangerine Quartz crystal amulet with Citrine & Carnelian
DESCRIPTION
Crystal healing amulet with a Tangerine Quartz point. The necklace is intricately knotted with dark greenish brown micro-macrame cord and highlighted with Citrine and Carnelian crystals.
The necklace length is adjustable from as short as you wish down to solar plexus level. The Tangerine Quartz is approx. 4.5 cm (1.8") tall and just under 2 cm (0.8") at its widest.
There are no metals in this necklace so would be particularly suitable for those with metal sensitivities, energy workers and those who simply prefer not to wear metal.
You'll receive this crystal healing necklace in one of my handmade fabric draw-string pouches - great for the safe-keeping of the necklace. Gift-wrapped at no extra charge.
CRYSTAL PROPERTIES
TANGERINE QUARTZ
Associated with the sacral chakra as well as the third chakra, this crystal supports flow of creativity and boosts manifestation from the spirit dimension into physical form. Beneficial for self-esteem, helps in releasing self-limiting beliefs and emotional patterns. Multi-dimensional healer crystal, especially supportive after trauma or shock. Unlocks more of your inner wisdom to be available for creating in your life what your soul desires.
CITRINE
Affects a powerful alignment with the higher self. Balances the emotions and helps in uplifting one's mood to be more sunny and cheerful. Brings clarity of thought, and attracts abundance through joy. Powerful transformer in healing work. Increases self-confidence and optimism, cleanses the surrounding energies and promotes creative thinking. Releases, dissipates and transforms denser energies on all levels, mental, emotional and physical. Works to release limitations and blockages particularly around the sacral / solar plexus area.
CARNELIAN
Known as a stone of motivation and courage. Stimulates creativity and increases one's sense of self-worth. Balancing for body's energy levels, restoring vitality and motivation. Said to attract prosperity, new resources and good luck. A success stone that helps you follow through with plans. Stone of action that aids in overcoming procrastination. Helps in gaining more understanding of one's inner self. Stimulating to the Sacral Chakra, which, when in balance, allows one to enjoy life, feel its joys and pleasures, be flexible and 'go with the flow'.
Recently Viewed