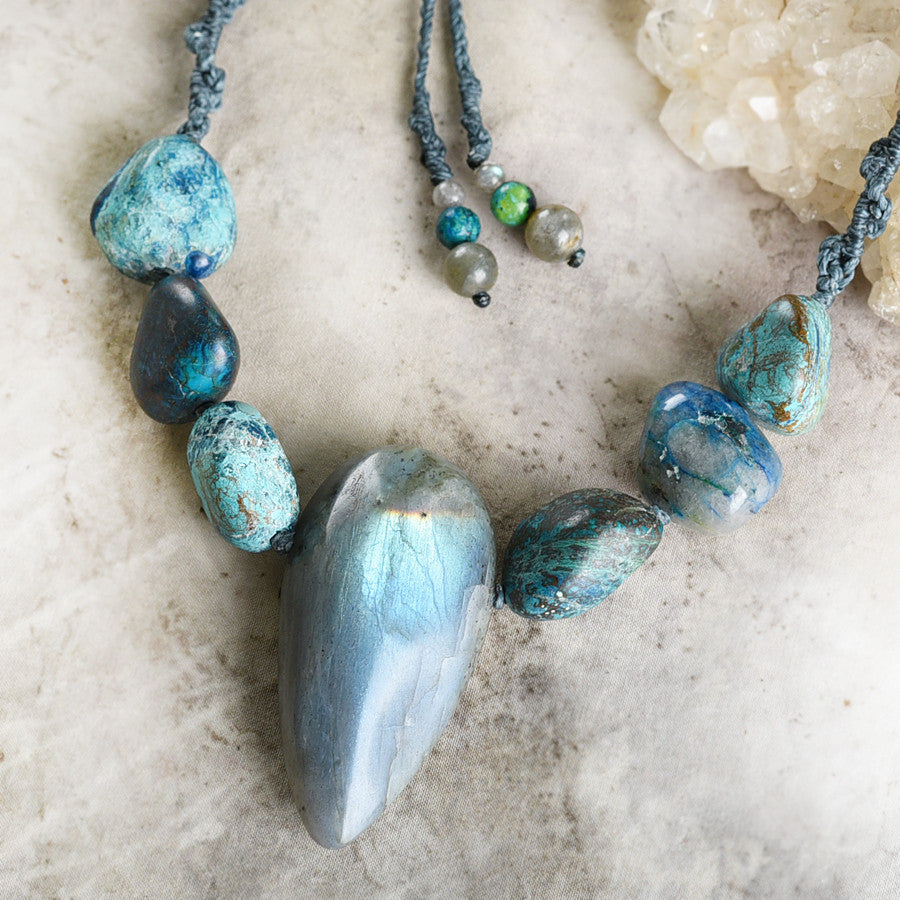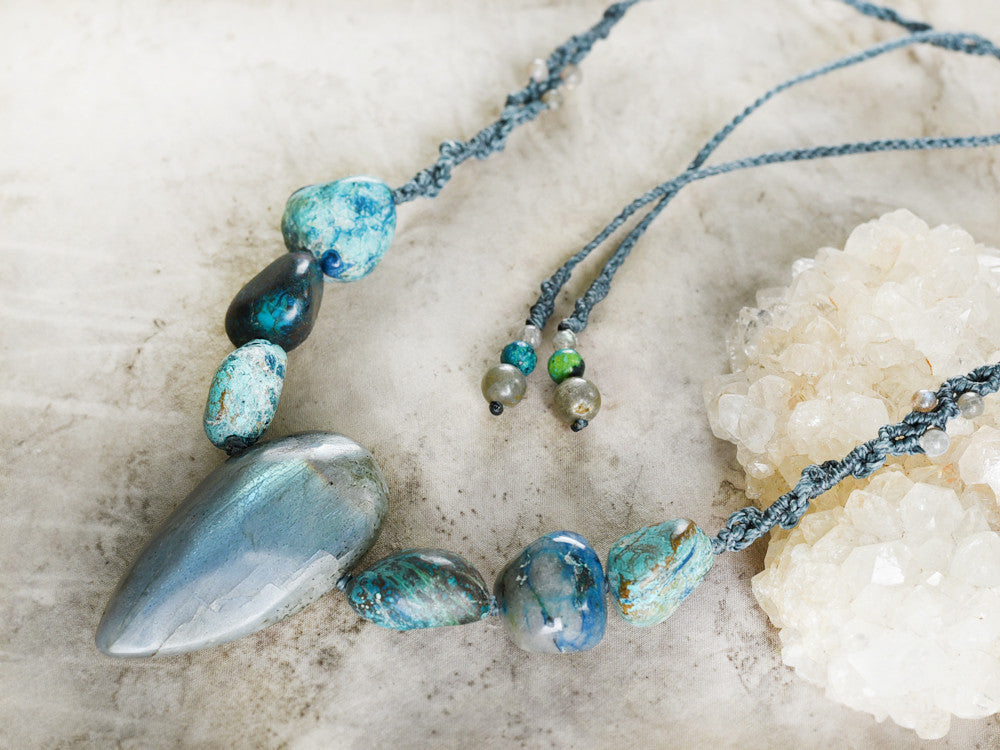 'Aurora Anchor' ~ crystal healing amulet with Labradorite & Chrysocolla
DESCRIPTION
Crystal healing amulet with beautiful leaf shaped Labradorite, combined with six tumbled Chrysocolla stones. The necklace is knotted with petrol blue micro-macrame cord, strong and durable but soft and comfortable to wear. The knotting is highlighted with small Labradorite crystals. Also the ends of the adjustable necklace cord are adorned with matching crystals. This is a chunky, eye-catching necklace with a good feel of weight to it. The Labradorite shows a stunning light blue flash when light touches the stone at a right angle.
This necklace is best worn quite high up near the fifth chakra, thus the length of the necklace, although adjustable, reaches down only over the high heart chakra area. The Labradorite is approx. 5 cm (2") tall and approx. 2.5 cm (1") at its widest. The rows of Chrysocolla on both sides are approx. 5 cm (2") long each.
There are no metals in this necklace so would be particularly suitable for those with metal sensitivities / metal allergy, energy workers and those who simply prefer not to wear metal jewellery.
You'll receive this crystal healing necklace in one of my fabric draw-string pouches, great for the safe-keeping of the necklace. Gift-wrapped at no extra charge.
CRYSTAL PROPERTIES
LABRADORITE
One of the most powerful, versatile crystal tools for healing. Creates an auric shield and strengthens your innate energy and life force, preventing energy leakages. Enhances intuitive abilities and assists in spiritual transformation. Helps the wearer align with their highest destiny and discover their inner worth. Strengthens willpower and brings in new ideas. Often referred to as the 'Stone of Destiny', believed to help you to find your true path in life, and as 'Temple of the Stars', anchoring higher dimensional light into your being.
CHRYSOCOLLA
Stone of the Wise Woman, of feminine empowerment. Associated with tranquility and intuition. Brings out one's inner strength, releasing old hurts such as feelings of guilt. Heals heartaches and promotes confidence, sensitivity and motivation. Helps those in position of guiding or teaching others, to communicate their knowledge and experience lovingly to others. Excellent stone for emotional balance and creative endeavours.
Recently Viewed