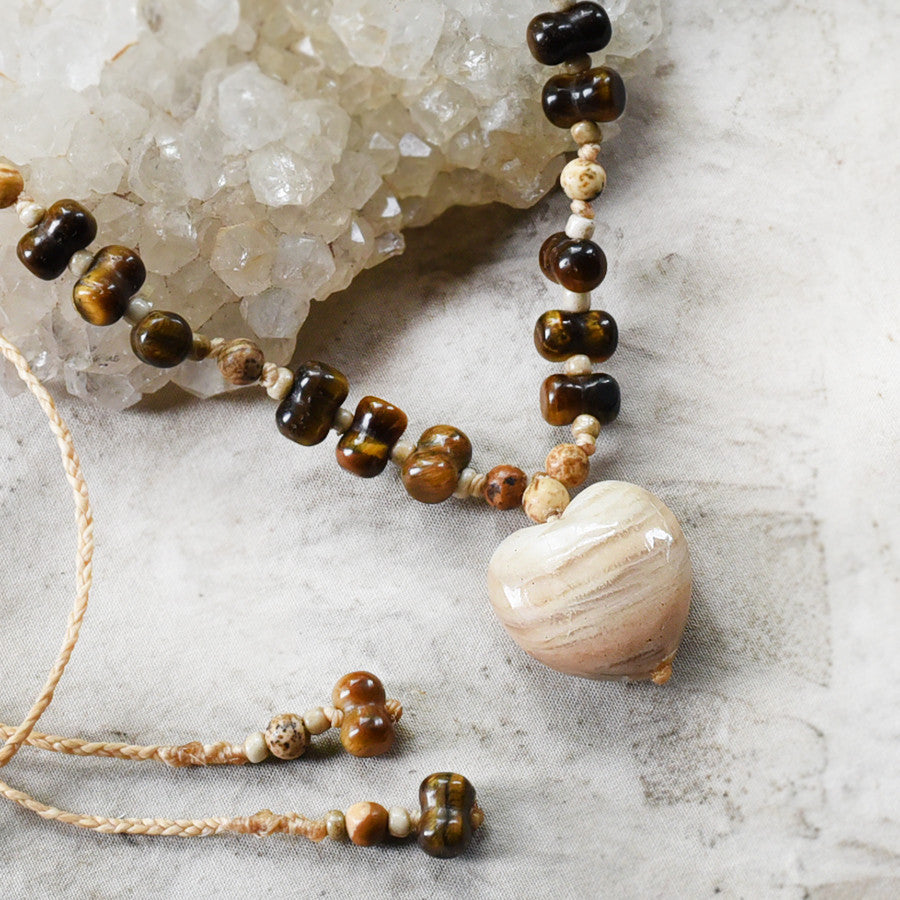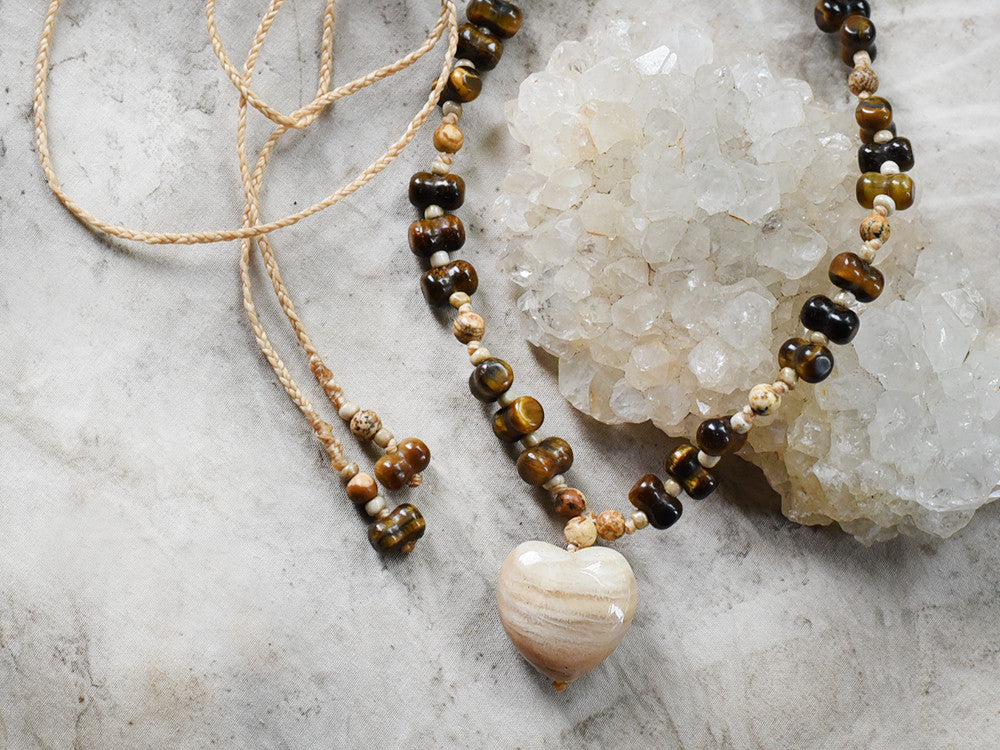 Crystal amulet with Moonstone heart, Tiger Eye & Picture Jasper
DESCRIPTION
Crystal healing amulet with a small Moonstone heart in tones of creamy beige. The necklace is beaded with Tiger Eye and Picture Jasper crystals, alternating with small natural tone Balinese ceramic beads.
Braided with strong yet soft cream tone micro-macrame cord, the necklace length is adjustable from as short as you wish down to just above solar plexus level. The Moonstone heart is just under 2 cm (0.8") wide and tall.
You'll receive this crystal necklace in a handmade fabric draw-string pouch, great for the safekeeping of the necklace. Gift-wrapped at no extra charge.
CRYSTAL PROPERTIES
MOONSTONE
Useful for feeling balanced or when changing aspects in one's life. Symbolises 'new beginnings'. Brings calmness through awareness. Provides the energy to sustain you through stages of growth. A highly intuitive stone allowing self expression and creativity to flow. Provides protection while travelling. A bringer of good fortune. Stone of feminine wisdom, inner growth and strength. Calming and soothing stone, enhancing intuition and inspiration. White moonstone is stimulating for psychic perception, vision and dream work.
TIGER EYE
A power stone for attracting prosperity. But it has also a highly spiritual energy and is helpful in understanding any life cycle that one is living through. It helps in seeing through illusions, in discerning the truth in any situation. A highly protective as well as grounding stone. Good for strengthening the third chakra.
PICTURE JASPER
Associated with expanded creativity, visions, invention and initiative. Helps in grounding ideas into reality. Believed to contain hidden messages from the past. Nurturing and harmonious, it also offers psychic protection during shamanic journeying as well as activates the third eye chakra. Inspires creative visualisation and is excellent for overcoming any creative blocks. Good confidence stone, particularly helpful in business pursuits.
Recently Viewed