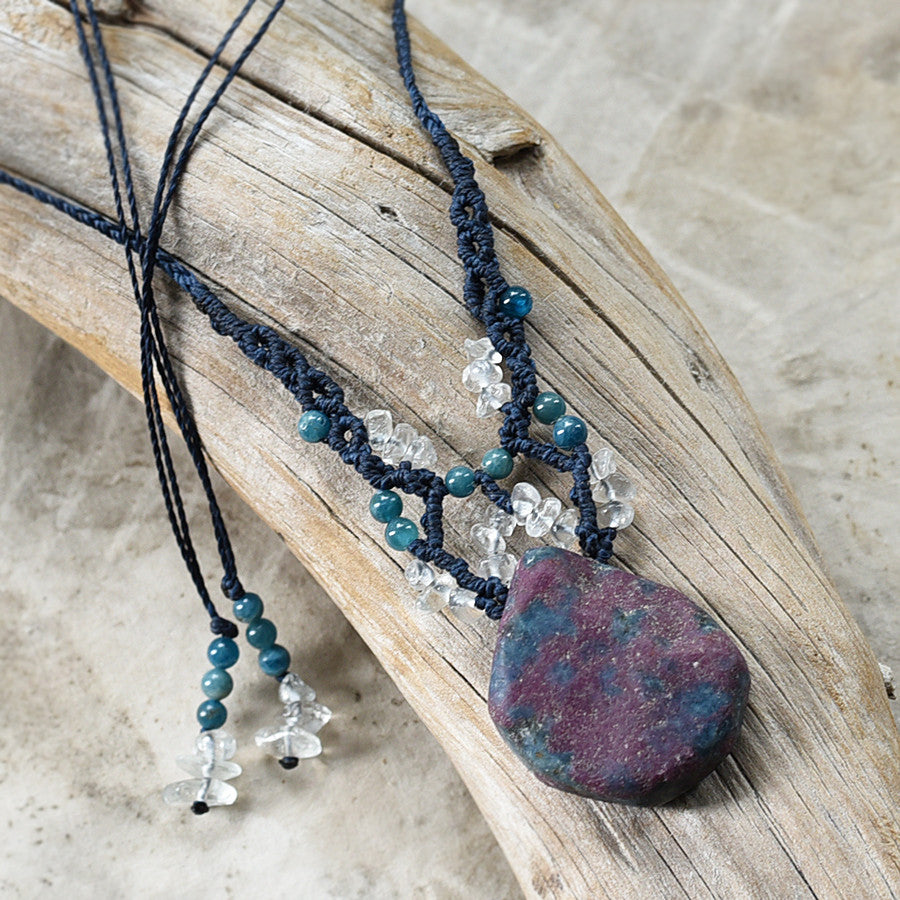 Crystal amulet with Ruby in Kyanite, Apatite & clear Quartz
DESCRIPTION
Crystal healing amulet with a rare stone of Ruby in Kyanite. The necklace is knotted with muted dark petrol blue micro-macrame cord, highlighted with Apatite and clear Quartz crystals.
The length of the necklace is adjustable from very short down to just above solar plexus level. The Ruby in Kyanite is approx. 3.5 cm (1.4") tall and 3 cm (1.2") wide at its middle. The thickness is just under 1 cm (0.4").
There are no metals in this necklace so would be particularly suitable for those with metal sensitivities, energy workers and those who simply prefer not to wear metal.
You'll receive this crystal healing necklace in one of my fabric draw-string pouches, great for the safe-keeping of the necklace. Gift-wrapped at no extra charge.
CRYSTAL PROPERTIES
RUBY IN KYANITE
A beautiful combination to assist in manifesting your heart's desire in alignment with your highest good. Ruby encourages you to 'follow your bliss' and have courageous attitude. It increases vitality and one's life-force energy. Promotes clear mind, motivation and concentration. Kyanite is known as 'Stone of connection' that opens up energetic pathways where none existed. It empowers you to stay true to your path and helps in hearing your intuitive guidance.
APATITE
Enhances one's insight and imagination, and gives increased self-confidence. Blue Apatite connects to high level of spiritual guidance and is helpful in letting go of anything that no longer serves your highest good. Apatite crystal is also said to be a good aid in curbing one's appetite!
CLEAR QUARTZ
The universal master crystal that has a harmonising effect on all levels of being. Programmable by intention, so can be used for versatile purposes. Quartz can clear, enhance, amplify, transmute, balance, focus and transmit energy. Raises one's energetic vibration. Attunes its keeper to their higher self. Known as the "Stone of Power" and "Master Healer".
Recently Viewed