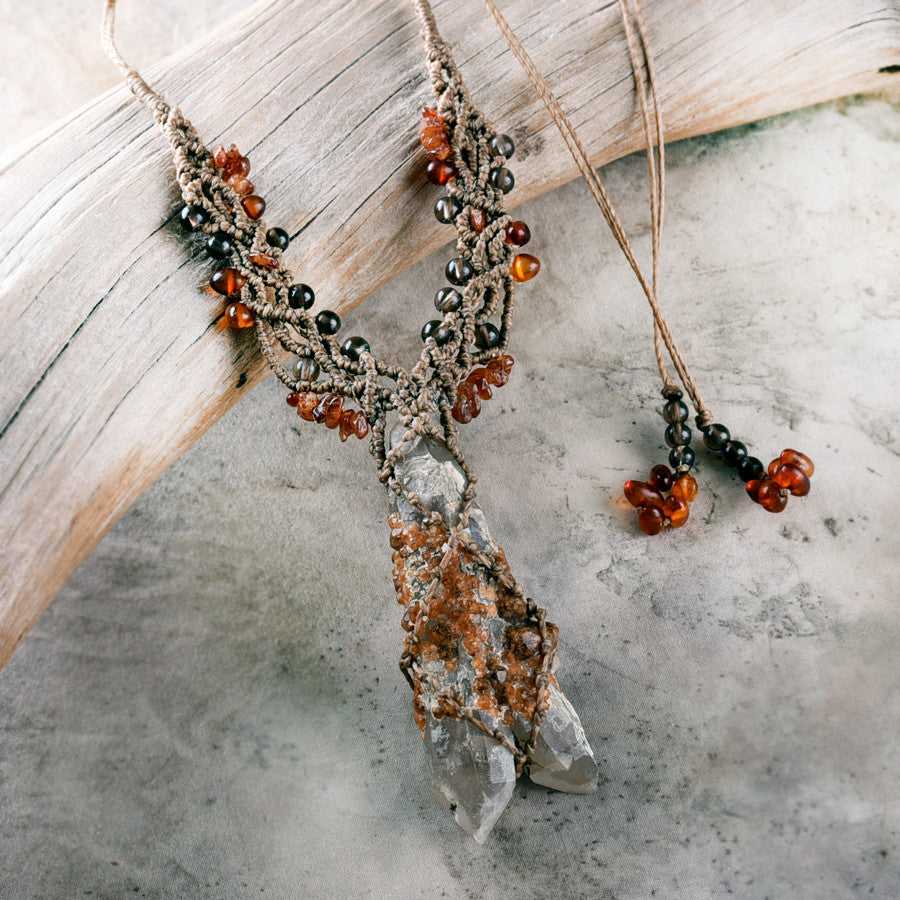 'Soul Companion' ~ crystal amulet with twin point Spessartine Garnet encrusted Smokey Quartz
DESCRIPTION
Crystal healing amulet with a rough Smokey Quartz twin point, naturally covered with small orange Spessartine Garnet crystals. The necklace is intricately knotted in lace-like pattern with muted brown micro-macrame cord, highlighted with further Spessartine Garnet crystals, Amber and small Smokey Quartz crystals.
The length of the necklace is adjustable from very short down to just above solar plexus level. The Smokey Quartz point is approx. 6.5 cm (2.55") tall and just over 2.5 cm (1") at its widest.
There are no metals in this necklace so would be particularly suitable for those with metal sensitivities, energy workers and those who simply prefer not to wear metal.
You'll receive this crystal healing necklace in one of my fabric draw-string pouches, great for the safe-keeping of the necklace. Gift-wrapped at no extra charge.
CRYSTAL PROPERTIES
SMOKEY QUARTZ
A grounding and calming stone that elevates moods and dissipates negative emotions. "A Stone of Serenity", it is comforting and protective for one's aura. Smokey Quartz is thought to assist in creative endeavours and also in setting personal boundaries. Offers EMF protection. A good healing stone for improving general feeling of well-being.
SPESSARTINE GARNET
Elevates mood and allows experiences of 'emotional sunshine' into one's life, thus making life more fulfilling. Helps in overcoming the fear of new experiences, encouraging you to live more spontaneously. Balances and vitalises the sacral chakra, supporting creative pursuits and intuition.
AMBER
Amber is like sunshine solidified, offering a wonderful sense of health and wellbeing. Transmutes negative energies into positive, excellent for psychic protection. Cheers you up and helps you take action to make your ideas reality - ideal manifestation aid. Cleansing effect on the body, mind and spirit, promoting self-confidence and creative self-expression. Encourages spontaneity, patience and inner wisdom.
Recently Viewed