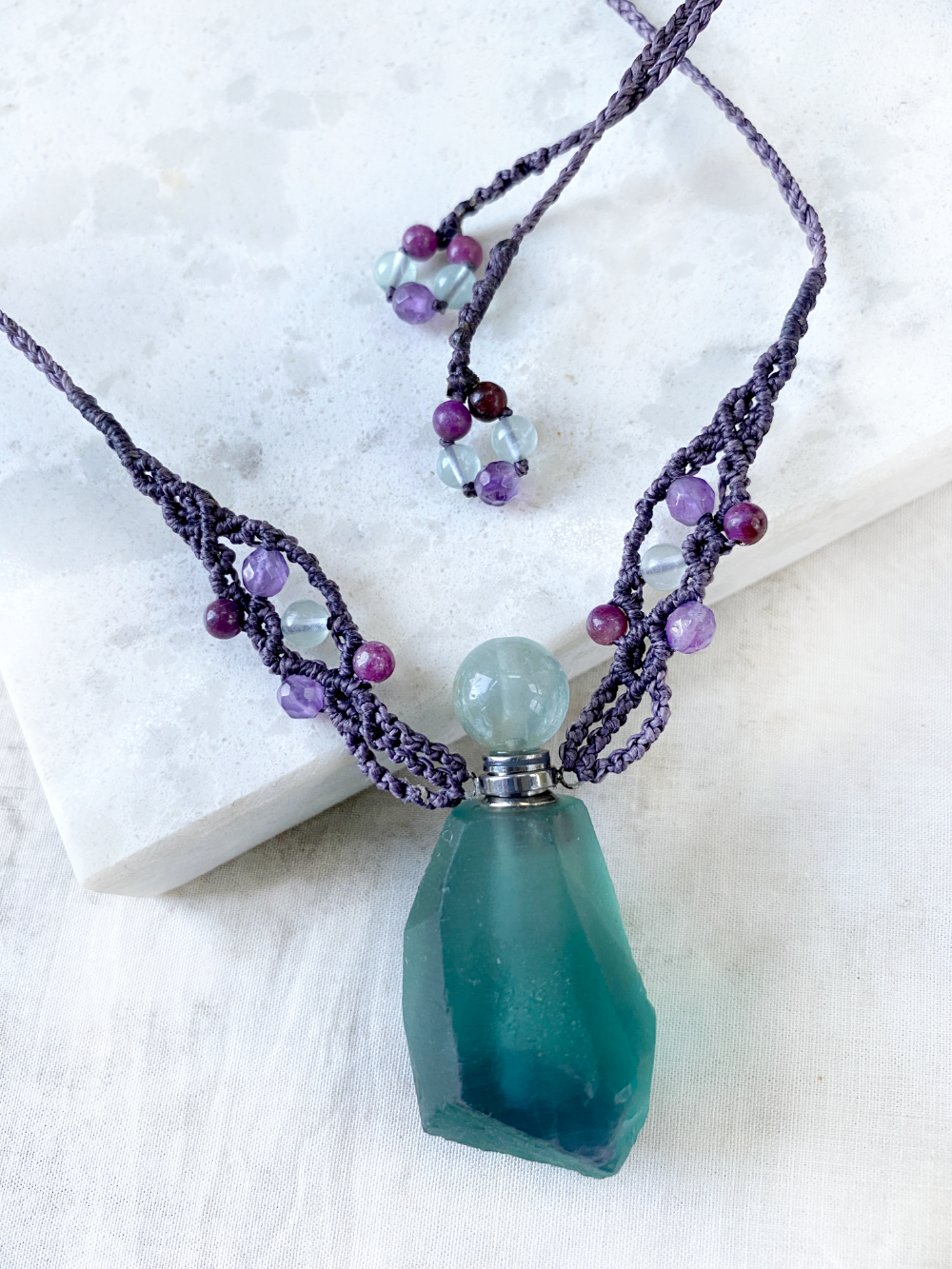 Crystal bottle amulet (Fluorite) ~ for essential oil or perfume
DESCRIPTION
Crystal healing talisman with a tiny bottle made out of rough cut Fluorite, mainly green but with a detectable hint of purple as a line across one side. This bottle would be perfect for inserting your favourite perfume or essential oil to carry with you by wearing as a necklace. The necklace braid is dark pruple micro-macrame cord, with highlighting crystals of Amethyst and Lepidolite within the knotwork and the braid ends.

Please note in case you have metal allergy: there is a small metal part around the neck of this bottle, from which it is attached to the necklace braid.

The necklace has a knotted channel through which you can pull the braided cords to change the length and have the bottle hang at your desired level. The Fluorite bottle is approx. 4.5 cm (1.8") tall from the top of the cap to the base of the bottle. At its widest, the bottle is just under 2.5 cm (1"). The bottle comes with a small pipette that you can use to insert your chosen scented liquid into the bottle.
You'll receive this crystal healing necklace in one of Spirit Carrier's fabric draw-string pouches, great for the safe-keeping of the necklace. Gift-wrapped at no extra charge.

Read here how to take care of your crystal jewellery.
CRYSTAL PROPERTIES
FLUORITE
Excellent for cleansing one's aura, also detaching unwanted energy cords. Grounds excessive energy, beneficial for all levels of healing. Helpful in achieving spiritual wholeness. Protective, stabilising and harmonising stone. Facilitates personal growth. Awareness expanding. Anchors intuitive insights into the physical plane. Offers strong psychic protection, helping to discern energies one comes in contact with. Helps in being objective and focusing on what is essential. Also known as absorbing environmental EMF. Combined green and purple shades support heart-centred higher knowing and intuition.

AMETHYST
Instils inner peace, promotes self-discovery and aids in relaxation. Associated with the crown chakra, known as a "stone of balance" and positive transformation. Thought to increase spiritual awareness and psychic abilities, initiating higher knowing and greater understanding. Helps in assimilating new ideas and manifesting thoughts into action. Symbolises a connection to the Divine. A well-known support stone for those wanting to break old patterns to create a new, harmonious life.
LEPIDOLITE
An open, inviting stone, offering its gentle love readily when you just hold it in your hand. Useful in reducing depression and stress, it can assist in moving calmly through life transitions. In crystal healing practice, Lepidolite has been used to ease emotional traumas, panic attacks and addictions. Lepidolite is said to help you to nurture yourself and be optimistic, and to clear out ties to the past, assisting you in moving freely forward in joy and happiness.
Recently Viewed