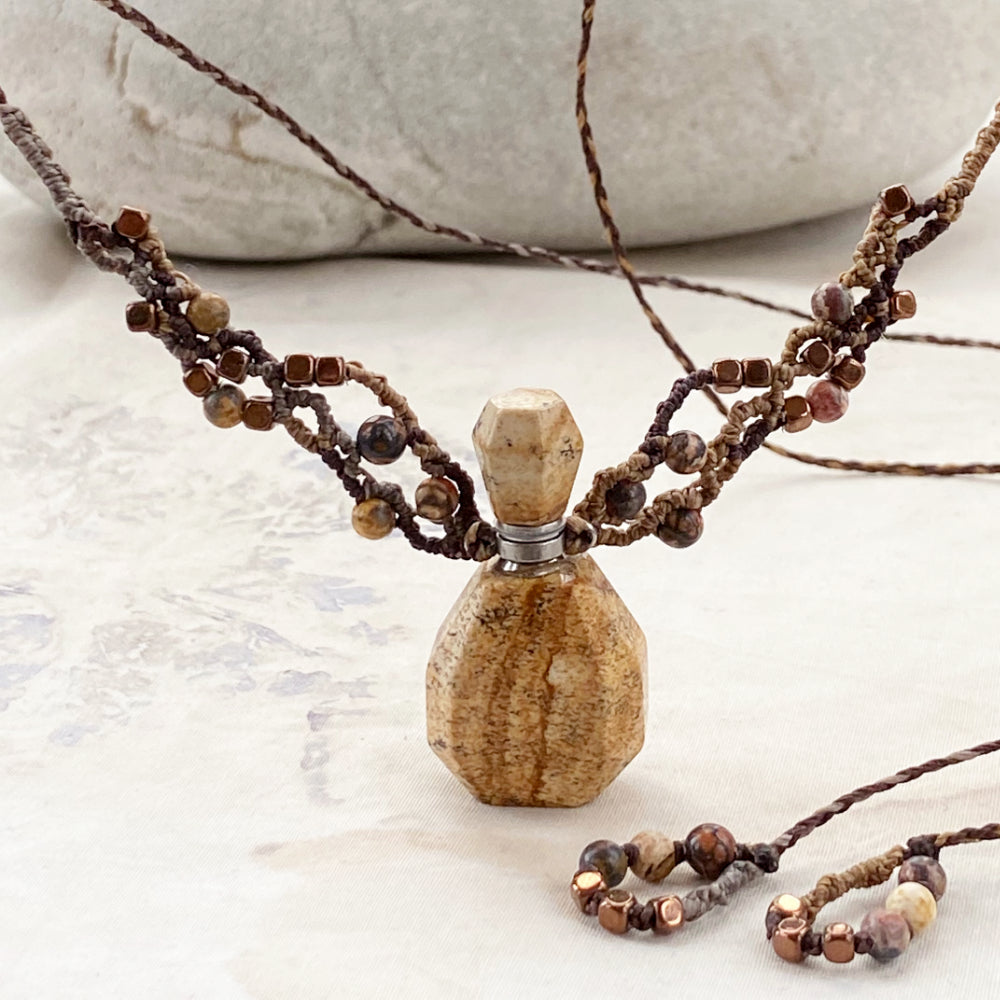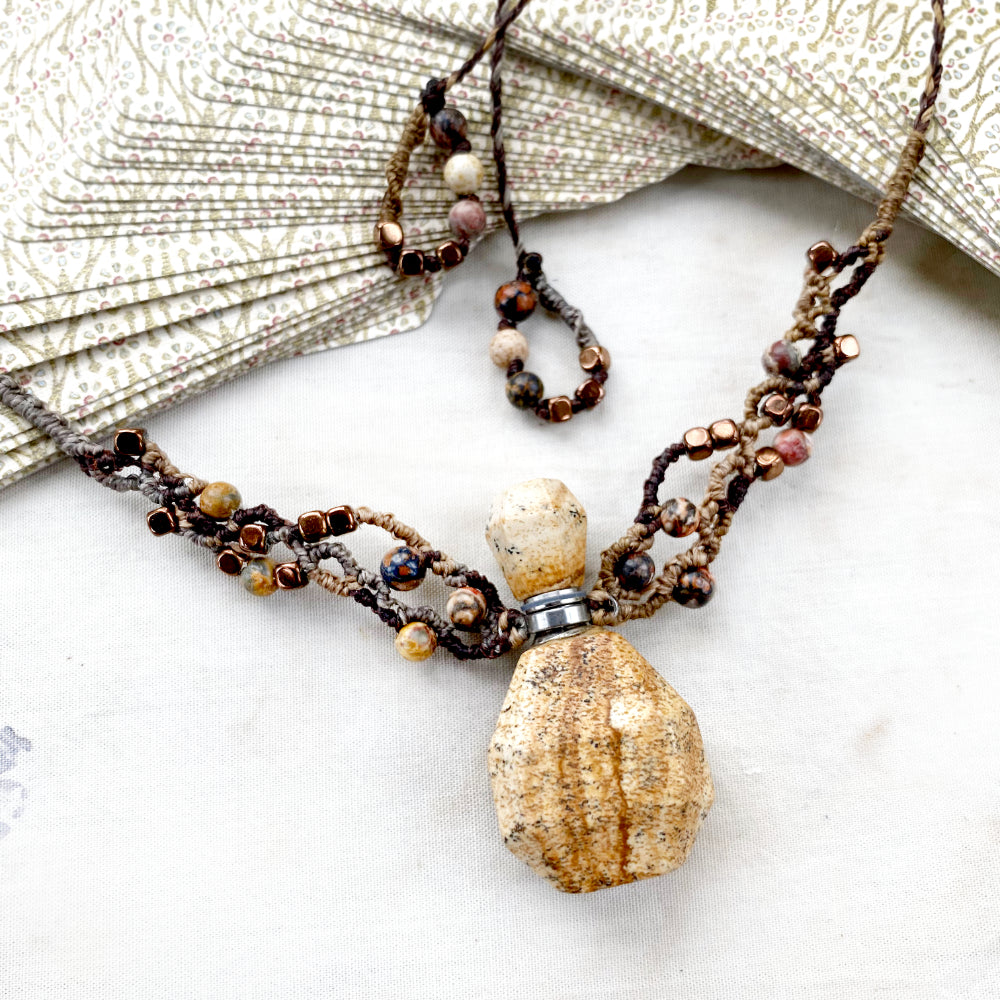 Crystal bottle amulet (Picture Jasper) ~ for essential oil or perfume
DESCRIPTION
Crystal healing talisman with a tiny bottle made out of Picture Jasper - perfect for inserting your favourite perfume or essential oil to carry with you by wearing it. The necklace braid is a combination of golden brown, dark brown and grey micro-macrame cords, with highlighting crystals of Leopardskin Jasper and Hematite. The ends of the adjustable necklace strings are adorned with matching crystals.

Please note in case you have metal allergy: there is a small metal part around the neck of this bottle, from which it is attached to the necklace braid.

The necklace has a knotted channel through which you can pull the necklace strings to change the length and have the bottle hang at your desired level. The bottle is just under 4 cm (1.6") tall from the top of the cap to the base of the bottle, meaning the bottle part itself is just over 2 cm (0.8") tall. The bottle comes with a small pipette that you can use to insert your chosen scented liquid into the bottle.
You'll receive this crystal healing necklace in one of Spirit Carrier's fabric draw-string pouches, great for the safe-keeping of the necklace. Gift-wrapped at no extra charge.

Read here how to take care of your crystal jewellery.
CRYSTAL PROPERTIES
PICTURE JASPER
Nurturing, comforting stone, associated with expanded creativity, invention and initiative. Helps in grounding one's ideas into reality. Believed to contain hidden messages from the past, connecting and grounding into the earth energies. Harmonious stone offering psychic protection during shamanic journeying as well as activating the third eye chakra. Inspires creative visualisation and is excellent for overcoming any creative blocks and clear away past hurts. Good for confidence, particularly helpful in business pursuits. Revered in many native cultures as a sacred stone of courage and wisdom.
LEOPARDSKIN JASPER
Powerful protection stone, associated with strength and vitality. Facilitates self-healing and is very supportive and nurturing. Attracts harmonious vibrations to one's life. Brings tranquility and a feeling of wholeness.
HEMATITE
Creates a strong sense of self and enhances the creative flow. Relieves stress. Revitalises, enhancing personal magnetism and optimism. Helps in releasing self-imposed limitations to find your own unique gifts. A stone of balance and equilibrium. Grounds when feeling scattered, allows one to maintain a natural alertness while remaining calm.
Recently Viewed