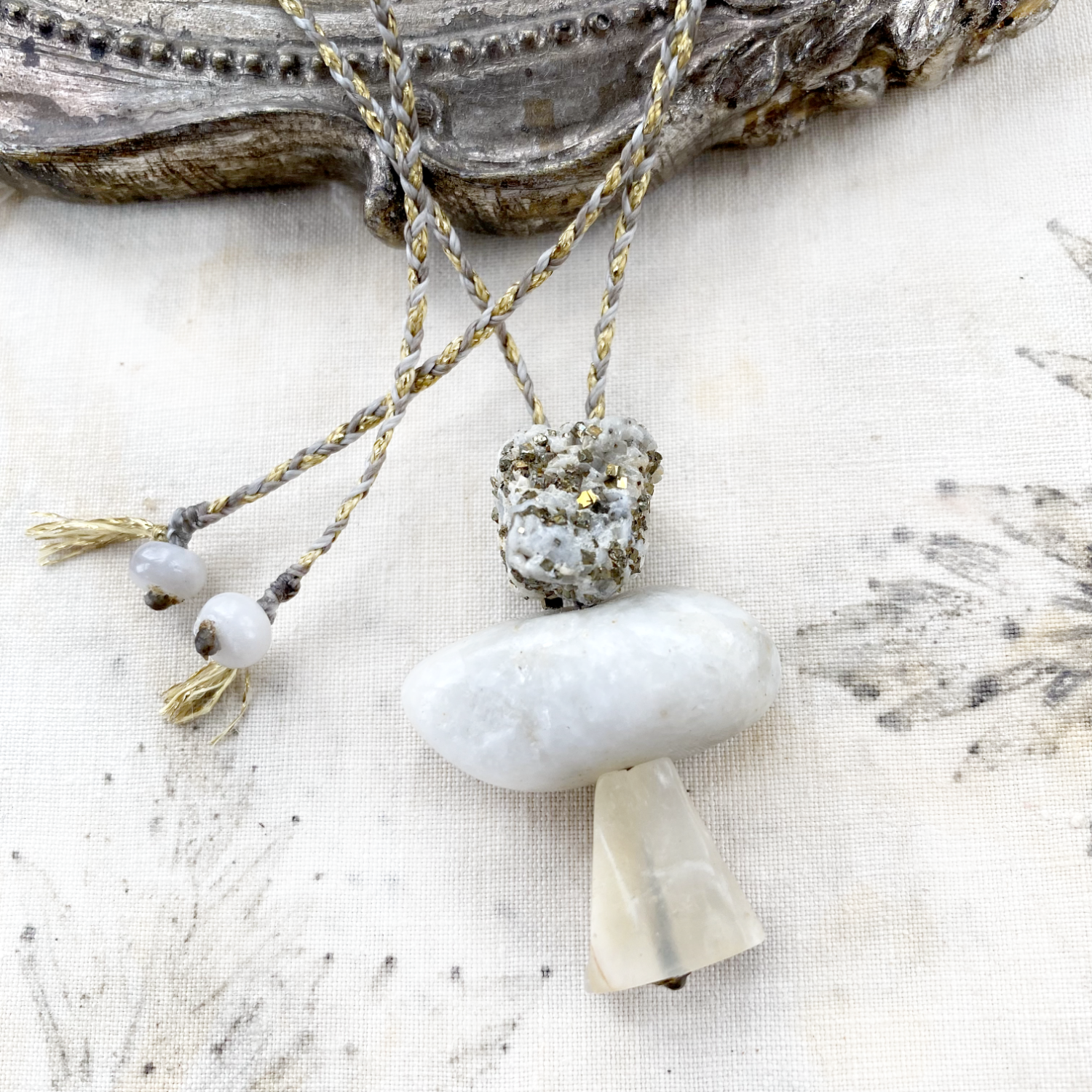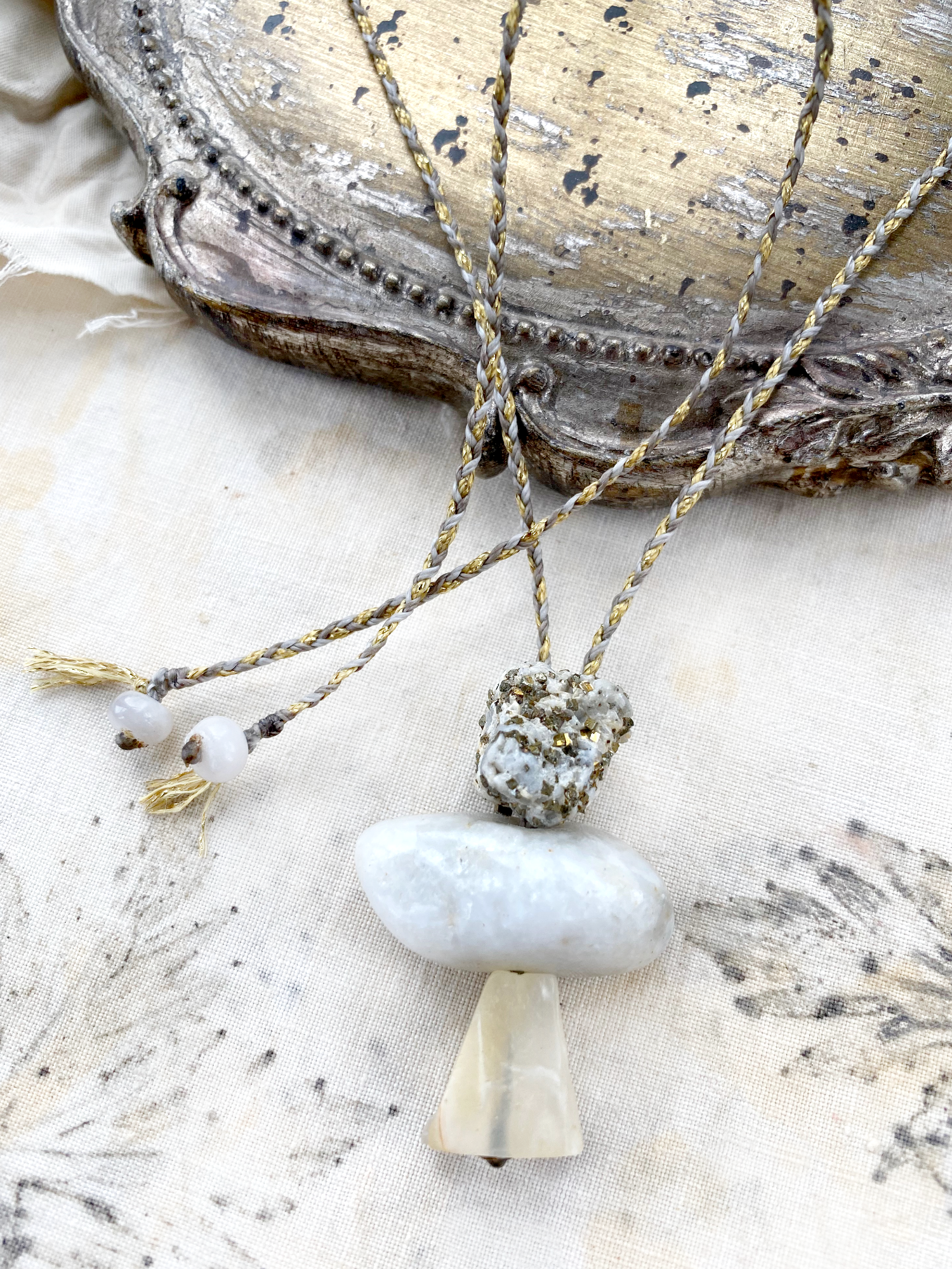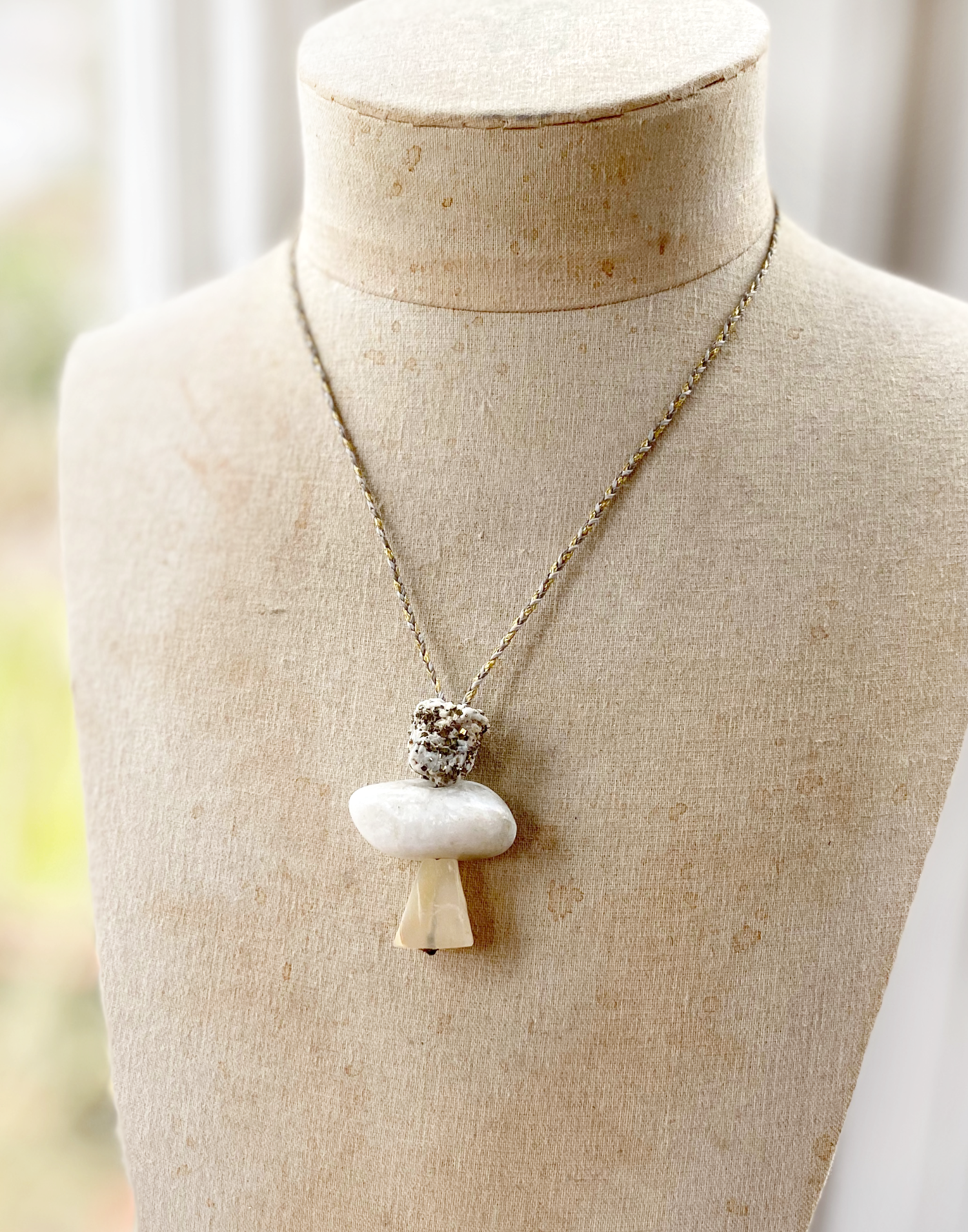 Crystal cairn amulet with Marcasite, White Quartz & Moonstone
DESCRIPTION
Crystal healing talisman with a trio of crystal energy: Marcasite, White Quartz and Moonstone, with additional accents or White Lace Agate at the ends of the necklace braids. This one is an easy to wear, natural talisman to connect you with intuitive clarity, sense of confidence and prosperity.
The necklace is a minimally braided with a combination of gold and grey micro-macrame cords. The stones form a pendant cairn that's just under 4 cm (1.6") tall. The width of the White Quartz is approx. 3 cm (1.2")
You'll receive this crystal healing necklace in one of Spirit Carrier's handmade fabric draw-string pouches - great for the safe-keeping of the necklace. Gift-wrapped at no extra charge.

Read here how to take care of your crystal jewellery.
CRYSTAL PROPERTIES
MARCASITE
Resonates with the Soul Star chakra, even if being strongly grounding at the same time. Offers strong psychic protection and strengthens courage. Brings clarity of thinking, increasing will-power. Said to promote creativity and attract wealth. If you long for new spark in life, Marcasite helps ignite it. A stone of action, confidence and vitality.
WHITE QUARTZ
Often referred to as 'Ice of Eternity' or 'Frozen Light', this crystal has a feminine, receptive energy. A powerful all-round healer that amplifies the vibe of other crystals nearby. Helps in focusing thoughts, intentions and actions as well as in balancing emotions. Activates the crown chakra. Assists in listening to one's Higher Self.
MOONSTONE
Useful for feeling balanced or when changing aspects in one's life. Symbolises 'new beginnings'. Brings calmness through awareness. Provides the energy to sustain you through stages of growth. A highly intuitive stone allowing self expression and creativity to flow. Provides protection while travelling. A bringer of good fortune. Stone of feminine wisdom, inner growth and strength. Calming and soothing stone, enhancing intuition and inspiration. White moonstone is stimulating for psychic perception, vision and dream work.
WHITE LACE AGATE
Stone of harmony, reminding you to go with the flow. Increases self-esteem, dispelling negativity and fears. Promotes calmness, clarity and balance. Assists in following decisions smoothly to their positive outcomes. Diffuses tension and hardships. Sharpens focus and leads you to new beginnings.
Recently Viewed