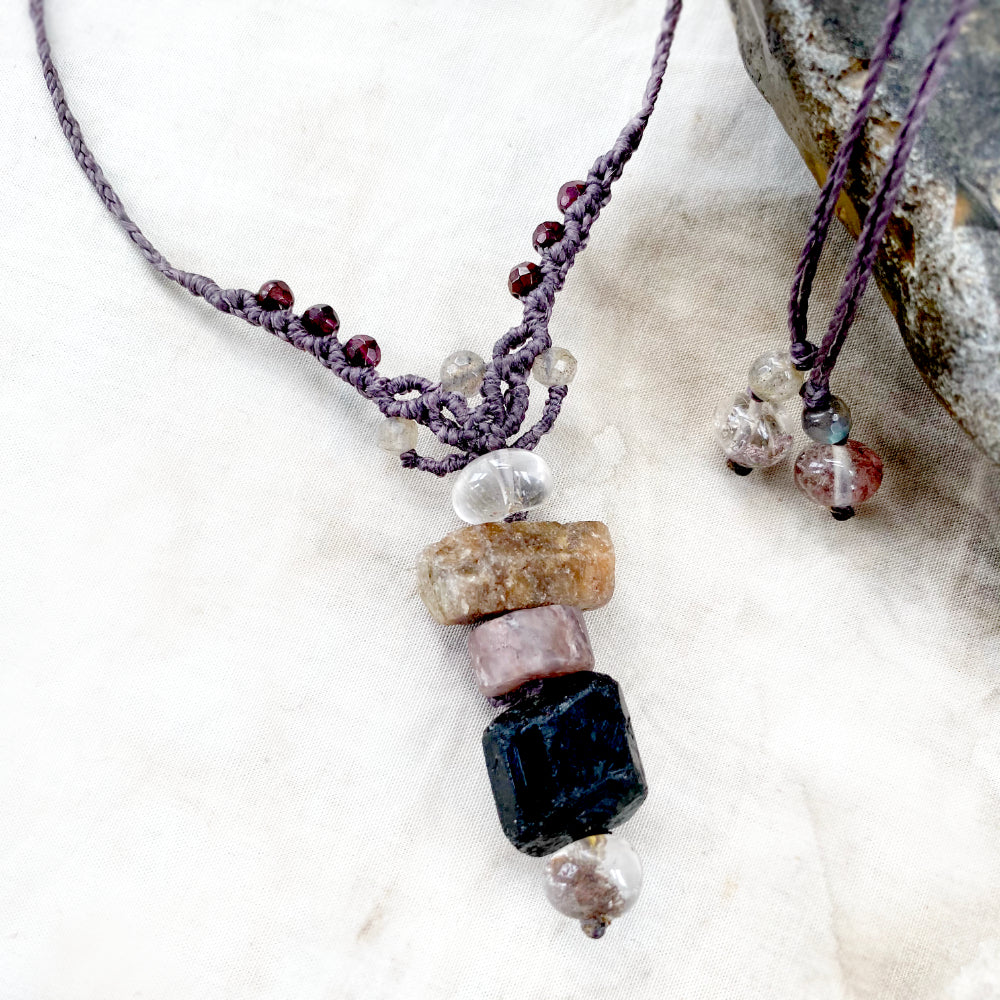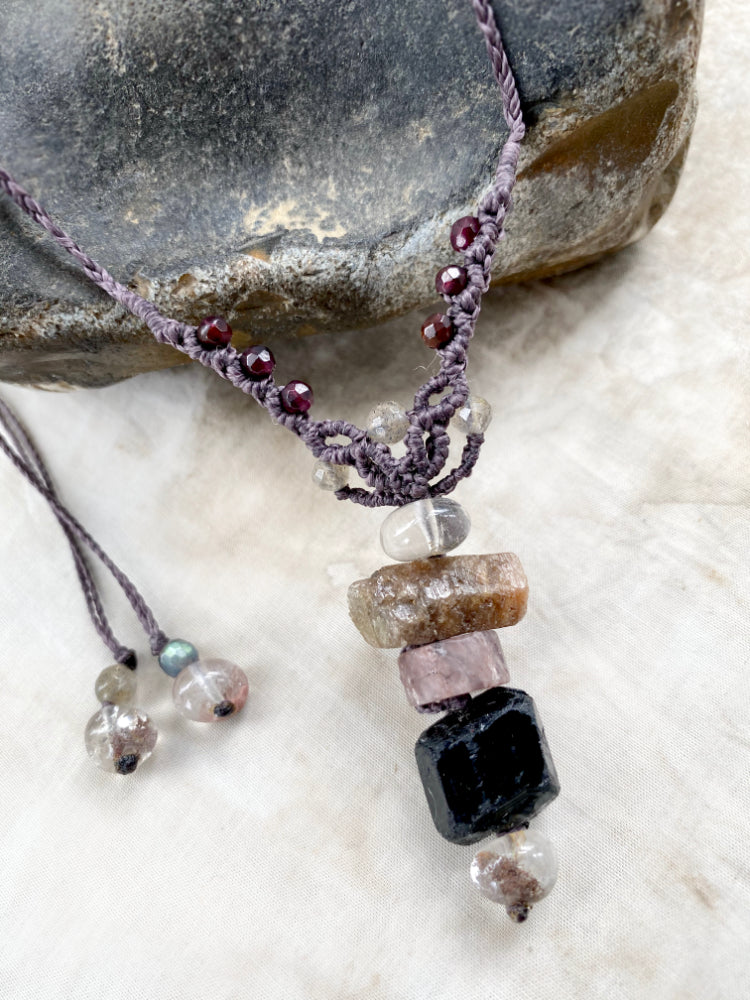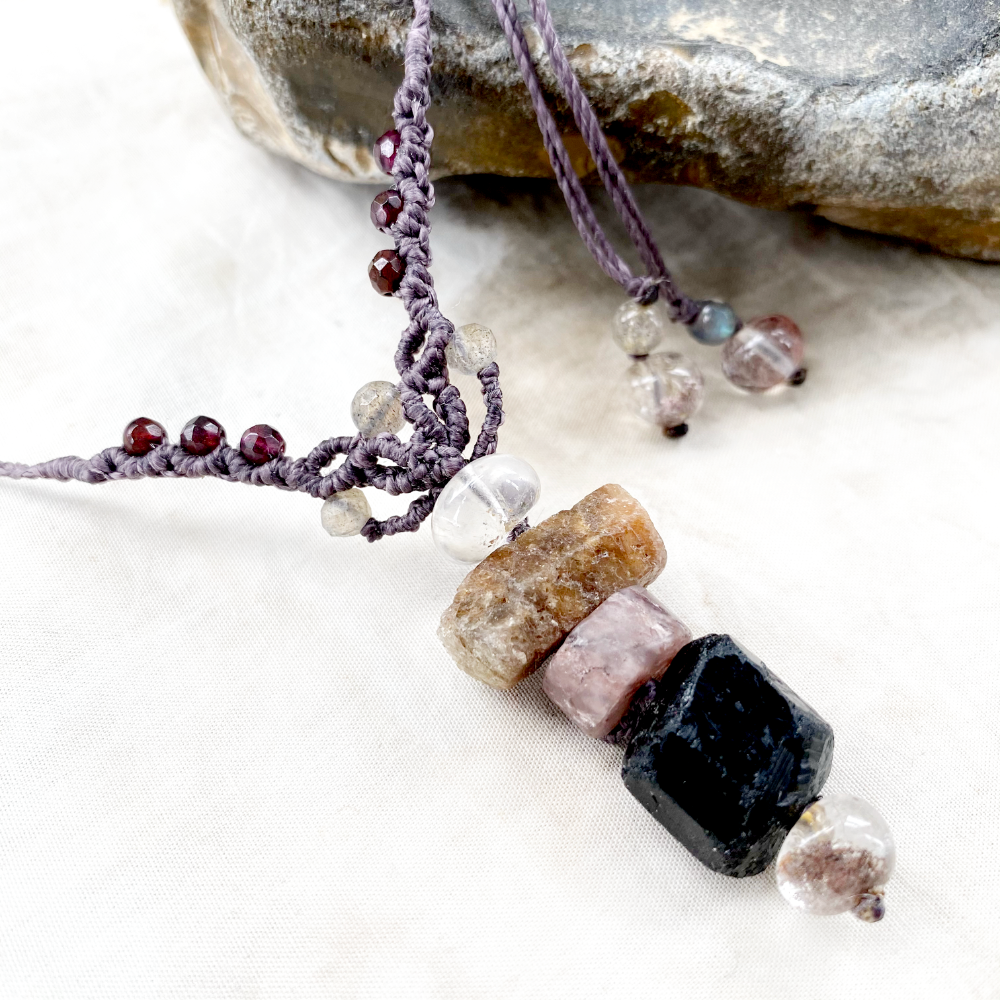 Crystal cairn amulet with Sapphire, Black Tourmaline, Lodolite, Labradorite & Garnet
DESCRIPTION
Crystal healing cairn amulet combining the energies of Lodolite, Black Tourmaline, Yellow Sapphire, Labradorite and Almandine Garnet. The necklace is knotted with muted purple micro-macrame cord, very strong and durable, yet soft and comfortable to wear. The ends of the adjustable necklace cords are decorated with Lodolite and Labradorite crystals.
The length of the necklace is adjustable from very short down to just above solar plexus level. The total crystal cairn length is approx. 4.5 cm (1.8"). The raw Sapphire is approx. 2 cm (0.8") wide.
There are no metals in this necklace so would be particularly suitable for those with metal sensitivities, energy workers and those who simply prefer not to wear metal.
You'll receive this crystal healing necklace in one of Spirit Carrier's fabric draw-string pouches, great for the safe-keeping of the necklace. Gift-wrapped at no extra charge.

Read here how to take care of your crystal jewellery.
CRYSTAL PROPERTIES
YELLOW SAPPHIRE
A stone of prosperity wisdom. Attracting financial abundance and wealth into your life by focusing intent into manifesting ideas and goals. Encourages you to explore new directions, take action and hold your vision until you see results. Helps in getting excited about life's possibilities. A professional support stone that increases discernment and astute judgement. Aids in overcoming the tendency to procrastinate. Stimulates courage and perseverance.
BLACK TOURMALINE (aka Schorl)
One of the most well-known protective stones, shielding its user from negativity. A shamanic stone used for grounding during vision quests. Empowering for those who work in challenging environments. Purifies and transforms denser energies into lighter vibrations and is also detoxifying for the body. If you're sensitive to electromagnetic smog, you may get relief by wearing black Tourmaline.
LODOLITE (aka Shaman Dream Stone, Garden Quartz)
Associated with the crown chakra, enhances one's sensitivity to invisible energies, helps in manifesting one's desires, brings harmony to one's aura, emanates strong yet gentle healing energies. Harmonises the higher vibrational energies of the aura and the light body. Gazing into this stone is said to bring about a cosmic shift of consciousness.
LABRADORITE
One of the most powerful, versatile crystal tools for healing. Creates an auric shield and strengthens your innate energy and life force, preventing energy leakages. Enhances intuitive abilities and assists in spiritual transformation. Helps the wearer align with their highest destiny and discover their inner worth. Strengthens willpower and brings in new ideas. Often referred to as the 'Stone of Destiny', believed to help you to find your true path in life, and as 'Temple of the Stars', anchoring higher dimensional light into your being.
ALMANDINE GARNET
Stimulates one's life force. Supports the root chakra while drawing earth energy into the body, helping you to feel secure and centred. Awakens the "inner fire" of creativity. Highly protective stone and a great companion to keep you energised. Excellent good fortune and 'success' stone in both social and career ventures, adding positive vibes both in your personal or business life. Stone of purification and cleansing. Symbolises passionate, devoted love.
Recently Viewed