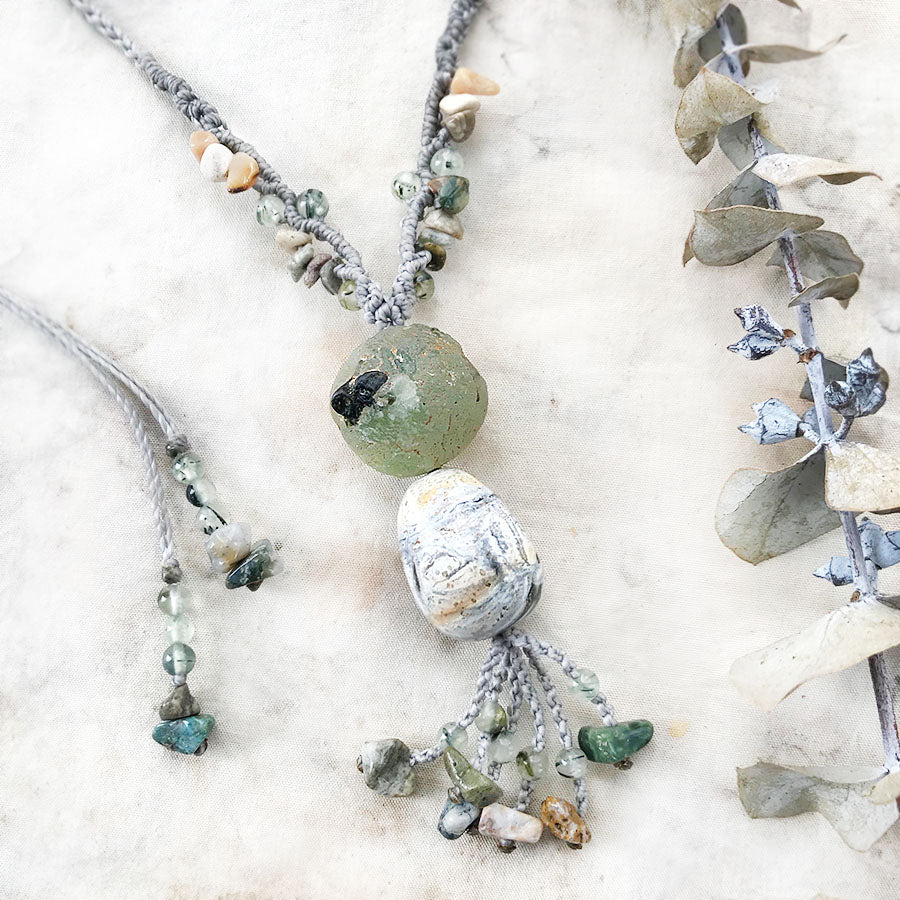 Crystal cairn necklace
DESCRIPTION
Crystal healing necklace combining the energies of Prehnite Epidote, Mookaite and Ocean Jasper. This crystal cairn amulet is knotted and braided necklace with light grey micro-macrame cord, which is strong and durable, yet soft and comfortable to wear.
The length of the necklace is adjustable from very short down to solar plexus level. The total length of the crystal cairn (from top edge of the Prehnite down to the base of the Ocean Jasper 'tassel') is 7.5 cm (3") tall. The diameter of the Prehnite Epidote is approx. 2 cm (0.8").
There are no metals in this necklace so would be particularly suitable for those with metal sensitivities, energy workers and those who simply prefer not to wear metal.
You'll receive this crystal healing necklace in one of my fabric draw-string pouches, great for the safe-keeping of the necklace. Gift-wrapped at no extra charge.

Read here how to take care of your crystal jewellery.
CRYSTAL PROPERTIES
EPIDOTE IN PREHNITE
Prehnite is a strongly protective stone, said to be "the healer's healer". It fosters a sense of trust in the Universe and helps you protect your boundaries so it's easier to say "no" when needed. Prehnite is also revitalising and said to bring inner peace. Epidote within the Prehnite is an energy enhancer, so it gives an extra boost to the crystal's energy. It encourages you to approach life with a positive outlook, clearing emotional residue and confusion from the heart chakra. Epidote is also considered a magnet for prosperity and great for physical recovery. 

MOOKAITE
Brings balance and clarity, flexibility and openness. It provides strength in negative situations and assists in being kind to self. Heightens one's intuition in order to know which direction to take in any given situation. Helps you to stay in the Now moment. Highly supportive for one's energy field, offering subtle yet constant harmony. Mookaite is said to slow the ageing process and to give relief in areas of geopathic stress. It's also a great manifestation crystal.
OCEAN JASPER
Known as the 'Atlantis stone'. Helps elevate mood and dispel stress-related energies. Deep reaching healing stone, assists in seeing the past in a new light in order to create a future filled with joy and happiness. Ignites feelings of self-worth. Increases patience, elevates mood, releasing old hurts. Works with solar plexus, heart and throat chakras, aligning you with your own personal power.
Recently Viewed