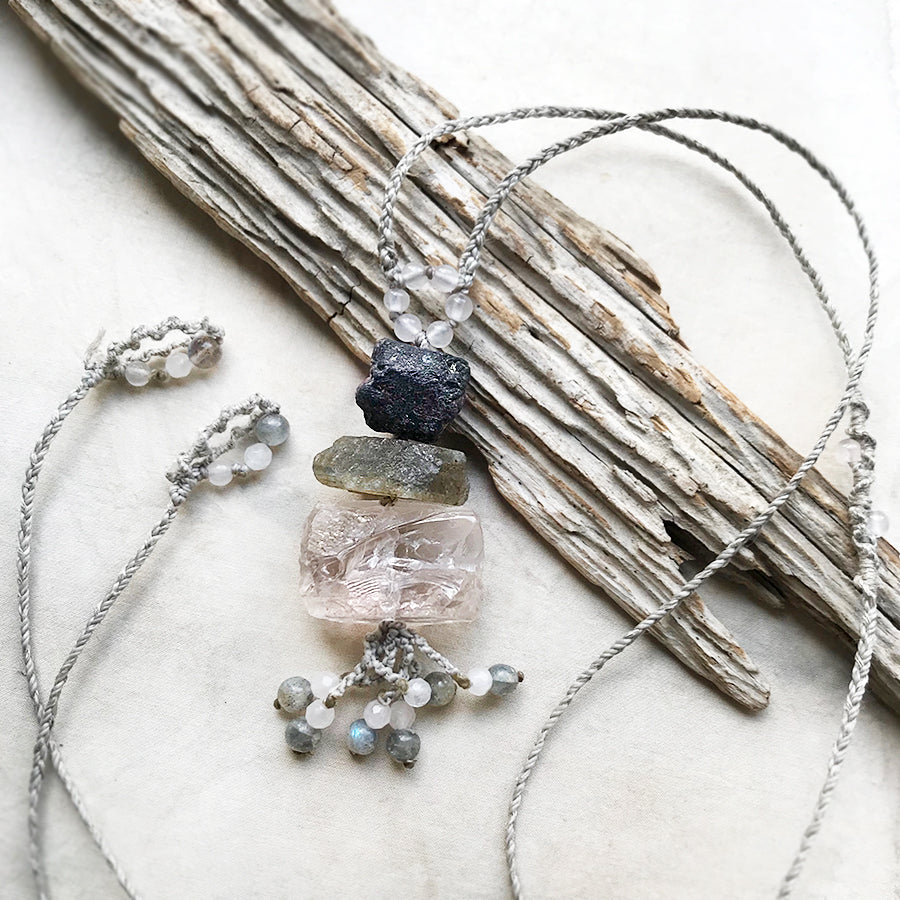 Crystal cairn necklace with Sapphire, Labradorite & Ice Rose Quartz
DESCRIPTION
Crystal healing cairn amulet with Sapphire, Labradorite and Ice Rose Quartz, including also small highlighting crystals of common Rose Quartz. The necklace is minimally braided with combined organic linen yarn combined and light grey micro-macrame cord making the necklace strong and supple, as well as soft and comfortable to wear. The ends of the adjustable necklace cords are adorned with small Rose Quartz and Labradorite crystals. One side of the braided necklace has a subtle decorative detail with knotted linen spiral and small Rose Quartz beads.
The length of the necklace is adjustable from very short down to solar plexus level by pulling the cords through the sliding knot closure. The total length of the crystal cairn (from top edge of the Sapphire down to the base of the small 'tassel' below the Ice Rose Quartz) is 6 cm (2.4") tall. The Ice Rose Quartz is 3 cm (1.2") wide.
There are no metals in this necklace so would be particularly suitable for those with metal sensitivities, energy workers and those who simply prefer not to wear metal.
You'll receive this crystal healing necklace in one of my fabric draw-string pouches, great for the safe-keeping of the necklace. Gift-wrapped at no extra charge.

Read here how to take care of your crystal jewellery.
CRYSTAL PROPERTIES
ROSE QUARTZ
Powerful love stone, love that is all-encompassing and unconditional. Awakens one's heart to its own innate love, compassion and acceptance. Vibrates its loving energy to all chakras, offering gentle healing. Soothing and calming. Dissolves anger and resentment. Good for raising one's self-esteem and feelings of self-worth. Balances emotions and is said to support all types of healing. Guides one's life path towards a sense of personal fulfilment and contentment.
LABRADORITE
One of the most powerful, versatile crystal tools for healing. Creates an auric shield and strengthens your innate energy and life force, preventing energy leakages. Enhances intuitive abilities and assists in spiritual transformation. Helps the wearer align with their highest destiny and discover their inner worth. Strengthens willpower and brings in new ideas. Often referred to as the 'Stone of Destiny', believed to help you to find your true path in life, and as 'Temple of the Stars', anchoring higher dimensional light into your being.
SAPPHIRE
A stone of psychic activation, enhances insight and focus. Helps the throat and third eye chakras to work in unison to strengthen and express one's inner vision. Grounds higher knowledge and helps one to stay centred. Evokes the wisdom needed to see past any situation into the underlying truth. Helpful in channeling healing energy from the highest source, allowing access to deeper levels of consciousness. (Sapphire is one of the four 'precious' gemstones, the other three being Ruby, Emerald & Diamond. Other gemstones are considered 'semi-precious'.)
Recently Viewed