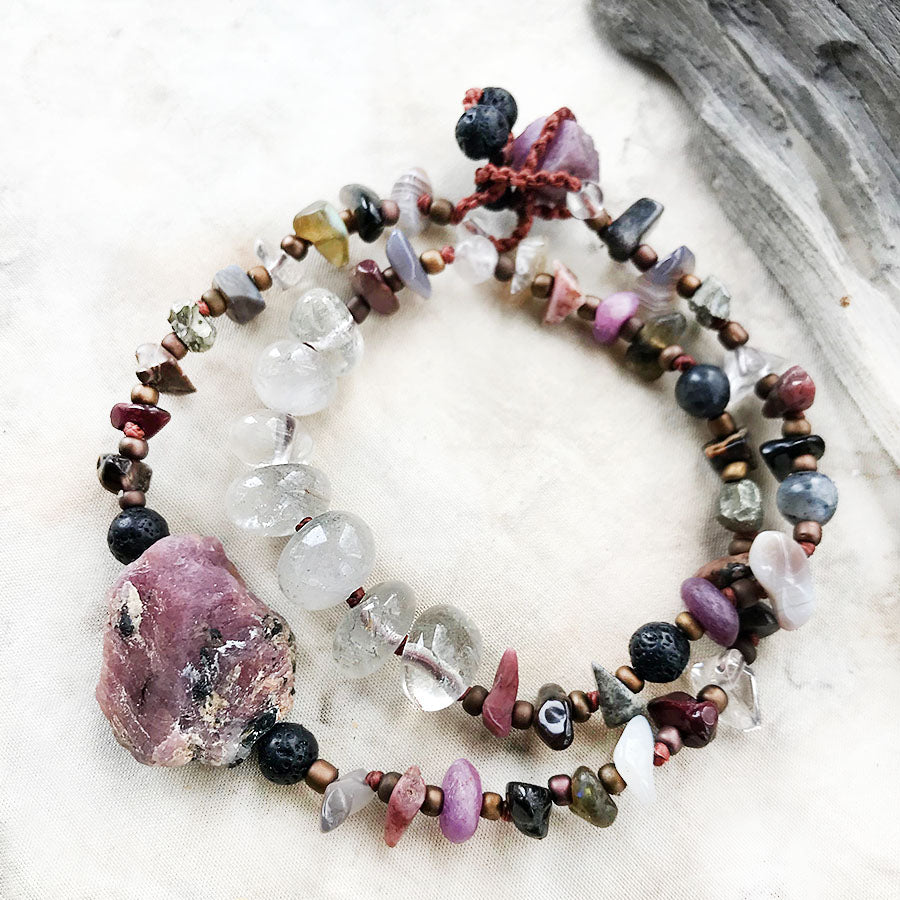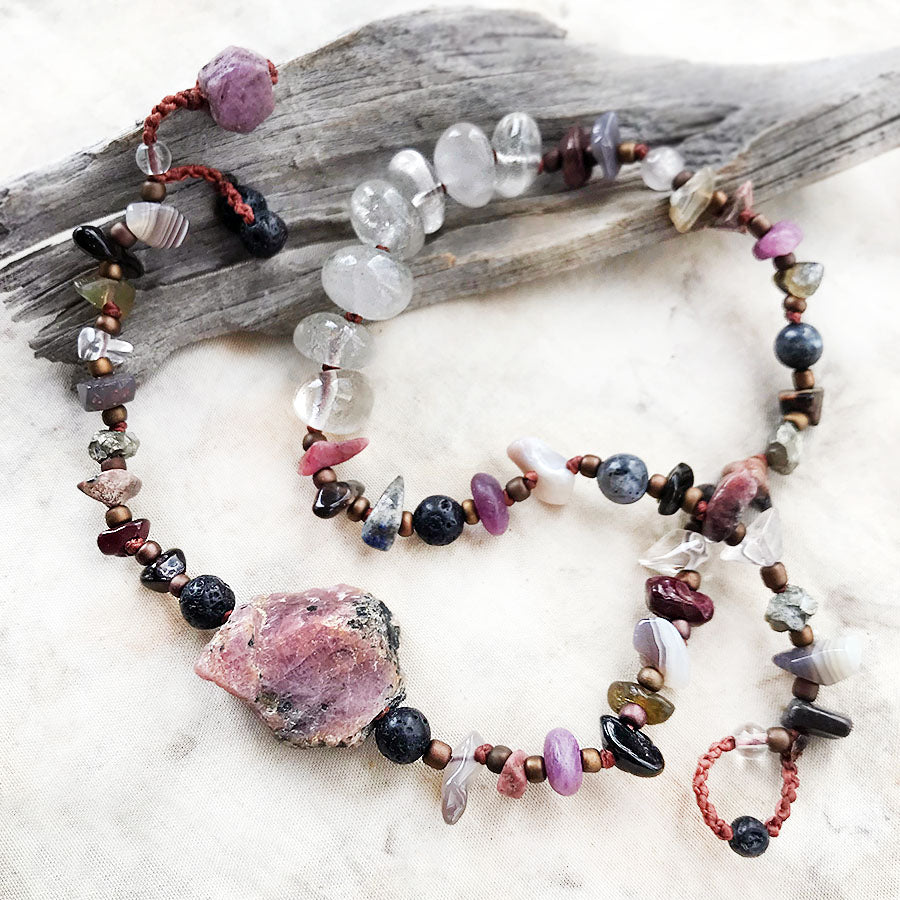 Crystal double wrap bracelet with raw Ruby ~ for wrist size up to 6.5"
DESCRIPTION
Easy to wear daily favourite that matches many outfits too ~ a 15.4" (39 cm) long line of energy activated crystals that wraps snuggly around 6.5" wrist twice. The closing toggle clasp consists of two strands, Ruby and Lava Stone - both can be slipped through the knotted loop to close the bracelet securely. 
The collection of gems in this bracelet is a veritable feast! Along the strand you'll find Ruby, Lava Stone, Shaman Dream Stone Quartz, Agate, Pyrite, Rhodonite, clear Quartz, Smokey Quartz, Labradorite, Norwegian Moonstone and Mookaite (the properties of the three most prominent crystals in this bracelet are listed under the 'crystal properties' tab). The bracelet is strung on moss green micro-macrame cord, alternating the crystals with matt brown glass seed beads.
This crystal healing bracelet comes in a fabric drawstring pouch, and gift-wrapped at no extra charge.
CRYSTAL PROPERTIES
The main crystal vibe in this wrap bracelet / necklace comes from these crystals:
RUBY
Increases vitality and one's life-force energy, Very energising, excellent for women. Promotes clear mind, motivation and concentration. Associated with love, passionate commitment and heart-based closeness, offering help in shedding past hurts. Encourages you to 'follow your bliss' and have courageous attitude. Supports closeness and commitment. Shielding crystal to keep your energy field in your own command. 

SHAMAN DREAM STONE (aka Lodolite, Garden Quartz)
Associated with the crown chakra, enhances one's sensitivity to invisible energies, helps in manifesting one's desires, brings harmony to one's aura, emanates strong yet gentle healing energies. Harmonises the higher vibrational energies of the aura and the light body. Gazing into this stone is said to bring about a cosmic shift of consciousness.
LAVA STONE
Stone of vitality, assertiveness and passion. Provides stability in times of change. Grounding and protective. Supports courage and decisiveness. Helps in finding one's 'life path'. Encourages personal development and growth.
Recently Viewed