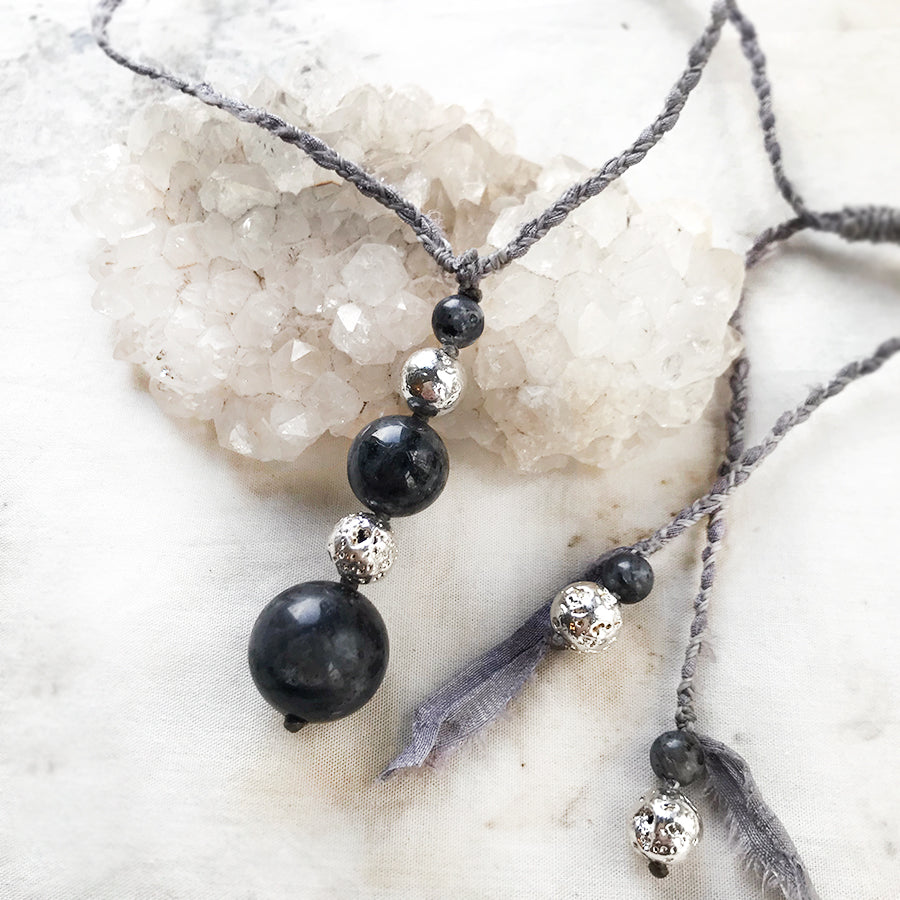 Crystal energy amulet with Norvegian Moonstone & silver covered Lava Stone
DESCRIPTION
Crystal healing amulet with a cairn of Norwegian Moonstone and silver-plated Lava Stone. This is a unusual combination of a polished crystal cairn combined with a minimally braided raw silk necklace with a soft 'wabi sabi' feel to it. The ends of the adjustable necklace cords are adorned with matching crystals. Interestingly, the silver does not block the energy from the Lava Stone, although the combination of the two is certainly its very own kind of magic. If you're sensitive to crystal energies, you'll find this one quite a treat!
The length of the necklace is adjustable from very short down to solar plexus level. The cairn is just over 5 cm (2") tall. The diameter of the largest Norwegian Moonstone sphere is 1.6 cm (0.6").
You'll receive this crystal healing necklace in one of my fabric draw-string pouches, great for the safe-keeping of the necklace. Gift-wrapped at no extra charge.

Read here how to take care of your crystal jewellery.
CRYSTAL PROPERTIES
NORWEGIAN MOONSTONE (aka Black Labradorite, Larvikite)
Repels negative energy and can make you more adaptable to life's situations. It also stimulates inner visions so it's very suited to meditation. Black Labradorite is also said to connect with nature spirits. On physical level, it is said to be good for renewing and maintaining vitality and youthfulness.
LAVA STONE
Stone of vitality, assertiveness and passion. Provides stability in times of change. Grounding and protective. Supports courage and decisiveness. Helps in finding one's 'life path'. Encourages personal development and growth.
Recently Viewed