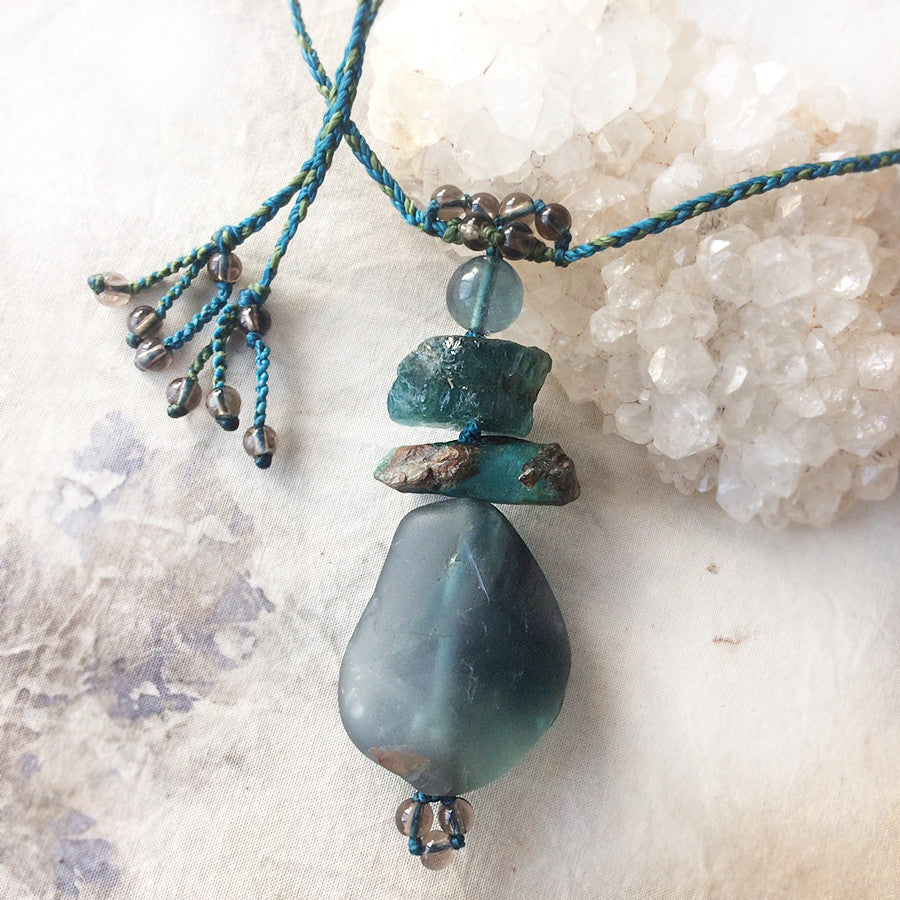 Crystal energy cairn amulet with Fluorite, Apatite, Chrysocolla & Labradorite
DESCRIPTION
Crystal healing cairn amulet with Fluorite, Apatite, Chrysocolla and Labradorite, including also small highlighting crystals of Smokey Quartz. The necklace is minimally braided with two combined colours of micro-macrame cord (petrol blue and bright forest green) which is strong and durable, yet soft and comfortable to wear. The ends of the adjustable necklace cords are adorned with small Smokey Quartz crystals.
The length of the necklace is adjustable from very short down to solar plexus level by pulling the cords through the sliding knot closure. The total length of the crystal cairn (from top edge of the uppermost Fluorite down to the base of the largest Fluorite) is 7 cm (2.75") tall. The largest Fluorite is is 2.5 cm (1") at its widest.
There are no metals in this necklace so would be particularly suitable for those with metal sensitivities, energy workers and those who simply prefer not to wear metal.
You'll receive this crystal healing necklace in one of my fabric draw-string pouches, great for the safe-keeping of the necklace. Gift-wrapped at no extra charge.
Read here about how to take care of your natural crystal jewellery.
CRYSTAL PROPERTIES
FLUORITE
Excellent for cleansing one's aura, also detaching unwanted energy cords. Grounds excessive energy, beneficial for all levels of healing. Helpful in achieving spiritual wholeness. Protective, stabilising and harmonising stone. Facilitates personal growth. Awareness expanding. Anchors intuitive insights into the physical plane. Offers strong psychic protection, helping to discern energies one comes in contact with. Helps in being objective and focusing on what is essential. Also known as absorbing environmental EMF. The combined green and purple shades support heart-centred higher knowing and intuition.
APATITE
Enhances one's insight and imagination, and gives increased self-confidence. Connects to high level of spiritual guidance and is helpful in letting go of anything that no longer serves your highest good. Helpful in bringing one's vision into reality and overcoming difficulties. Useful for energy workers, helping to maintain a clear energy field and balanced focus. Apatite crystal is also said to be a good aid in curbing one's appetite!
CHRYSOCOLLA
Stone of the Wise Woman, of feminine empowerment. Associated with tranquility and intuition. Brings out one's inner strength, releasing old hurts such as feelings of guilt. Heals heartaches and promotes confidence, sensitivity and motivation. Helps those in position of guiding or teaching others, to communicate their knowledge and experience lovingly to others. Excellent stone for emotional balance and creative endeavours.
LABRADORITE
One of the most powerful, versatile crystal tools for healing. Creates an auric shield and strengthens your innate energy and life force, preventing energy leakages. Enhances intuitive abilities and assists in spiritual transformation. Helps the wearer align with their highest destiny and discover their inner worth. Strengthens willpower and brings in new ideas. Often referred to as the 'Stone of Destiny', believed to help you to find your true path in life, and as 'Temple of the Stars', anchoring higher dimensional light into your being.
SMOKEY QUARTZ
A grounding and calming stone that elevates moods and dissipates negative emotions. "A Stone of Serenity", it is comforting and protective for one's aura. Smokey Quartz is thought to assist in creative endeavours and also in setting personal boundaries. Offers protection against electromagnetic rays. A good healing stone for improving general feeling of well-being. Relieves anxiety and worry, wards off confusion. Shielding crystal to create a calm, safe environment.
Recently Viewed