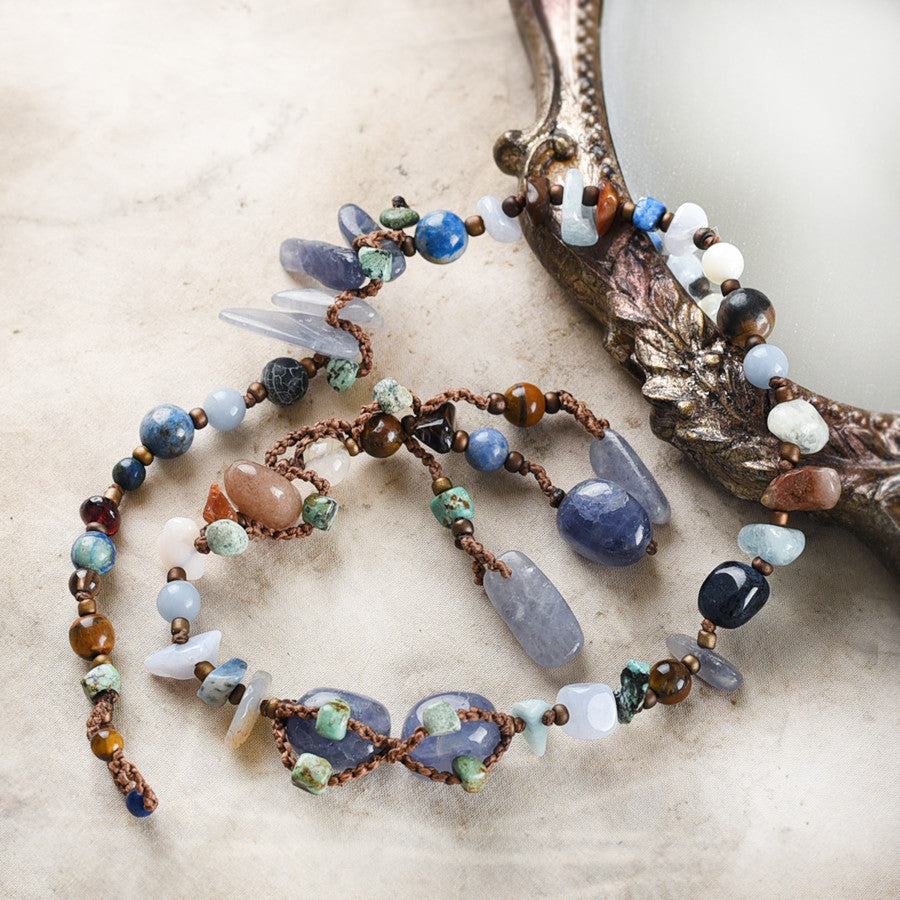 Crystal energy double wrap bracelet in blue & brown tones ~ for up to 6.5" wrist
DESCRIPTION
Easy to wear daily favourite that matches many outfits too ~ a 14.5" (37 cm including the toggle loop) long line of energy activated crystals that wraps snuggly around a 6.5" wrist twice. The closing toggle clasp consists of three strands, all Iolite which can be slipped through the knotted loop to close the bracelet securely.
The collection of gems in this bracelet include Iolite, African Turquoise Jasper, Muscovite, Sodalite, Lapis Lazuli, Angelite, Tiger Eye, Rose Quartz, Hawk Eye, Chiastolite, Blue Lace Agate, Amazonite, Carnelian and Almandine Garnet, accented with a few individual beads of mother of pearl and fire-polished Czech Picasso beads. The bracelet is strung on brown micro-macrame cord, alternating the crystals with matt brown glass seed beads and knotted at regular intervals for strength.
This one-of-a-kind bracelet comes in Spirit Carrier's own handmade fabric drawstring pouch, and gift-wrapped at no extra charge.
Read here about how to take care of your natural crystal jewellery.
CRYSTAL PROPERTIES
The two crystals bringing the most prominent energy in the bracelet:
IOLITE
Aids in making inner visions more vivid, dissolving fear of the unknown. Helps in blending everyday conscious thinking with intuitive inner knowing. Awakens psychic gifts, activating and clearing the third eye. Helps accessing communication from higher vibratory realms. Helps one to act and respond to situations from one's higher guidance.
AFRICAN TURQUOISE JASPER
Calming and soothing stone that creates a feeling of tranquility and comfort. Encourages personal growth, opening the mind to new ideas and possibilities. Also known as an abundance stone.
Recently Viewed