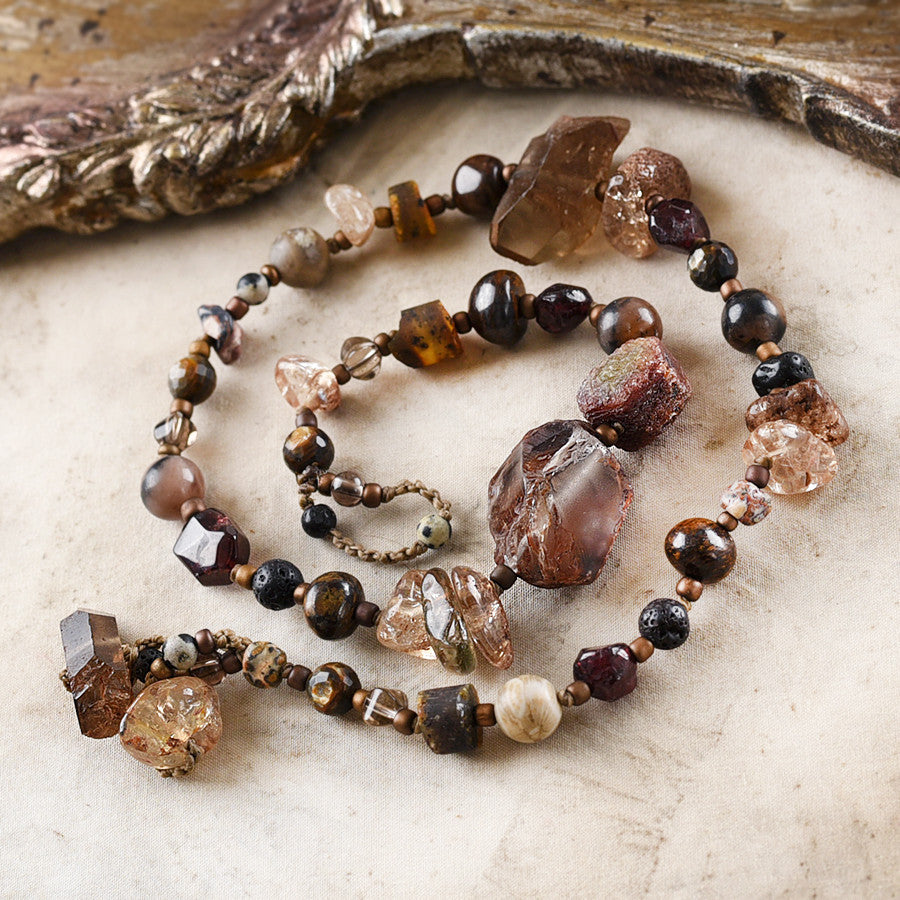 Crystal energy double wrap bracelet in brown earthy tones ~ for up to 7" wrist
DESCRIPTION
A shimmery, luxurious take on Spirit Carrier's favourite double wrap crystal healing bracelet - a daily favourite that matches many outfits too. A 16.5" / 42 cm (including the toggle loop) long line of energy activated crystals that wraps snuggly around a 7" wrist twice. The closing toggle clasp consists of two strands, a Citrine point and a Shaman Dream Stone Quartz pebble, both of which can be slipped through the knotted loop to close the bracelet securely. If you prefer a bracelet with more movement, this double wrap wouldn't slide off from a smaller wrist so suitable even for a 6" wrist circumference.
The collection of gems in this bracelet is a veritable feast, the three stars being deep honey hue Citrine, glittering Shaman Dream Stone Quartz and raw Sapphire - combined with golden Mica, Smokey Quartz, raw Amber Chiastolite, Lava Stone, Bronzite, Dalmatian Jasper, Leopardskin Jasper, Petoskey Stone and Almandine Garnet. The bracelet is strung on brown micro-macrame cord, alternating the crystals with matt brown glass seed beads and knotted at regular intervals for strength.
This one-of-a-kind bracelet comes in Spirit Carrier's own handmade fabric drawstring pouch, and gift-wrapped at no extra charge.
Read here about how to take care of your natural crystal jewellery.
CRYSTAL PROPERTIES
The three crystals bringing the most prominent energy in the bracelet:
SHAMAN DREAM STONE (aka Lodolite, Garden Quartz)
Associated with the crown chakra, enhances one's sensitivity to invisible energies, helps in manifesting one's desires, brings harmony to one's aura, emanates strong yet gentle healing energies. Harmonises the higher vibrational energies of the aura and the light body. Gazing into this stone is said to bring about a cosmic shift of consciousness.
CITRINE
Affects a powerful alignment with the higher self. Balances the emotions and helps in uplifting one's mood to be more sunny and cheerful. Brings clarity of thought, and attracts abundance and prosperity through joy. Powerful transformer in healing work. Increases self-confidence and optimism, cleanses the surrounding energies and promotes creative thinking. Releases, dissipates and transforms denser energies on all levels, mental, emotional and physical. Works to release limitations and blockages particularly around the sacral / solar plexus area.
SAPPHIRE
A stone of psychic activation, enhances insight and focus. Helps the throat and third eye chakras to work in unison to strengthen and express one's inner vision. Grounds higher knowledge and helps one to stay centred. Evokes the wisdom needed to see past any situation into the underlying truth. Helpful in channeling healing energy from the highest source, allowing access to deeper levels of consciousness. (Sapphire is one of the four 'precious' gemstones, the other three being Ruby, Emerald & Diamond. Other gemstones are considered 'semi-precious'.)
Recently Viewed