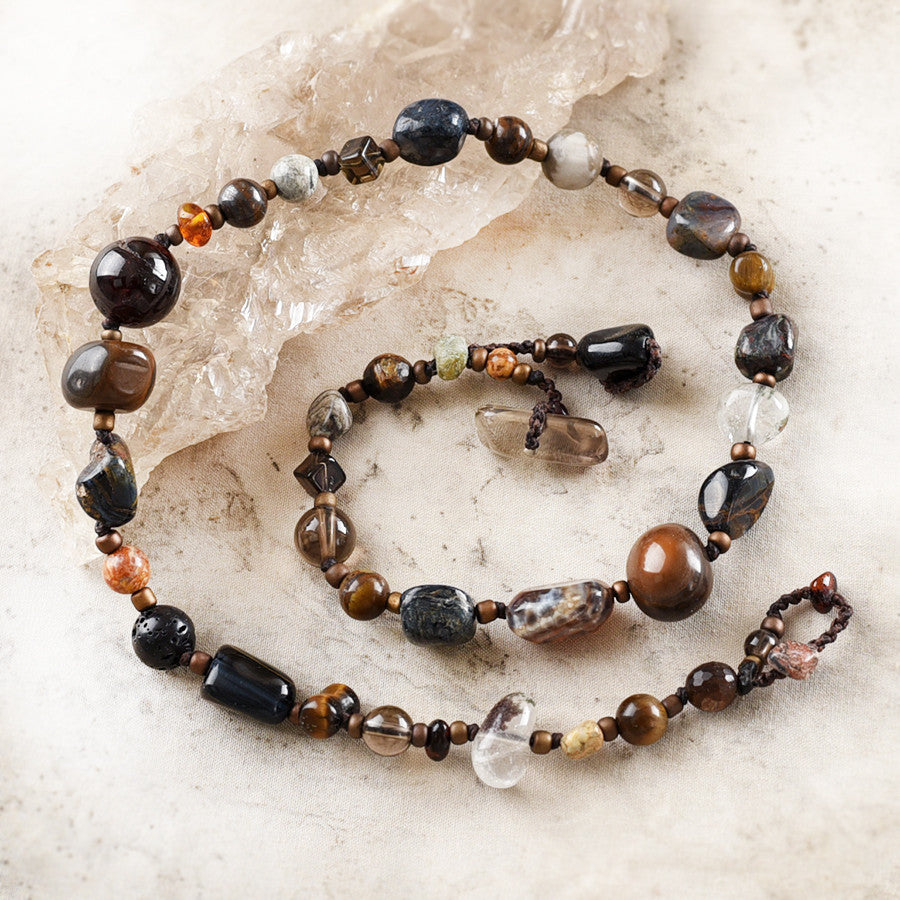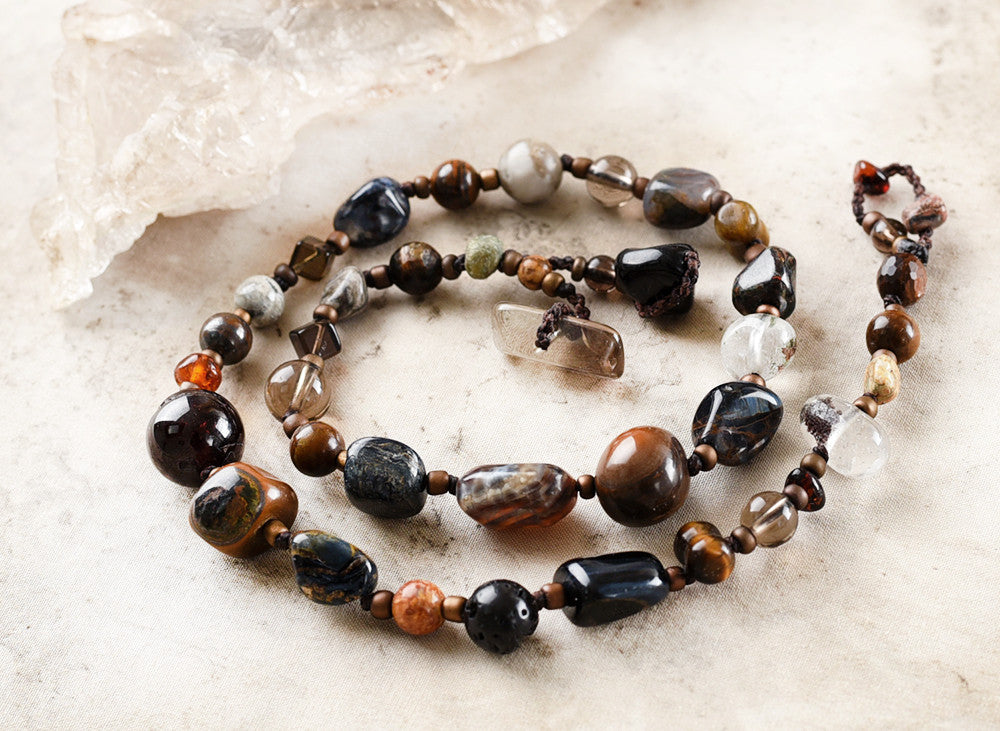 Crystal energy double wrap bracelet in dark tones ~ for up to 6.5" wrist
DESCRIPTION
Spirit Carrier's favourite double wrap crystal healing bracelet in dark tones - a daily favourite that matches many outfits too. This 15" / 38 cm (including the toggle loop) long line of energy activated crystals that wraps snuggly around a 6.5" wrist twice. The closing toggle clasp consists of two strands, a Hawk Eye and a Smokey Quartz, both of which can be slipped through the knotted loop to close the bracelet securely. If you prefer a bracelet with more movement, this double wrap would be fine for a 6" wrist circumference too.
The collection of gems in this bracelet is a veritable feast, the four main ones offering their healing vibes being Tiger Eye, Pietersite, Smokey Quartz and Hawk Eye - combined with Almandine Garnet, Baltic Amber, Fire Agate, Shaman Dream Stone Quartz, Sky Eye Jasper, Silver Leaf Jasper, Lava Stone and golden Mica. The bracelet is strung on dark brown micro-macrame cord, alternating the crystals with matt brown glass seed beads and knotted at regular intervals for strength.
This one-of-a-kind bracelet comes in Spirit Carrier's own handmade fabric drawstring pouch, and gift-wrapped at no extra charge.
Read here about how to take care of your natural crystal jewellery.
CRYSTAL PROPERTIES
The four crystals bringing the most prominent energy in the bracelet: 
PIETERSITE (aka Tempest Stone)
Fosters calm and joyous peacefulness. Enhances intuition and insight. Aids in the acceptance and tolerance of others and life. Dispels illusions and aids one seeing the beauty within. High vibration stone used by many energy healers.
TIGER EYE
Helpful stone for learning to feel connected to one's personal strength. Excellent stone for attracting prosperity. But it has also a highly spiritual energy and is useful in understanding any life cycle that one is living through. Helps in seeing through illusions and discerning the truth in any situation. A highly protective stone. Good for strengthening the solar plexus (3rd) chakra and developing one's will power.
SMOKEY QUARTZ
A grounding and calming stone that elevates moods and dissipates negative emotions. "A Stone of Serenity", it is comforting and protective for one's aura. Smokey Quartz is thought to assist in creative endeavours and also in setting personal boundaries. Offers protection against electromagnetic rays. A good healing stone for improving general feeling of well-being. Relieves anxiety and worry, wards off confusion. Shielding crystal to create a calm, safe environment.
HAWK EYE
Elevates one's perception to see things from a higher perspective, thus aiding in making skilled decisions. Brings clarity, opens up inner guidance and new possibilities. Helps in building courage to trust one's own inner wisdom and intuition. Assists in visualising goals, both spiritual and material and to follow through in bringing them into existence.
Recently Viewed