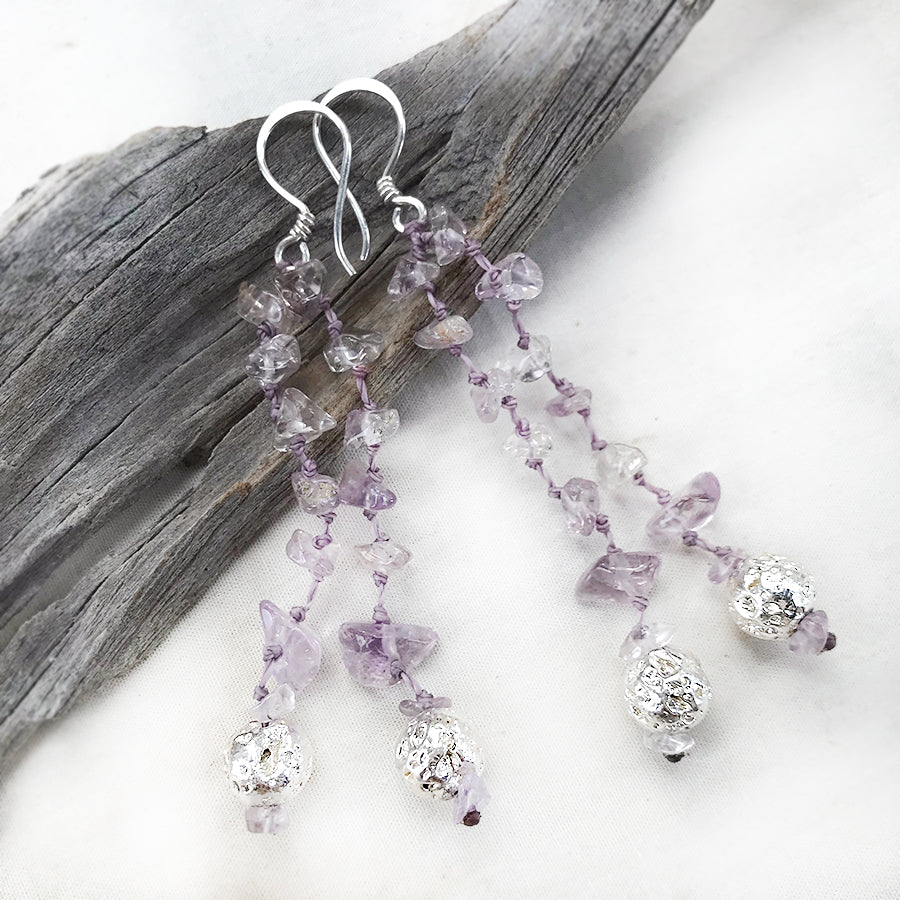 Crystal energy earrings with Ametrine & silver-plated Lava Stone
DESCRIPTION
Crystal healing earrings with a delicate, shimmery feel. The Ametrine crystals are all organically uneven shapes, mainly displaying pale lavender hues with intermittent yellow tones. These dangle earrings are fairly light-weight with two strands each, ending in a silver-plated Lava Stone.
Knotted with muted purple micro-macrame cord, with a total dangle length of approx. 7.5 cm (3") measured from the top of the ear wire to the base of the silver Lava Stone. The ear wires are sterling silver.
You'll receive these earrings inside a soft black cork wrap (vegan leather) to protect them, and gift-wrapped for no extra charge.

Read here how to take care of your crystal jewellery.
CRYSTAL PROPERTIES
AMETRINE
Infusion of the healing properties of both Amethyst and Citrine, but also emanates its own unique energy. Connects your third chakra and your seventh chakra beautifully, to align your will power with your soul's purpose. Helpful for procrastination sufferers, giving you a boost to joyfully complete your tasks, to be inspired and stay focused. Connects you with the divinity of all. Also said to be an aid in weight loss and in releasing addictions.
LAVA STONE
Stone of vitality, assertiveness and passion. Provides stability in times of change. Grounding and protective. Supports courage and decisiveness. Helps in finding one's 'life path'. Encourages personal development and growth.
Silver in such close combination with Lava adds a dimension of emotional fluidity and tenacity, creating an gentle opening to discover one's inner hidden gems that help in navigating change towards empowered growth.
Recently Viewed