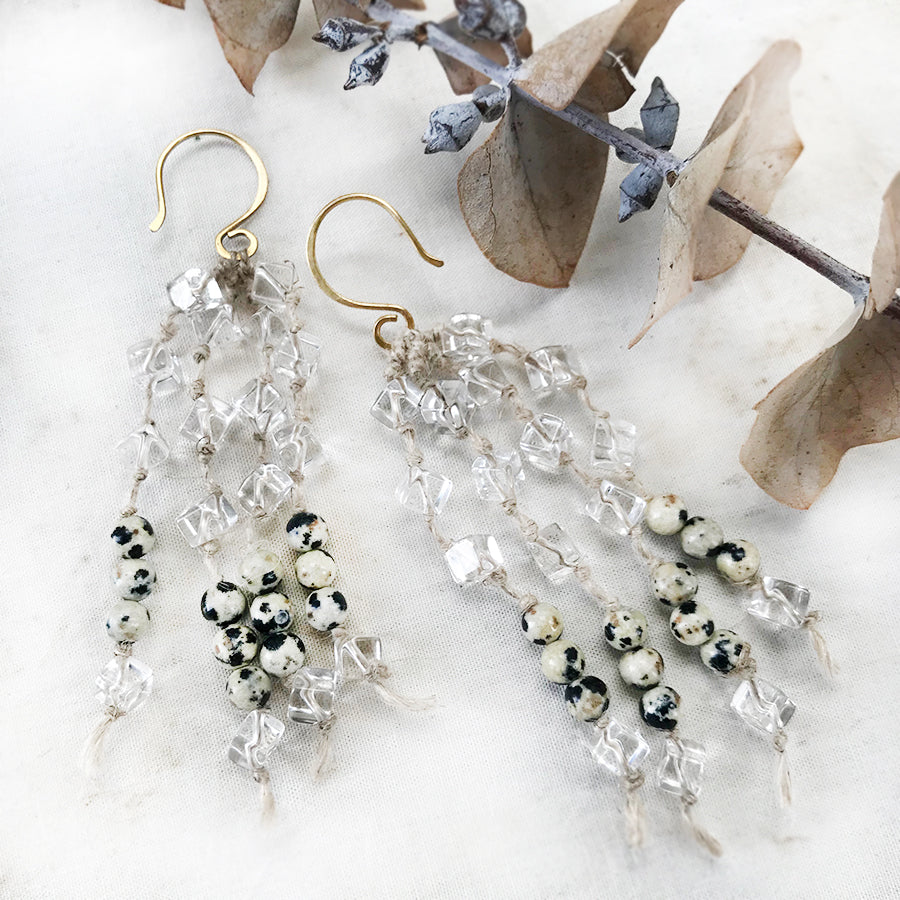 Crystal energy earrings with clear Quartz & Dalmatian Jasper
DESCRIPTION
Crystal healing earrings with a luxurious, flowing feel. The clear Quartz crystals are shaped as cubes and threaded diagonally which results in a dynamic flow with a lovely play of light. The Dalmatian Jasper gently grounds the Quartz energy with its protective energy also amplified by the Quartz. These dangle earrings are fairly light-weight with four strands each.
Knotted with organic, unbleached linen thread, with a total dangle length of approx. 7.5 cm (3") measured from the top of the ear wire to the base of the crystal 'tassel'. The ear wires are brass.
You'll receive these earrings inside a soft black cork wrap (vegan leather) to protect them, and gift-wrapped for no extra charge.

Read here how to take care of your crystal jewellery.
CRYSTAL PROPERTIES
CLEAR QUARTZ
The universal master crystal that has a harmonising effect on all levels of being. Programmable by intention, so can be used for versatile purposes. Quartz can clear, enhance, amplify, transmute, balance, focus and transmit energy. Raises one's energetic vibration. Brings clarity and filters out distractions. A deep soul cleanser, attuning its keeper to their higher self. Each Quartz crystal is unique with its own character and teachings it offers, all are known as "Stones of Power" and "Master Healers".
DALMATIAN JASPER
Helps in removing barriers that prevent you from moving forward in life, and to discover your true purpose of being in the world. Brings joy and playfulness into one's life. The black spots in this stone are Black Tourmaline, which adds to this stone's protective qualities.
Recently Viewed