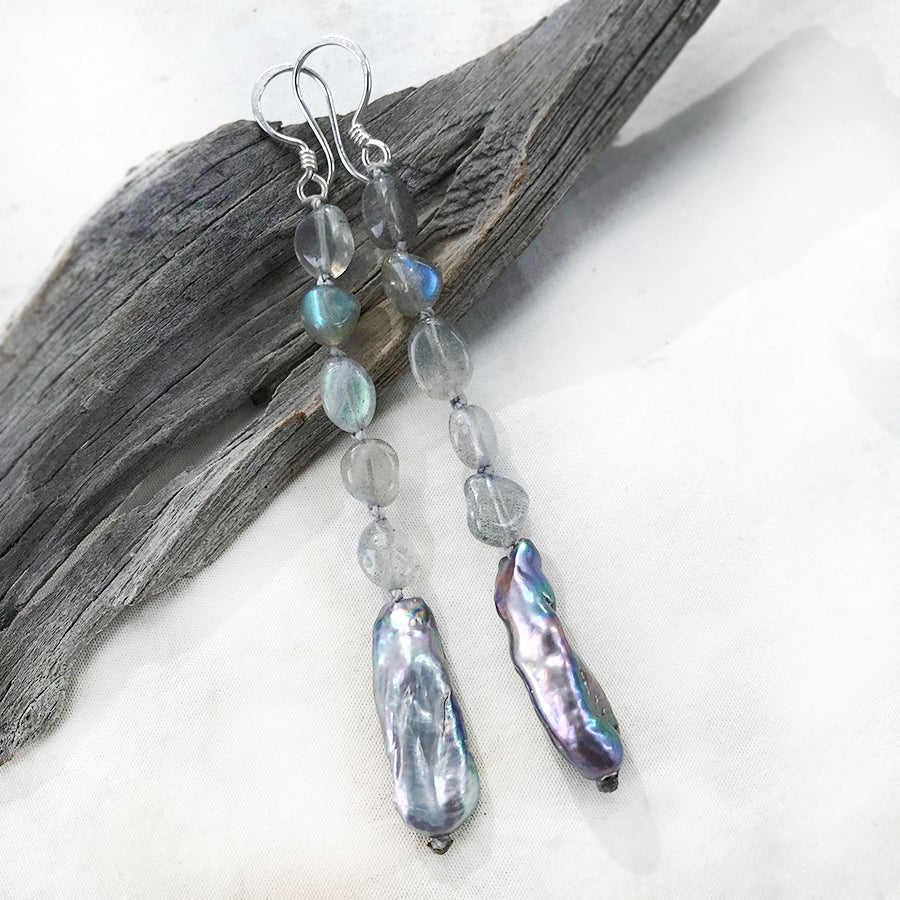 Crystal energy earrings with Labradorite & Biwa pearls
DESCRIPTION
Crystal healing earrings with an organic, shimmery feel. The nearly translucent Labradorite crystals show stunning flashes of light in green and blue, and the Biwa pearls' surface display tones of pink and purple. Although long, these dangle earrings are fairly light-weight.
Knotted with grey micro-macrame cord, these earrings have a total dangle length of approx. 9 cm (3.5") measured from the top of the ear wire to the base of the Biwa pearl. The ear wires are sterling silver.
You'll receive these earrings inside a soft black cork wrap (vegan leather) to protect them, and gift-wrapped for no extra charge.

Read here how to take care of your crystal jewellery. 
CRYSTAL PROPERTIES
LABRADORITE
One of the most powerful, versatile crystal tools for healing. Creates an auric shield and strengthens your innate energy and life force, preventing energy leakages. Enhances intuitive abilities and assists in spiritual transformation. Helps the wearer align with their highest destiny and discover their inner worth. Strengthens willpower and brings in new ideas. Often referred to as the 'Stone of Destiny', believed to help you to find your true path in life, and as 'Temple of the Stars', anchoring higher dimensional light into your being.
BIWA PEARL
Symbolises purity, clarity and spiritual transformation. Assists in discovering the wisdom and purpose in one's experiences.
Recently Viewed