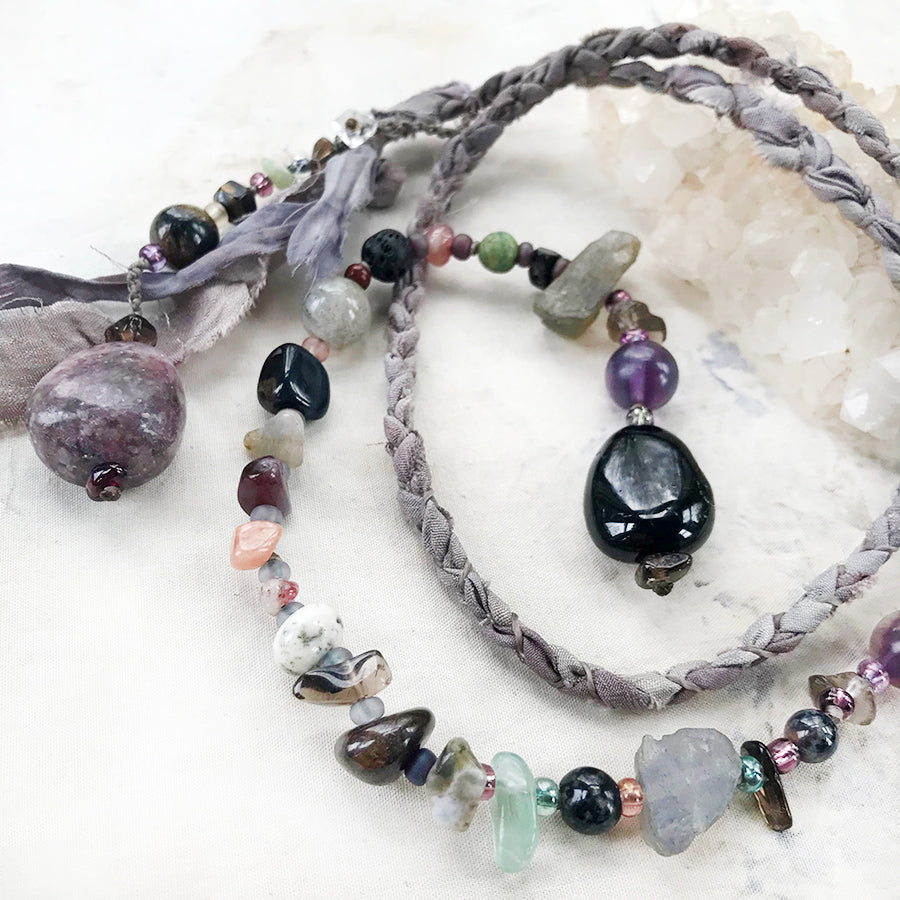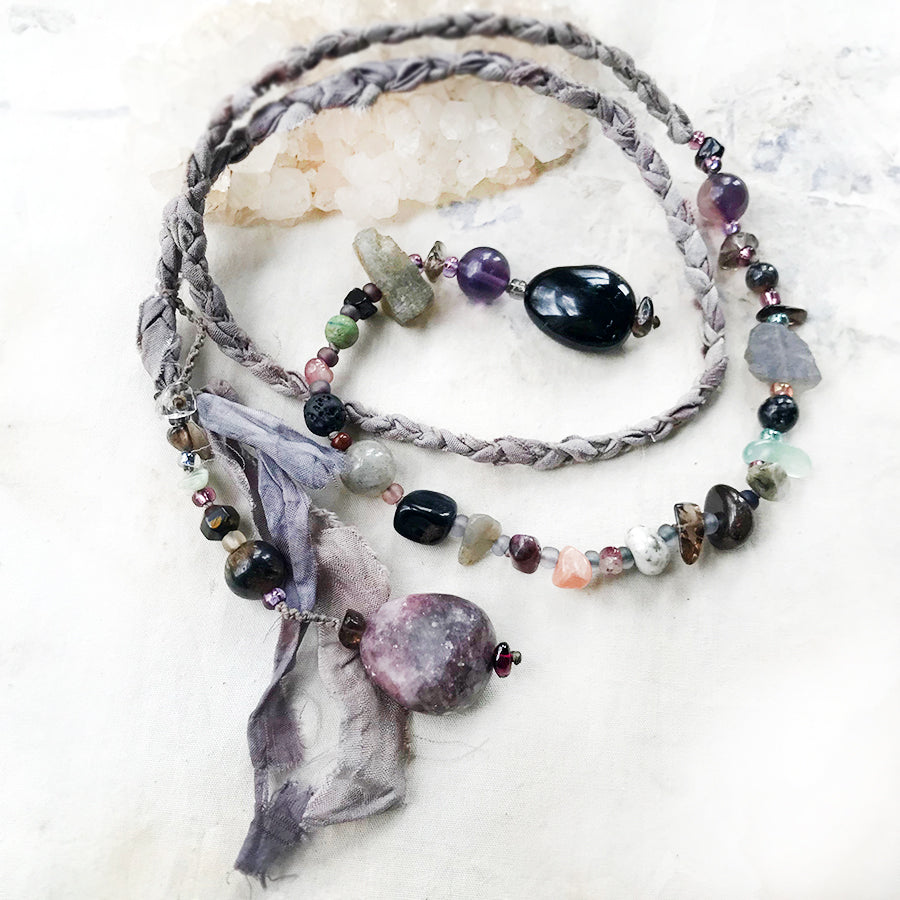 Crystal energy lariat necklace with Black Tourmaline & Lepidolite
DESCRIPTION
Partly braided, partly crystal beaded lariat necklace in muted tones of purple. One end of the lariat has a knotted loop that ends in a 'tassel' of recycled sari silk and a knotted crystal strand that ends in a smooth Lepidolite pebble. On the other end of the lariat the knotted crystal strand ends in a smooth Black Tourmaline pebble. To close this lariat necklace, you slide the Black Tourmaline through the knotted loop in the Lepidolite end. Alternatively, you may just leave the lariat closed and slip the necklace over your head for ease. 
This lariat benefits from the energy of several crystals - along the knotted string you'll find Labradorite, Fluorite, Lava Stone, Hawk Eye, Sunstone, Rubellite, Tree Agate, Smokey Quartz and Tiger Iron, all alternating with translucent glass seed beads in matching tones.
When this lariat is closed with the Black Tourmaline strand through the knotted loop, the all around length of the closed braid is approx. 63 cm (25") with the braided strands dangling down a total length of approx. 10 cm (4"). The Lepidolite pebble is just over 2.5 cm (1") tall.

You'll receive this lariat in a fabric draw-string pouch for safekeeping, and beautifully gift-wrapped at no extra cost.

Read here how to take care of your crystal jewellery.
CRYSTAL PROPERTIES
The four main crystal energies in this lariat:

BLACK TOURMALINE (aka Schorl)
One of the most well-known protective stones, shielding its user from negativity. A shamanic stone used for grounding during vision quests. Empowering for those who work in challenging environments. Purifies and transforms denser energies into lighter vibrations and is also detoxifying for the body. If you're sensitive to electromagnetic smog, you may get relief by wearing black Tourmaline.
LEPIDOLITE
An open, inviting stone, offering its gentle love readily when you just hold it in your hand. Useful in reducing depression and stress, it can assist in moving calmly through life transitions. In crystal healing practice, Lepidolite has been used to ease emotional traumas, panic attacks and addictions. Lepidolite is said to help you to nurture yourself and be optimistic, and to clear out ties to the past, assisting you in moving freely forward in joy and happiness.
LABRADORITE
One of the most powerful, versatile crystal tools for healing. Creates an auric shield and strengthens your innate energy and life force, preventing energy leakages. Enhances intuitive abilities and assists in spiritual transformation. Helps the wearer align with their highest destiny and discover their inner worth. Strengthens willpower and brings in new ideas. Often referred to as the 'Stone of Destiny', believed to help you to find your true path in life, and as 'Temple of the Stars', anchoring higher dimensional light into your being.
FLUORITE
Excellent for cleansing one's aura, also detaching unwanted energy cords. Grounds excessive energy, beneficial for all levels of healing. Helpful in achieving spiritual wholeness. Protective, stabilising and harmonising stone. Facilitates personal growth. Awareness expanding. Anchors intuitive insights into the physical plane. Offers strong psychic protection, helping to discern energies one comes in contact with. Helps in being objective and focusing on what is essential. Also known as absorbing environmental EMF.
Recently Viewed