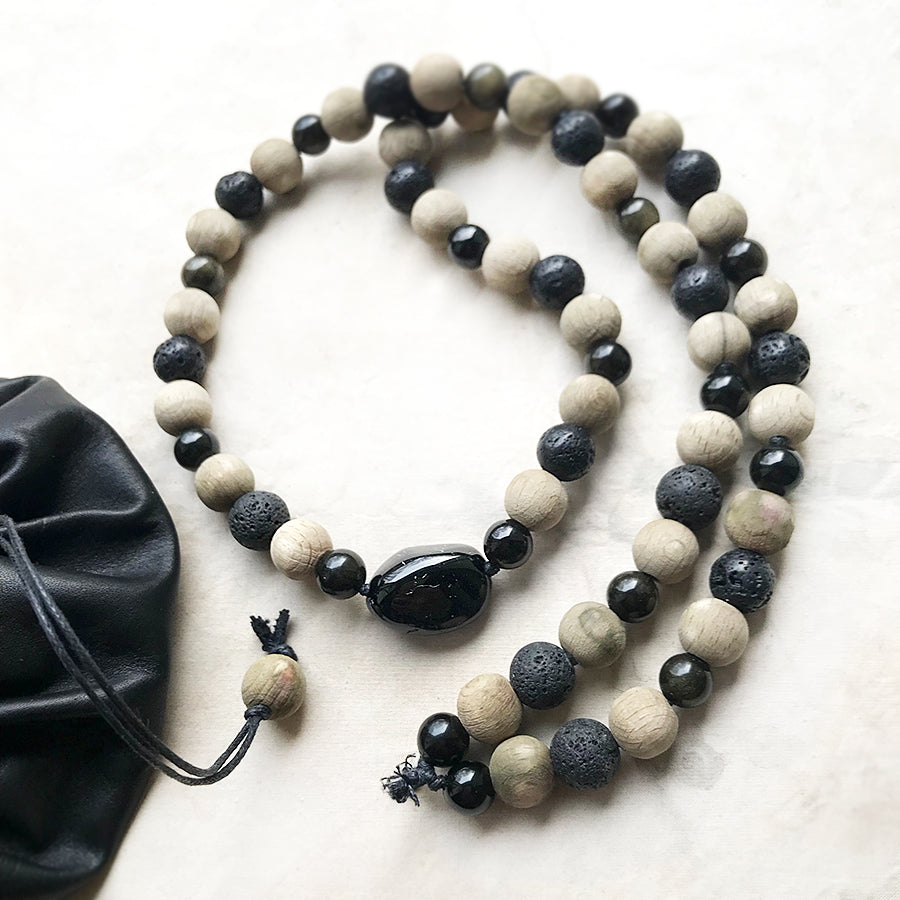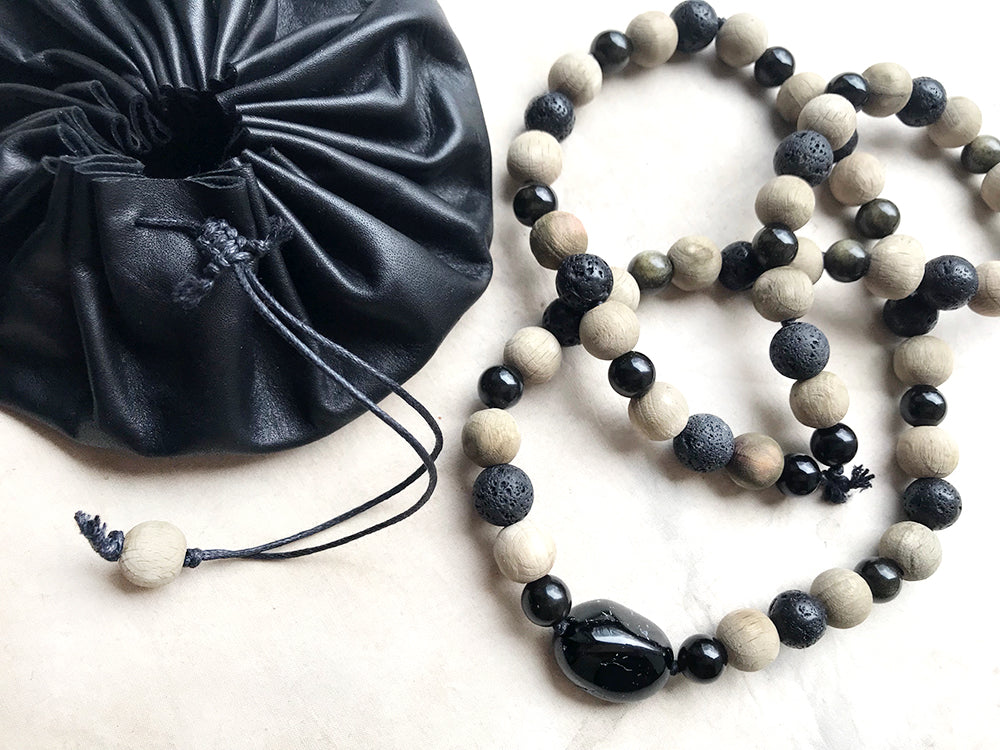 Crystal energy talisman with Black Tourmaline & aged beechwood
DESCRIPTION
Minimal, earthy necklace (25.5" all-around length) with Black Tourmaline, Golden Sheen Obsidian and Lava Stone - a crystal energy activated talisman in disguise. This chunky necklace is meticulously beaded by hand using black cotton cord and alternating the stones with beechwood beads which I've given an aged look by botanically eco-dyeing them with local plants. There is no need for a clasp closure as the necklace will comfortably slip over the head, making it very easy to put on and take off.
The length of the necklace is approx. 65 cm (25") and the central smooth Black Tourmaline is approx. 2 cm (0.8") at its longest measurement.
Care: To protect the wooden components as well as the cotton cord from deteriorating, showering / swimming while wearing this necklace is not recommended.
You'll receive this necklace in one of my handmade, luxurious black reindeer hide draw-string pouches - useful for the safe-keeping of the necklace. This great gift set also arrives gift-wrapped at no extra charge.
CRYSTAL PROPERTIES
BLACK TOURMALINE (aka Schorl)
One of the most well-known protective stones, shielding its user from negativity. A shamanic stone used for grounding during vision quests. Empowering for those who work in challenging environments. Purifies and transforms denser energies into lighter vibrations and is also detoxifying for the body. If you're sensitive to electromagnetic smog, you may get relief by wearing black Tourmaline.
GOLDEN SHEEN OBSIDIAN
Protective stone that helps one achieve harmony and solve problems relating to past, present and future. Helps in settling inner emotional conflicts and keeps one from entering into outer conflicts so one is free to follow one's spiritual path. Shielding stone that encourages one to stay positive. Transmuting stone to keep negativity at bay. Said to open a window to one's soul and brings out any hidden talents one may have.
LAVA STONE
Stone of vitality, assertiveness and passion. Provides stability in times of change. Grounding and protective. Supports courage and decisiveness. Helps in finding one's 'life path'. Encourages personal development and growth.
Recently Viewed