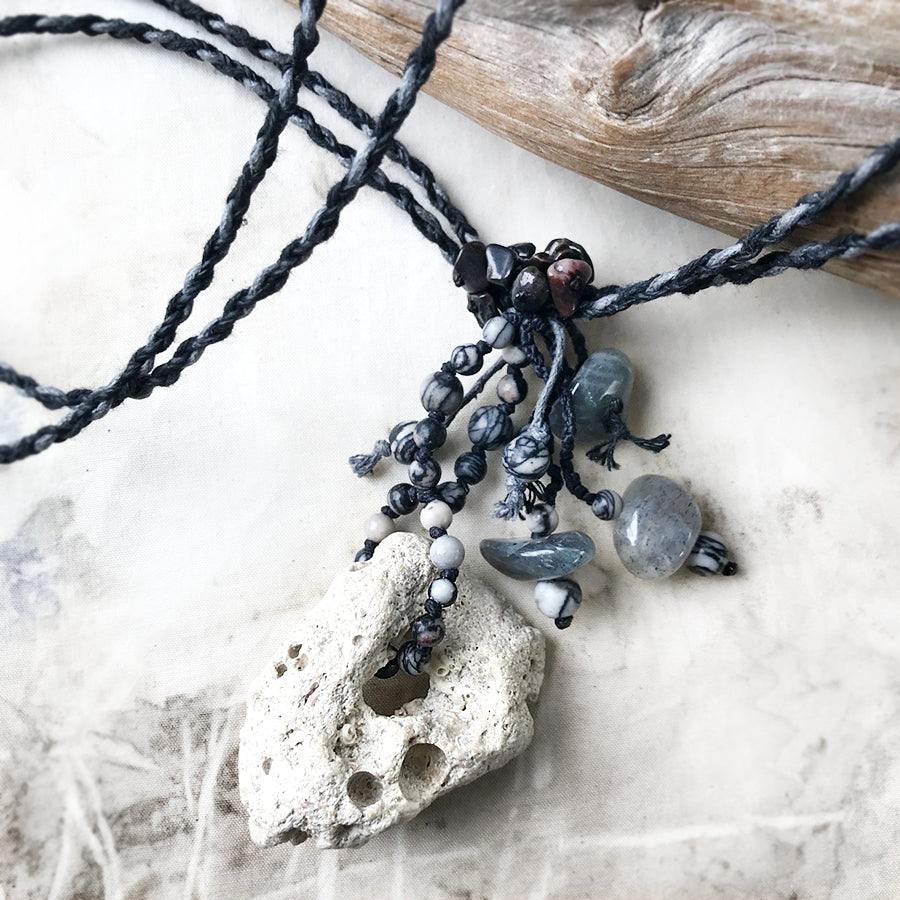 Crystal energy talisman with Coral, Labradorite & Jasper
DESCRIPTION
Monochrome, wabisabi style talisman necklace with both white and black Coral, Labradorite and Black Line Jasper, strung on a double linen braid in grey cotton and black micro-macrame cord. The corals and crystals create a freeform 'tassel' with the large white Coral forming the centre piece. It has a natural hole through which it attaches with knotted Black Line Jaspers.
The double braid necklace is set length, with an all around measurement of approx. 70 cm (27.5"). The white Coral is approx. 4.5 cm (1.8") tall and 3 cm (1.2") wide at its middle. The total drop of the pendant 'tassel' is 9 cm (3.5").
There are no metals used in this necklace so would be particularly suitable for those with sensitivities to metals and for those alternative energy practitioners who prefer not to wear metal jewellery.
You'll receive this crystal healing necklace in one of my handmade fabric draw-string pouches - great for the safe-keeping of the necklace. Gift-wrapped at no extra charge.

Read here how to take care of your crystal jewellery.
CRYSTAL PROPERTIES
WHITE CORAL
Improves self-confidence and communication skills, increases determination. Used for easing anxiety and fear of the unknown. Stimulates clairaudient abilities. Strengthens connection with the energy body so that the increased energy flow can work to dissipate blockages also from the physical body. In some ancient texts referred to as being used as a talisman in guarding pregnancy to safe delivery.
BLACK CORAL
Generates serenity and peace while absorbing negative energy. Excellent for psychic protection and for guarding one's personal space. Inspires creativity and enhances the flow of creative ideas. Associated with the third chakra, the 'seat of the soul', guarding one's personal power and strength from outside influences. Digs deep to heal hidden emotions that might hold you back in life. Energetically cleansing, and said to help in detoxing the body.
LABRADORITE
One of the most powerful, versatile crystal tools for healing. Creates an auric shield and strengthens your innate energy and life force, preventing energy leakages. Enhances intuitive abilities and assists in spiritual transformation. Helps the wearer align with their highest destiny and discover their inner worth. Strengthens willpower and brings in new ideas. Often referred to as the 'Stone of Destiny', believed to help you to find your true path in life, and as 'Temple of the Stars', anchoring higher dimensional light into your being.
BLACK LINE JASPER
Protective stone that's said to balance one's yin and yang energies. Grounding for one's kundalini channel. Instils a sense of wellness. Offers insight into one's life path and its purpose.
Recently Viewed