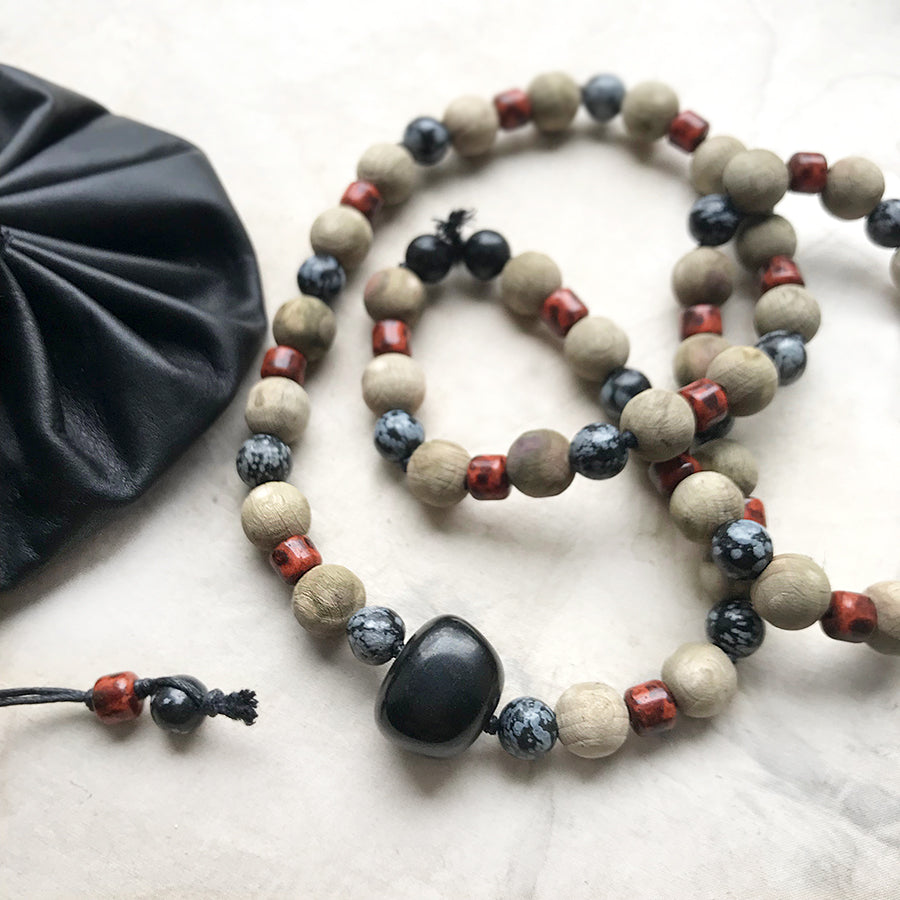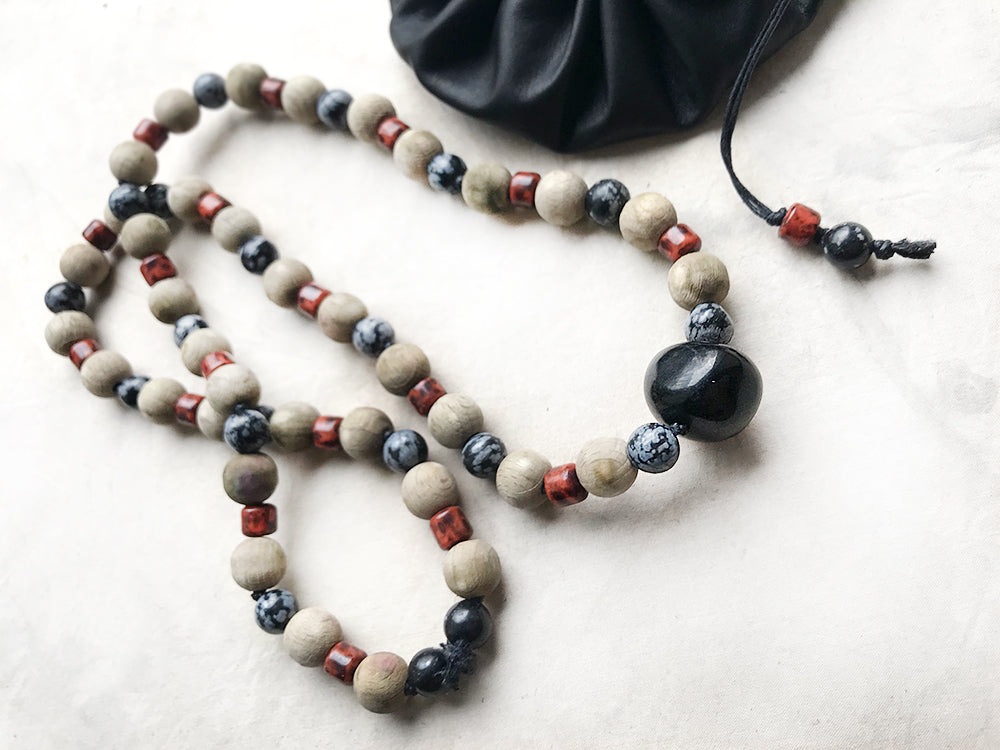 Crystal energy talisman for men ~ with Jet & aged beechwood
DESCRIPTION
Men's necklace (26" all-around length) with Jet and Snowflake Obsidian - a crystal energy activated talisman in disguise. This chunky necklace is meticulously beaded by hand using black cotton cord and alternating the stones with red resin beads and beechwood beads which I've given an aged look by botanically eco-dyeing them with local plants. There is no need for a clasp closure as the necklace will comfortably slip over the head, making it very easy to put on and take off.
The length of the necklace is approx. 66 cm (26") and the central smooth Jet is just under 2 cm (0.8") at its longest measurement.
Care: To protect the wooden components as well as the cotton cord from deteriorating, showering / swimming while wearing this necklace is not recommended.
You'll receive this necklace in one of my handmade, luxurious black reindeer hide draw-string pouches - useful for the safe-keeping of the necklace. This great gift set also arrives gift-wrapped at no extra charge.
CRYSTAL PROPERTIES
JET
Stone of protection and purification, helping to keep negativity at bay. Often used to stabilise finances and protect businesses, but also as a shield against psychic attacks and removing energetic attachments. Assists in spiritual advancement and the rise of kundalini energy. Enlists the help of Earth energy in manifesting one's desires. Calming for those battling with difficulties. Comforting stone, mood-balancing, easing anxiety and fears. Increases self-reliance and helps in the process of life changes.
SNOWFLAKE OBSIDIAN
Promotes a sense of calm and inner equilibrium, bringing balance to body, mind and spirit. A grounding, protective stone. Eases worries and when carried/worn helps one to stay balanced and centred throughout the day. Native American shamans often carried Snowflake Obsidian as a powerful talisman to avert evil and bring good fortune, also considering it to be the guardian of the Great Spirit.
Recently Viewed