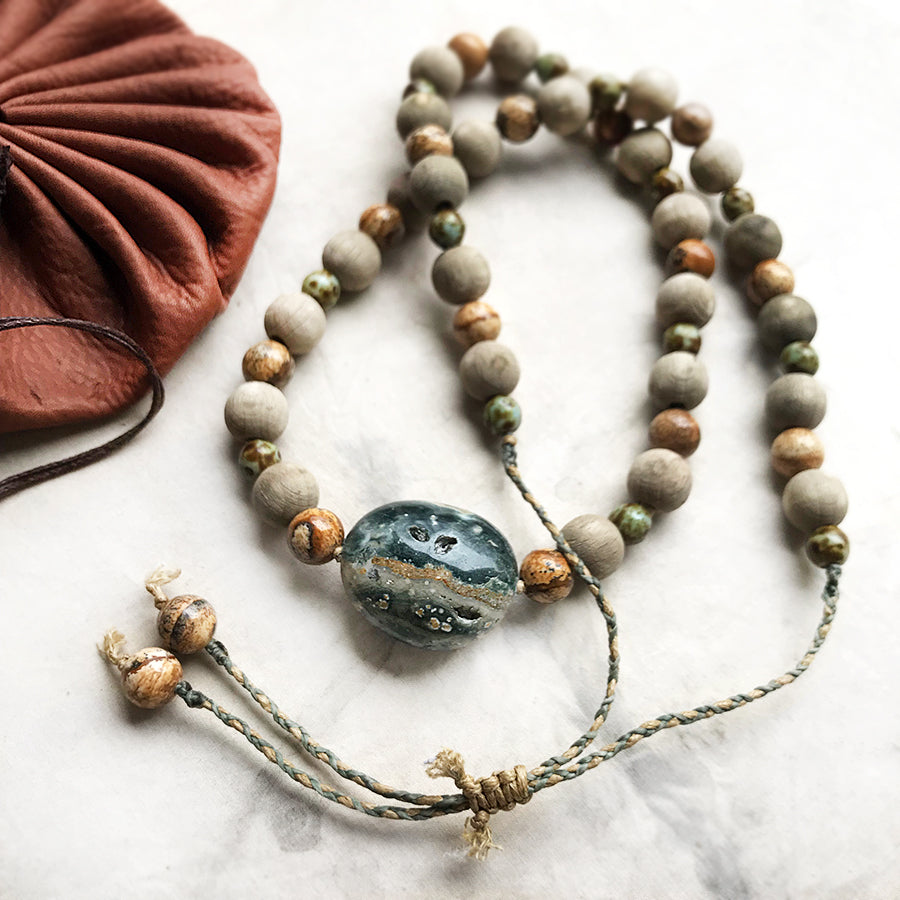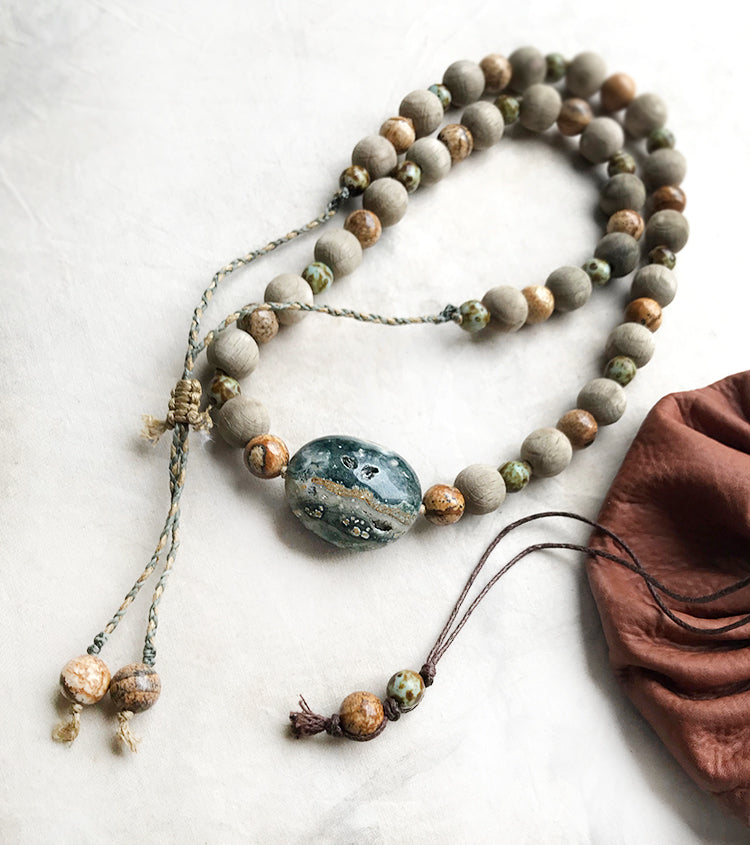 Crystal energy talisman with Ocean Jasper & aged beechwood
DESCRIPTION
A crystal energy activated talisman for those who prefer a more subtle style to wear healing stones. The focal stone in the centre is Ocean Jasper. Picture Jasper beads alternate with green resin beads and beechwood beads which I've given an aged look by botanically eco-dyeing them with local plants. This chunky wooden necklace is meticulously beaded by hand using beige micro-macrame cord, and includes a braided section (with green micro-macrame cord) that allows the necklace length to be adjusted by pulling the braids through a knotted closure channel.
The adjustable range of the necklace is between 48-66 cm (19"-26") and the Ocean Jasper is approx. 2.5 cm (1") wide. 
Care: To protect the wooden components and cotton cord from deteriorating, showering / swimming while wearing this necklace is not recommended.
You'll receive this necklace in one of my handmade, luxurious brown reindeer hide draw-string pouches - useful for the safe-keeping of the necklace. This great gift set also arrives gift-wrapped at no extra charge.
CRYSTAL PROPERTIES
OCEAN JASPER
Known as the 'Atlantis stone'. Helps elevate mood and dispel stress-related energies. Deep reaching healing stone, assists in seeing the past in a new light in order to create a future filled with joy and happiness. Ignites feelings of self-worth. Increases patience, elevates mood, releasing old hurts. Works with solar plexus, heart and throat chakras, aligning you with your own personal power.
PICTURE JASPER
Nurturing, comforting stone, associated with expanded creativity, invention and initiative. Helps in grounding one's ideas into reality. Believed to contain hidden messages from the past, connecting and grounding into the earth energies. Harmonious stone offering psychic protection during shamanic journeying as well as activating the third eye chakra. Inspires creative visualisation and is excellent for overcoming any creative blocks and clear away past hurts. Good for confidence, particularly helpful in business pursuits. Revered in many native cultures as a sacred stone of courage and wisdom.
Recently Viewed