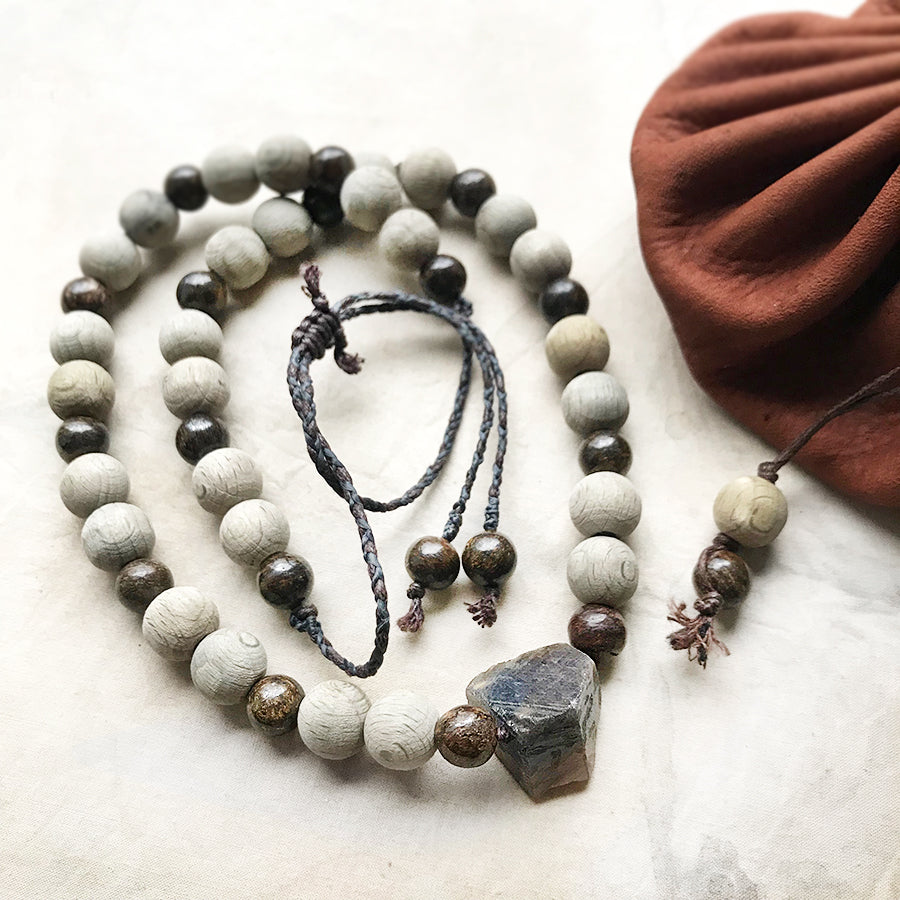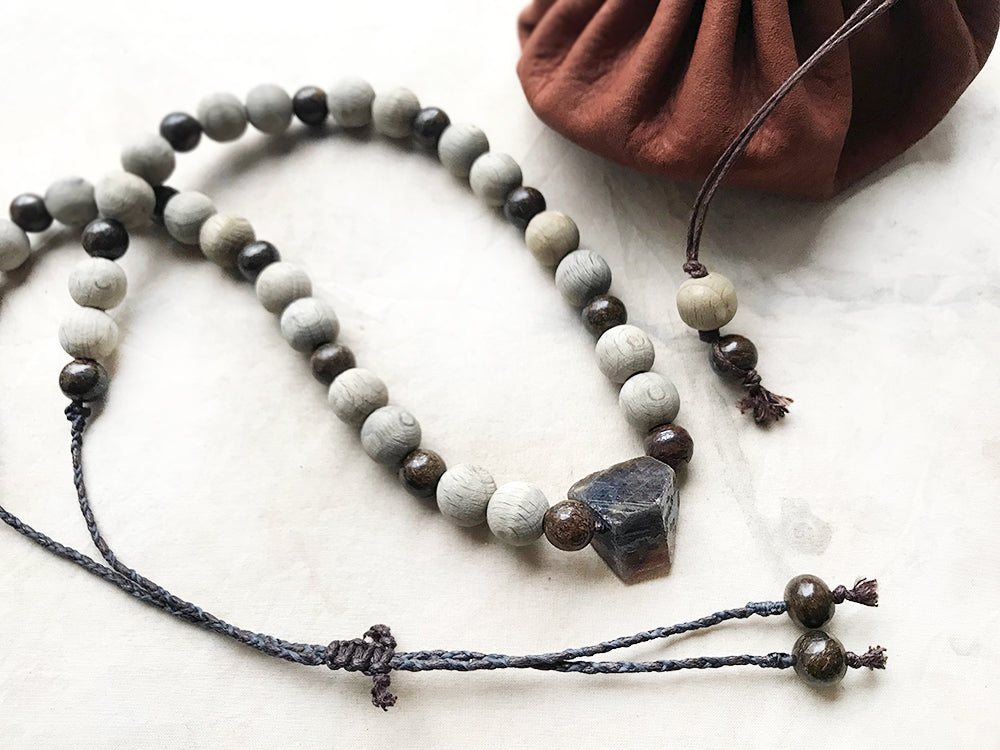 Crystal energy talisman with Sapphire & aged beechwood
DESCRIPTION
A crystal energy activated talisman for those who prefer a more subtle style to wear healing stones. The focal stone in the centre is raw Sapphire. Bronzite beads alternate with beechwood beads which I've given an aged look by botanically eco-dyeing them with local plants. This chunky wooden necklace is meticulously beaded by hand using dark brown micro-macrame cord, and includes a braided section (with dark blue micro-macrame cord) that allows the necklace length to be adjusted by pulling the braids through a knotted closure channel.
The adjustable range of the necklace is between 44-69 cm (17"-27") and the rough Sapphire is just over 1.5 cm (0.6") at its longest measurement. 
Care: To protect the wooden components and cotton cord from deteriorating, showering / swimming while wearing this necklace is not recommended.
You'll receive this necklace in one of my handmade, luxurious brown reindeer hide draw-string pouches - useful for the safe-keeping of the necklace. This great gift set also arrives gift-wrapped at no extra charge.
CRYSTAL PROPERTIES
SAPPHIRE
A stone of psychic activation, enhances insight and focus. Helps the throat and third eye chakras to work in unison to strengthen and express one's inner vision. Grounds higher knowledge and helps one to stay centred. Evokes the wisdom needed to see past any situation into the underlying truth. Helpful in channeling healing energy from the highest source, allowing access to deeper levels of consciousness.
BRONZITE
Encourages loving, non-judgemental mindset. Helps in gaining certainty about one's decisions and the right course of action. Bronzite is said to bring harmony into discordant situations, protective when the wearer might feel a lack of control. Instils a feeling of calmness when having "many irons in the fire". A stone of focused action. Grounds you into the knowing that "All Is Well".
Recently Viewed