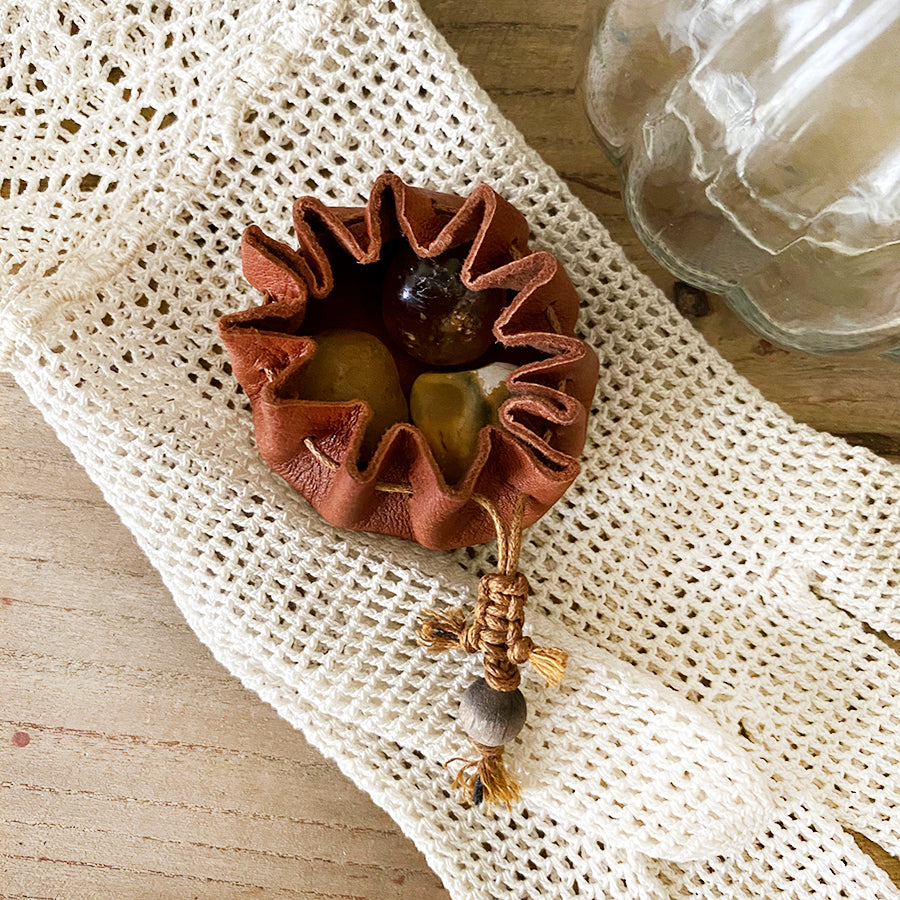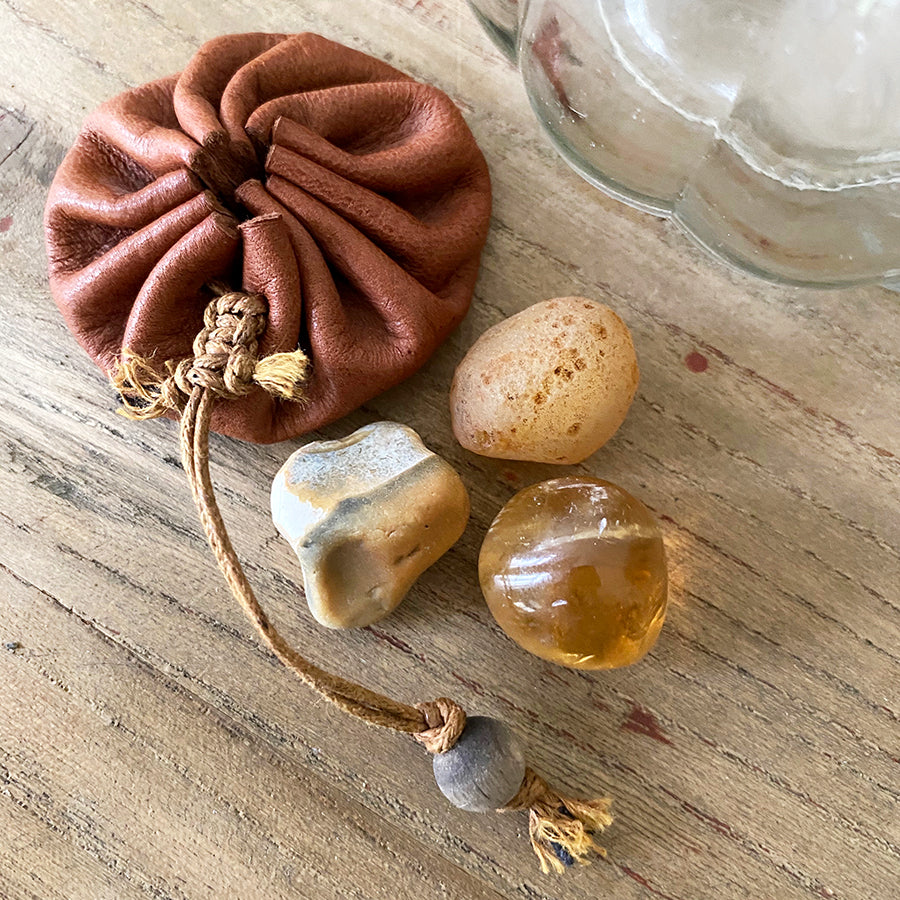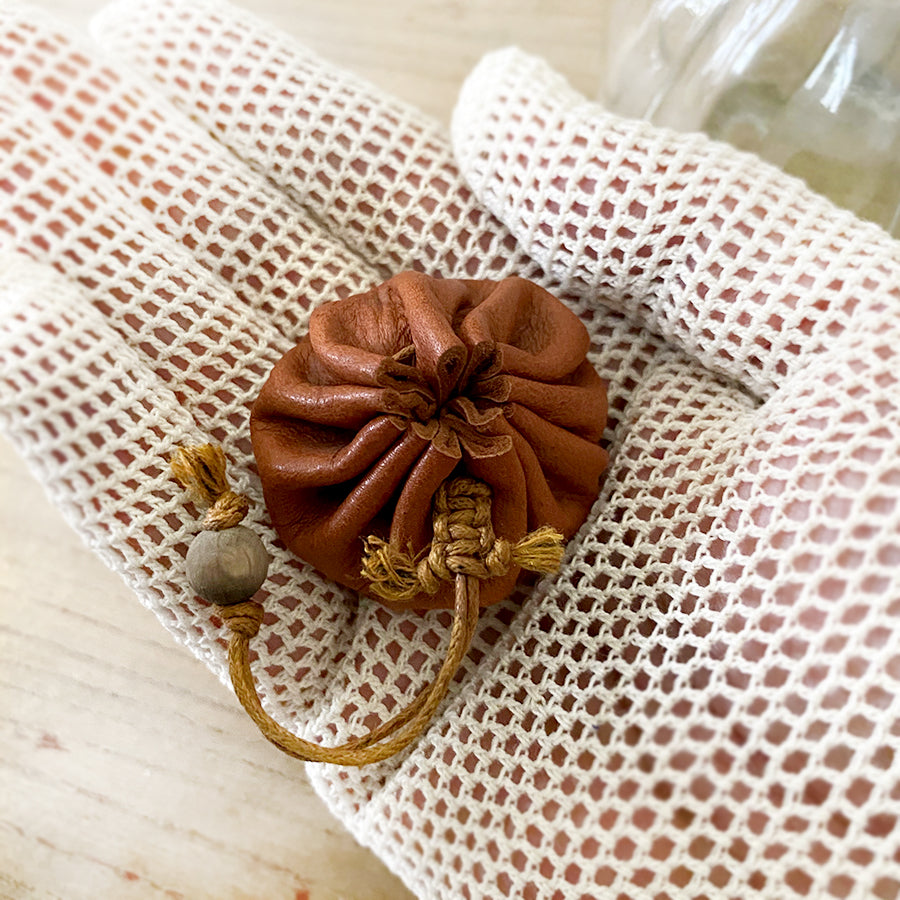 Crystal energy mini set
DESCRIPTION
Soft, very tiny brown leather pouch for carrying small items such as crystals safely protected. The pouch is high quality (vegetable tanned, i.e. chrome-free) reindeer leather from Finnish Lapland. It has a drawstring closure with brown cotton cord and an aged beechwood stopper. This pouch comes with three little crystals: Golden Calcite, Flint and Gobi Desert Agate.

These are specifically selected to provide a combination of confidence, protection and resilience. You can use these to handle and play with while travelling, meditate with each in turn, or add more crystals from your own collection to make crystal grids. Keep in your handbag and perhaps enjoy swapping your cell phone to handling crystals every so often...
When the little pouch is empty and closed, the diameter is only just over 4 cm (0.8"). Each crystal is no larger than 1.5 cm (0.6") in their largest dimension.

You'll receive this 'Wisdom Keeper' pouch with its five crystals gift-wrapped free of charge.
CRYSTAL PROPERTIES

GOLDEN CALCITE
Excellent aid for increasing feelings of self-worth, self-acceptance and confidence. Draws in high spiritual frequencies. Eases transitions and assists in overcoming obstacles. Helps in releasing limiting beliefs and strengthens your will. Empowers you to act with courage. Assists you in accepting your personal strengths so you can use your talents with joy for the greater good and creating a brighter future.
GOBI DESERT AGATE
Stone of transformation and resilience. Helps you to remain flexible when facing challenges, and open up to help from higher dimensions. Expands understanding of your life path so that wiser choice are possible. A gentle stone to help you with self-compassion and to restore your inner balance.
FLINT
Ancient protection amulet, calling in spiritual guides and allies. Helps cut away anything that is not in your highest good, dissolving energetic blockages and detaching negative etheric ties from the aura and chakras. Increases self-esteem and courage. Excellent electromagnetic conductor, thus useful for those who are sensitive to EMF pollution. Purifies its environment. Said to prevent nightmares. Known as a "Portal Stone", facilitating your connection with higher dimensions and with your true self. Grounding vibe, which resonating with the Earth Star chakra, yet also corresponds to the Soul Star chakra, offering spiritual expansion and allowing you to ground higher spiritual knowledge into your physical existence.
Recently Viewed