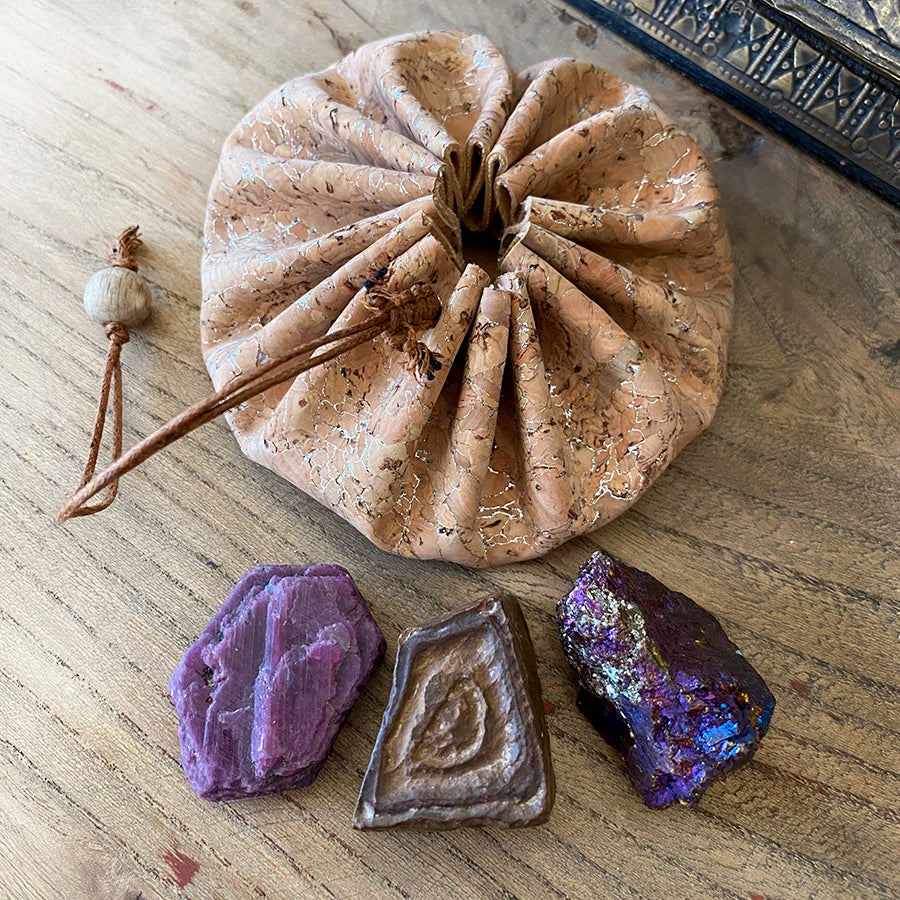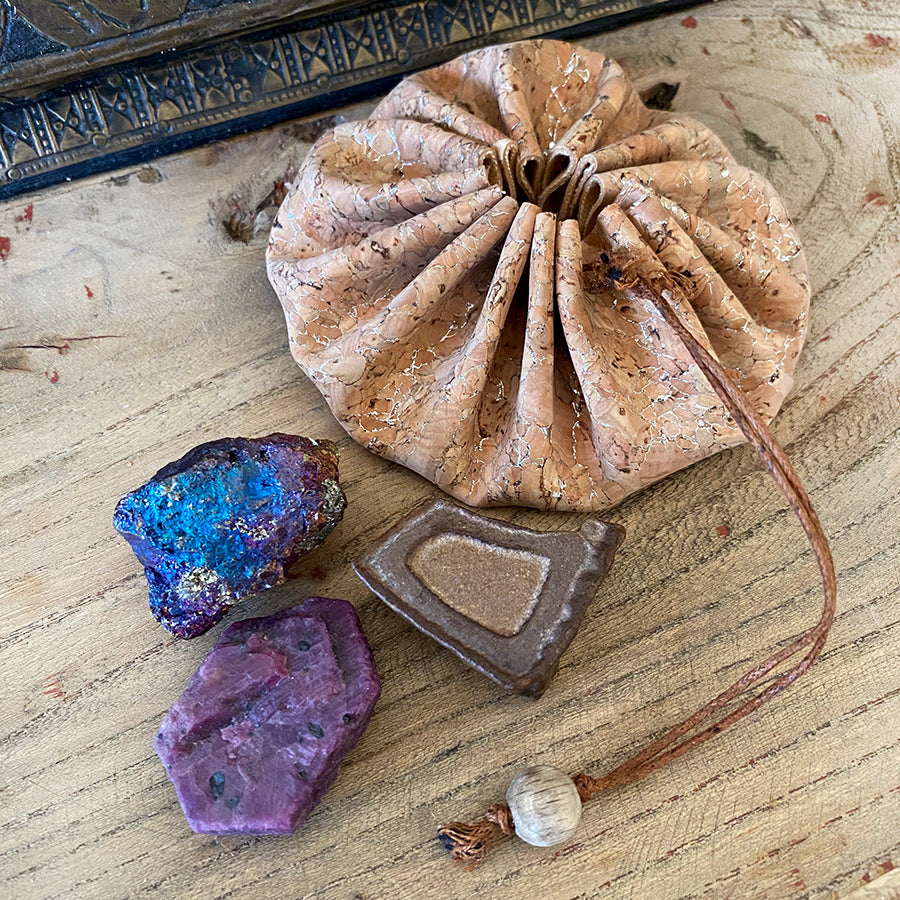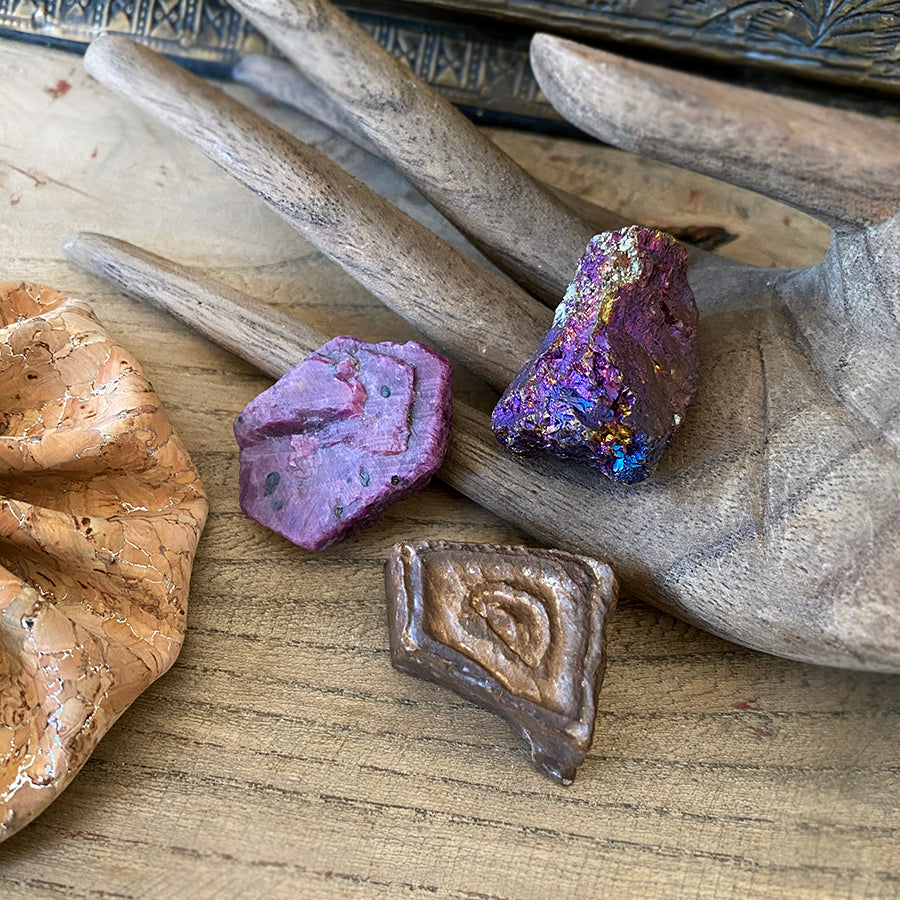 Crystal energy travel set
DESCRIPTION
Soft 'vegan leather' cork pouch for carrying small items such as crystals safely protected. The pouch surface includes tiny silvery flecks that give it a luxurious feel. It has a sliding drawstring closure with brown cotton cord and an aged beechwood bead stopper. This pouch comes with an unusual crystal trio - Ruby, Peacock Ore and Moroccan Desert Sandstone, whose energies complement each other in surprising ways.

You can use these to handle and play with while travelling, meditate with each in turn, include in crystal grids or add more crystals from your own collection to make larger grids. The cork pouch, while a handy small size, will still be able to carry a further selection of your own additional crystals too. Keep in your handbag and perhaps enjoy once in a while swapping your cell phone to handling crystals instead...
When the pouch is empty and closed, the diameter is approx. 11 cm (4.3"). All three are approx. 3.5 cm (1.4") in their longest measurement.

You'll receive this 'Wisdom Keeper' pouch with its crystal pair securely packaged and gift-wrapped at no extra charge.
CRYSTAL PROPERTIES
RUBY
Increases vitality and one's life-force energy, Very energising, excellent for women. Promotes clear mind, motivation and concentration. Associated with love, passionate commitment and heart-based closeness, offering help in shedding past hurts. Encourages you to 'follow your bliss' and have courageous attitude. Supports closeness and commitment. Shielding crystal to keep your energy field in your own command. (Ruby is one of the four 'precious' gemstones, the other three being Emerald, Sapphire & Diamond. Other gemstones are considered 'semi-precious'.)
PEACOCK ORE
Stone of joyfulness that ignites a state of balance and a feeling of "all is well". Provides protection from outside negativity, inspiring hope, lifting one's mood and casting out what no longer serves you. Uplifting when feeling low of energy. One of the most powerful healing stones that aligns all the chakras - even when applied on one chakra, affecting the others too. Removes emotional blockages, enhancing the flow of life force throughout the body.
MOROCCAN DESERT SANDSTONE
Ancient sand concretion stone, a powerful ally for shamanic journeying. Visionary stone that allows you to explore your ancestral timelines in all directions. Protective companion stone keeping you centred in the moment while bringing in wisdom from higher dimensions. Activates third eye and crown chakra, increasing the level of your intuition. Assists in overcoming subconscious fears and blockages on your life path. Awakens your inner courage to find a way in any situation.
Recently Viewed