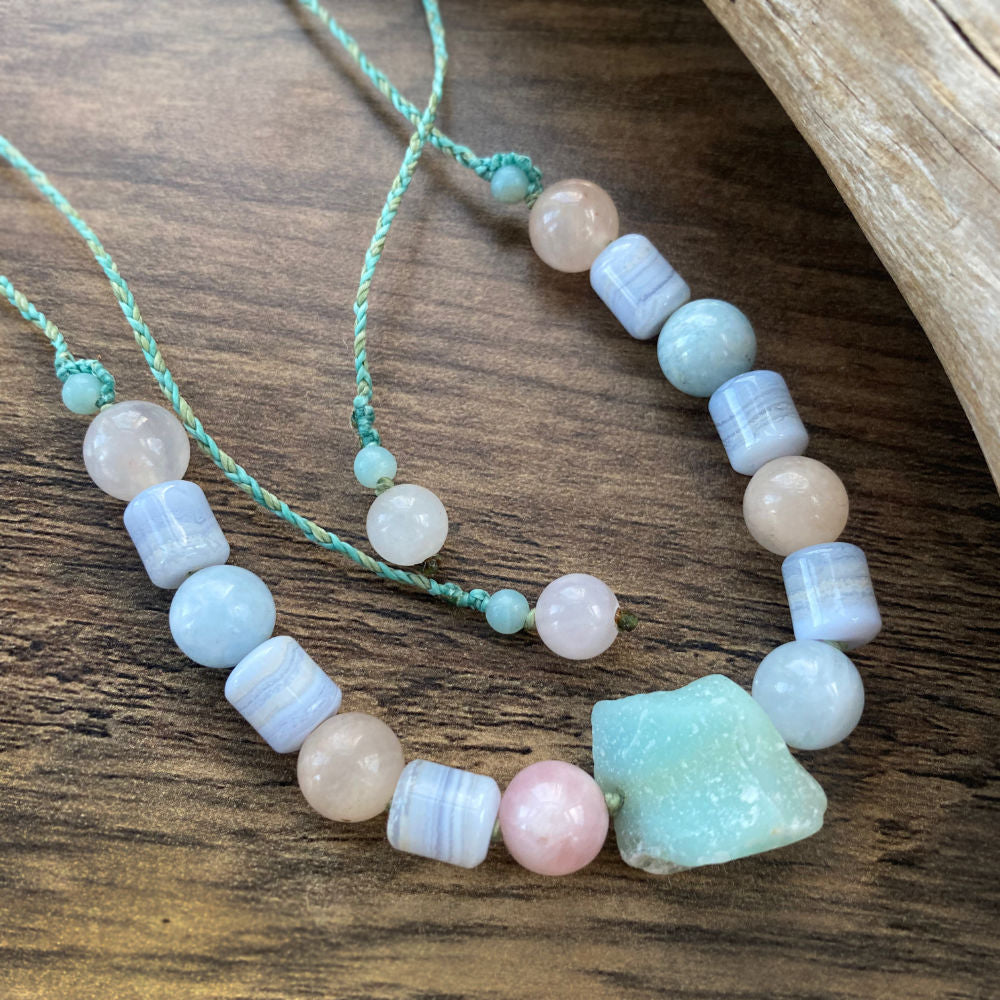 Crystal healing amulet in pastel tones
DESCRIPTION
Crystal healing necklace with a row of energy-activated crystals in pastel tones. This necklace combines the energies of Amazonite, Morganite and Blue Lace Agate. The necklace braid combines two tones of micro-macrame cord, muted green with light turquoise. The ends of the necklace braids are decorated with matching crystals. This is easy daily wear with pure crystal energy that offers a gentle healing vibes to benefit your life.
The row of crystals extends approx. 7 cm (2.8") on both sides from the central Amazonite. The rough cut Amazonite is approx. 2 cm (0.8") in its longest measurement. As this necklace will look best worn at a shorter length, it is adjustable from as short as you wish to just above the heart level.
There are no metals in this necklace so would be particularly suitable for those with metal sensitivities, energy workers and those who simply prefer not to wear metal.
You'll receive this crystal healing necklace in one of my fabric draw-string pouches, great for the safe-keeping of the necklace. Gift-wrapped at no extra charge.

Read here how to take care of your crystal jewellery.
CRYSTAL PROPERTIES
AMAZONITE
A stone of self-respect, confidence and grace. Soothes the spirit and calms the soul. Assists in connecting with one's intuition. Enhances creativity and self-expression. Empowers to move beyond fear, to live in alignment with your truth. A talisman for healing and prosperity, also said to bring in new business.
MORGANITE
Known both as a 'heart stone' and an 'angel stone'. Thought to help bring love into one's life. Increases patience and balances emotions. Morganite is said to be one of the highest frequency stones available.
BLUE LACE AGATE
A gentle, calming stone that's associated with the Throat Chakra, with speaking, communicating and discussions. Especially good for communicating the flow of wisdom you receive from your higher self. Also resonates with the Heart Chakra, assisting in "speaking from the heart". Helps in amplifying the energy of positive affirmations and is an aid for the healing of the inner child.
Recently Viewed