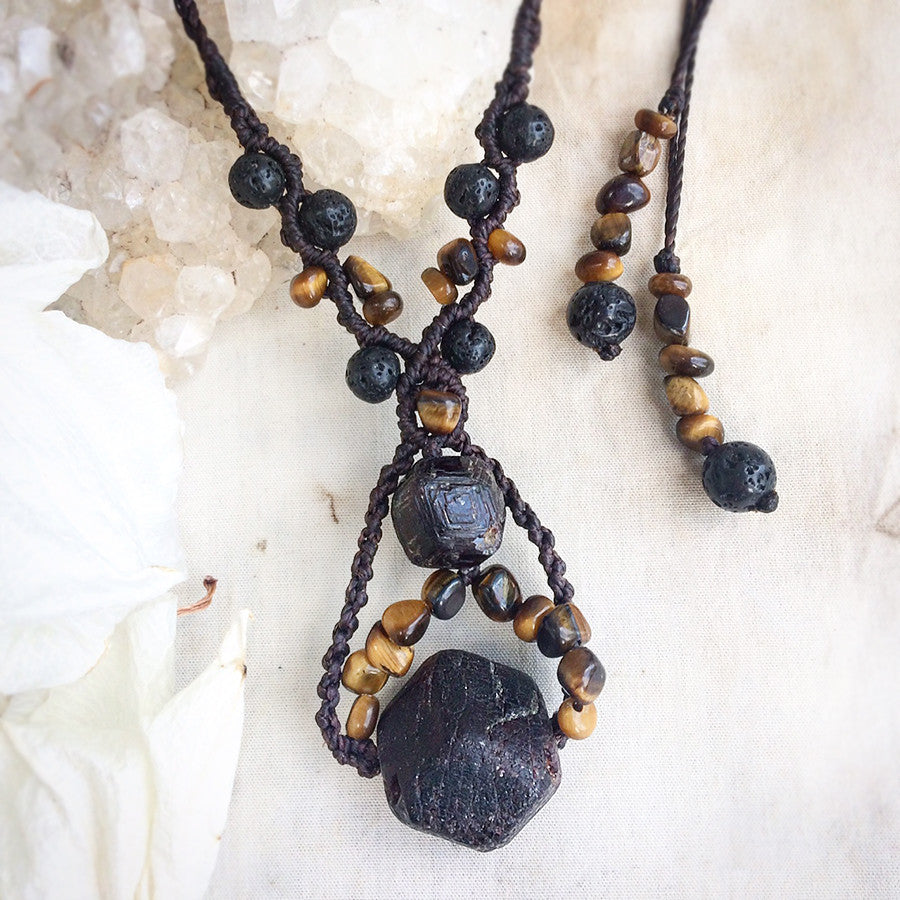 Crystal healing amulet with Almandine Garnet, Tiger Eye & Lava Stone
DESCRIPTION
Crystal healing amulet combining the energies of Almandine Garnet, Tiger Eye and Lava Stone. This energising combination is knotted with dark brown micro-macrame cord, very strong and durable, yet soft and comfortable to wear.
The length of the necklace is adjustable from very short down to just above solar plexus level. The combined height of the crystal pendant from the top of the smaller Almandine Garnet to the base of the larger one is approx. 4.5 cm (1.8") and the larger Almandine Garnet is approx. 2 cm (0.8") wide.

There are no metals in this necklace so would be particularly suitable for those with metal sensitivities, energy workers and those who simply prefer not to wear metal.

You'll receive this crystal healing necklace in one of my fabric draw-string pouches, great for the safe-keeping of the necklace. Gift-wrapped at no extra charge.

Read here how to take care of your crystal jewellery.
CRYSTAL PROPERTIES
ALMANDINE GARNET
Stimulates one's life force. Opens the root chakra while drawing earth energy into the body, helping you to feel secure and centred. Awakens the "inner fire" of creativity. Highly protective stone and a great companion to keep you energised. Excellent good fortune and 'success' stone in both social and career ventures, adding positive vibes both in your personal or business life. Stone of purification and cleansing. Symbolises passionate, devoted love.
TIGER EYE
Helpful stone for learning to feel connected to one's personal strength. Excellent stone for attracting prosperity. But it has also a highly spiritual energy and is useful in understanding any life cycle that one is living through. Helps in seeing through illusions and discerning the truth in any situation. A highly protective stone. Good for strengthening the solar plexus (3rd) chakra and developing one's will power.
LAVA STONE
Stone of vitality, assertiveness and passion. Provides stability in times of change. Grounding and protective. Supports courage and decisiveness. Helps in finding one's 'life path'. Encourages personal development and growth.
Recently Viewed