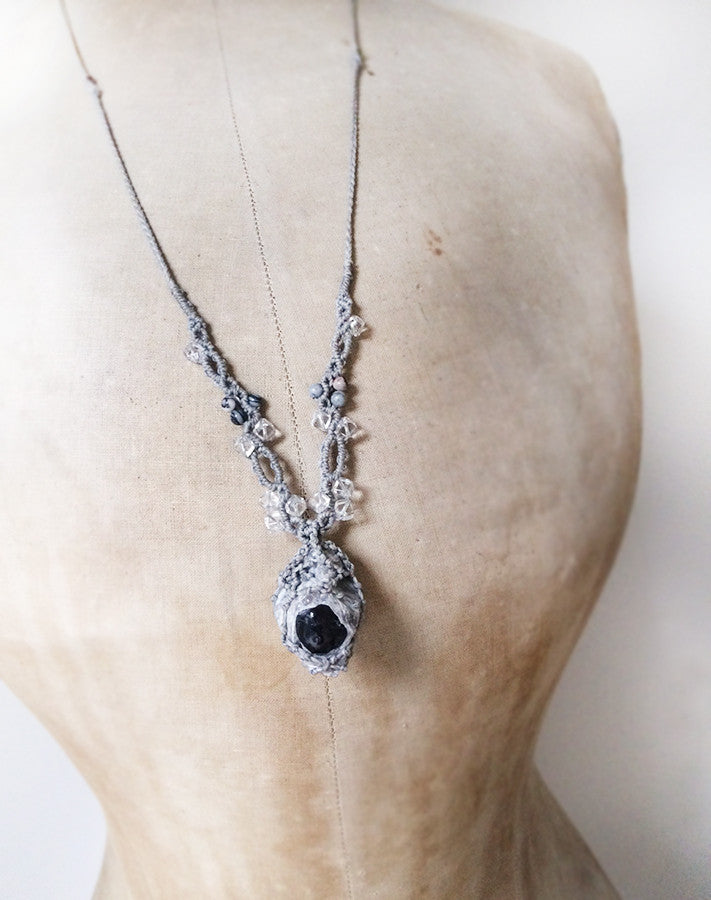 Crystal healing amulet with Apache Tear Obsidian in matrix
DESCRIPTION
Crystal healing necklace Apache Tear, unusually still embedded in its matrix stone. The necklace is intricately knotted with light grey micro-macrame cord, highlighted with Black Line Jasper and clear Quartz. The ends of the adjustable necklace cords are also decorated with Quartz and Black Line Jasper.
The length of the necklace is adjustable down to solar plexus level. This necklace would suit best worn at quite a low level (long cord adjustment, shown in the photo) due to the thickness of the stone being nearly an inch (2.5 cm). The un-drilled Apache tear pebble is approx. 3.5 cm (1.4") tall. 
There are no metals in this necklace so would be particularly suitable for those with metal sensitivities, energy workers and those who simply prefer not to wear metal.
You'll receive this crystal healing necklace in one of my fabric draw-string pouches, great for the safe-keeping of the necklace. Gift-wrapped at no extra charge.
Read here about how to take care of your natural crystal jewellery.
CRYSTAL PROPERTIES
APACHE TEAR
Known for easing the stronghold of deeply felt sorrow. Beneficial for healing grief that may be carried in one's energy structure through life times and soul's ancestral connections. Companion crystal for finding light within darkness, accessing purely felt emotions and journeying through them to a sense of optimism. Connecting to Higher Guidance within to bring in new strength and comforting balance.
CLEAR QUARTZ
The universal master crystal that has a harmonising effect on all levels of being. Programmable by intention, so can be used for versatile purposes. Quartz can clear, enhance, amplify, transmute, balance, focus and transmit energy. Raises one's energetic vibration. Brings clarity and filters out distractions. A deep soul cleanser, attuning its keeper to their higher self. Each Quartz crystal is unique with its own character and teachings it offers, all are known as "Stones of Power" and "Master Healers".
BLACK LINE JASPER
Protective stone that's said to balance one's yin and yang energies. Grounding for one's kundalini channel. Instils a sense of wellness. Offers insight into one's life path and its purpose.
Recently Viewed