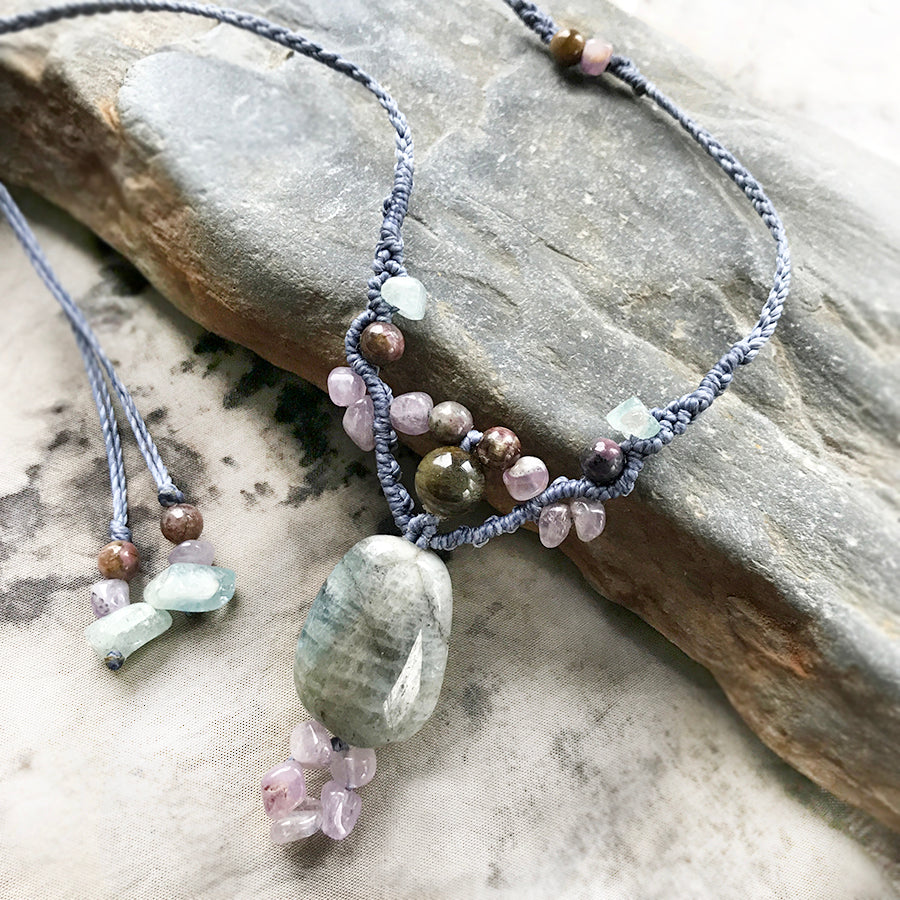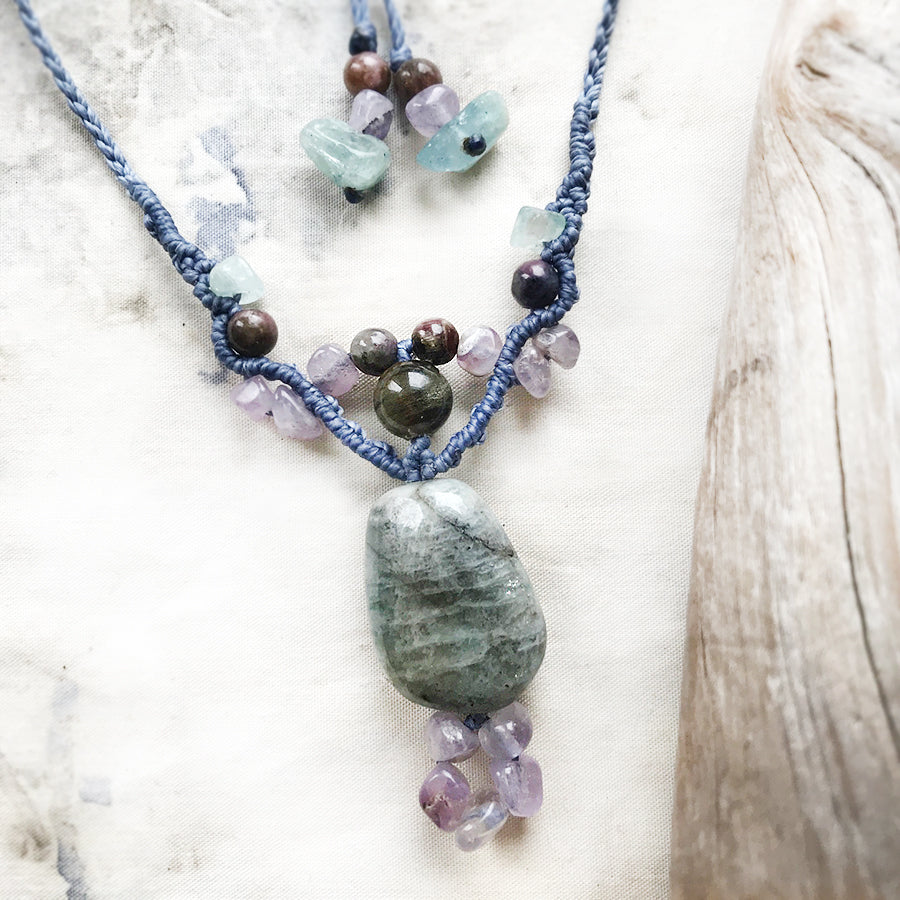 Crystal healing amulet with Aquamarine, Amethyst & Tourmaline
DESCRIPTION
Gentle crystal healing necklace combining the energies of Aquamarine, Amethyst and Tourmaline. The main stone, Aquamarine, shows wonderful natural patterning, resembling the flow of water. The necklace is braided with muted blue micro-macrame cord, with the ends of the adjustable necklace cords decorated with the same combination of crystals.
The length of the necklace is adjustable from very short down to just above solar plexus level. The crystal pendant is just over 3.5 cm (1.4") tall, measured from the top of the main Aquamarine to the base of the Amethyst floret.
There are no metals in this necklace so would be particularly suitable for those with metal sensitivities, energy workers and those who simply prefer not to wear metal.
You'll receive this crystal healing necklace in one of my fabric draw-string pouches, great for the safe-keeping of the necklace. Gift-wrapped at no extra charge.

Read here how to take care of your crystal jewellery.
CRYSTAL PROPERTIES
AQUAMARINE
Connected with the throat chakra, easing verbal self-expression. Helps you communicate your own truth and find your voice. Helps in looking at emotional situations from other perspectives, assists in opening up intuition and to calmly be in the flow of life. Aquamarine also aids in reaching deep meditative states. Resonates with the energy of the ocean. Stone of courage and protection.
AMETHYST
Instils inner peace, promotes self-discovery and aids in relaxation. Associated with the crown chakra, known as a "stone of balance" and positive transformation. Thought to increase spiritual awareness and psychic abilities, initiating higher knowing and greater understanding. Helps in assimilating new ideas and manifesting thoughts into action. Symbolises a connection to the Divine. A well-known support stone for those wanting to break old patterns to create a new, harmonious life.
TOURMALINE
Stone of abundance, protection and healing. Aids understanding oneself and others. Soothing and supportive. Reduces fears and promotes self-confidence. Removes energetic blockages, balancing the male/female energy within the body.
Recently Viewed