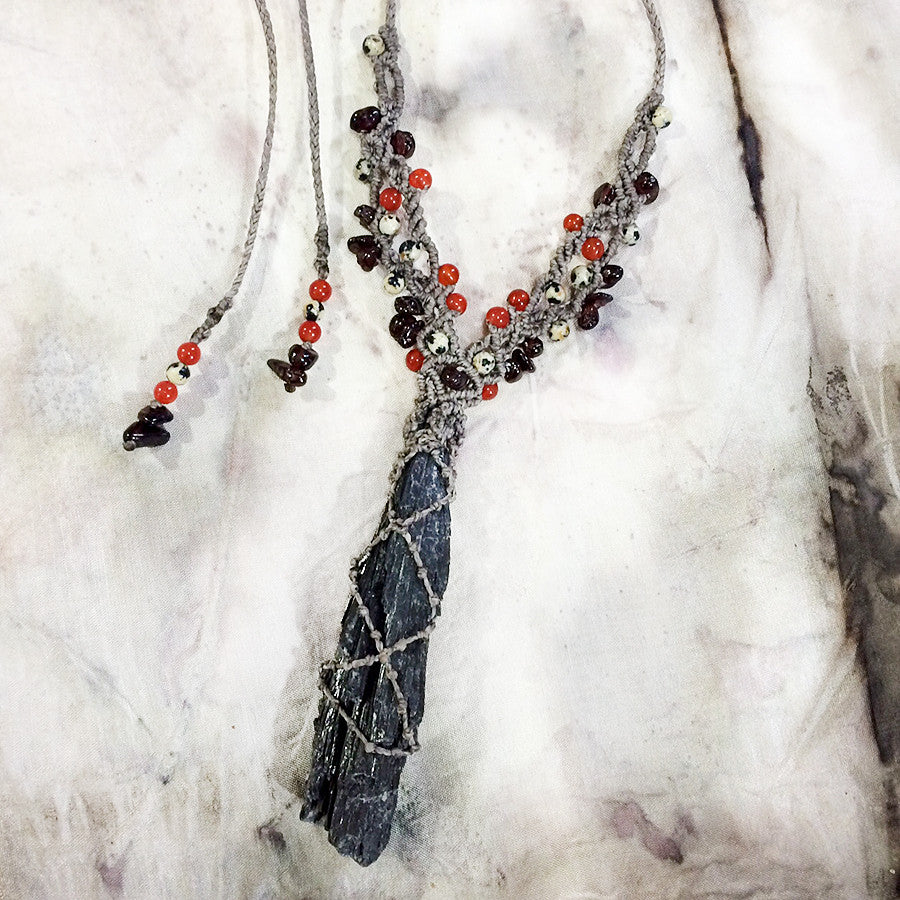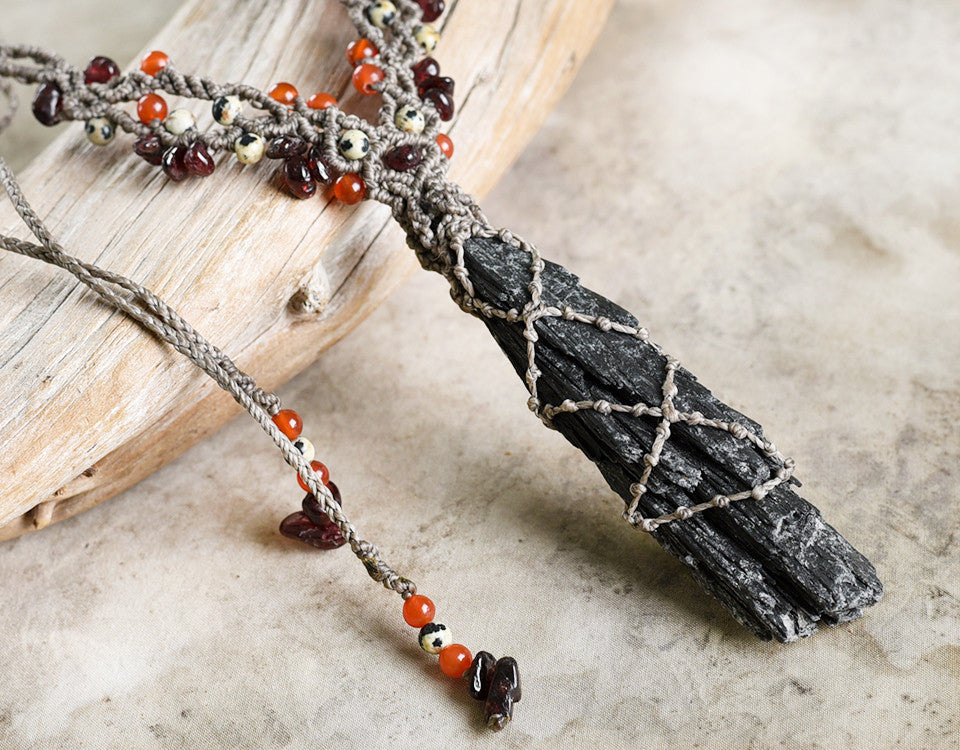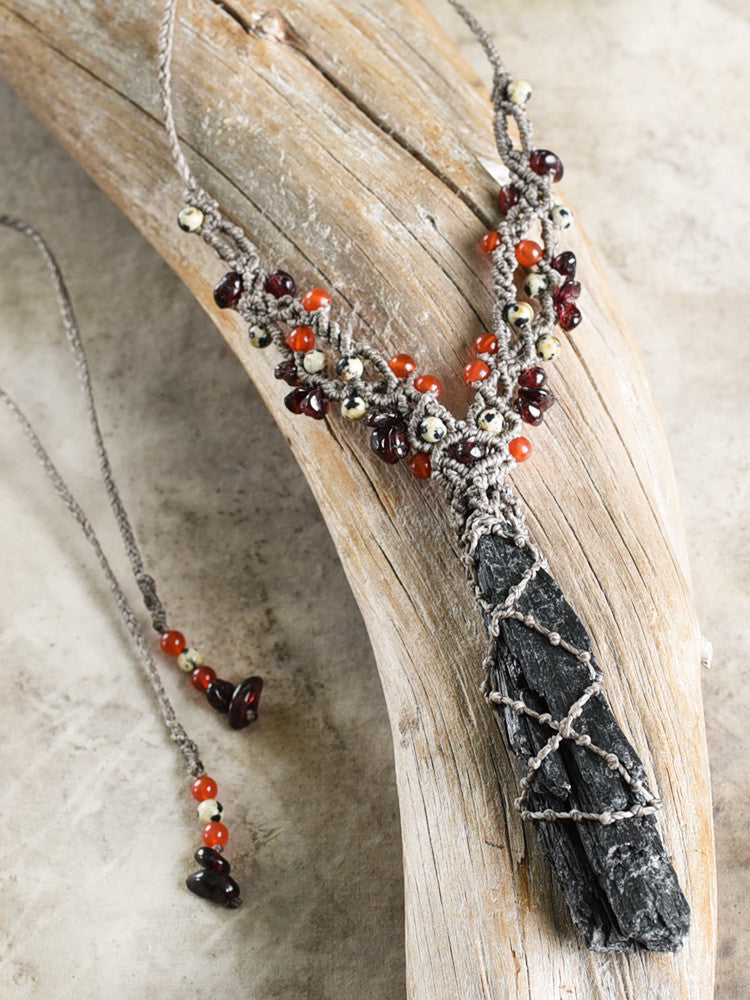 Black Kyanite crystal healing amulet with Almandine Garnet, Carnelian & Dalmatian Jasper
DESCRIPTION
Crystal healing necklace with a long and slender Black Kyanite, showing the characteristic 'wing' / 'fan' shape of this stone. The necklace is intricately knotted with grey micro-macrame cord, highlighted with Almandine Garnet, Carnelian and Dalmatian Jasper. 
The length of the necklace is adjustable from very short down to solar plexus level. The Black Kyanite is 8.5 cm (3.3") tall and just over 2 cm (0.8") wide in the middle. [Please note that Black Kyanite is a relatively fragile stone and if it accidentally hits a hard surface, it may chip.]
There are no metals in this necklace so would be particularly suitable for those with metal sensitivities, energy workers and those who simply prefer not to wear metal.
You'll receive this crystal healing necklace in one of my fabric draw-string pouches, great for the safe-keeping of the necklace. Gift-wrapped at no extra charge.
Please note that Black Kyanite by its natural structure is not as hard as many other stones. Take care when wearing so you don't accidentally knock it against hard surfaces which might cause it to chip. However, Kyanite's energy is not affected if a chip crumbles off from the main body of the crystal.
CRYSTAL PROPERTIES
BLACK KYANITE
Cleanses one's energy field, aligning subtle bodies into harmony. High vibrational grounding crystal, with strong protective qualities. Good for shielding one's personal energetic space. Repairs the aura by healing holes and tears. Removes attachments from the auric field. Stimulates intuition, insights and inner visions. Excellent tool for energy workers.
CARNELIAN
Known as a stone of motivation and courage. Stimulates creativity and increases one's sense of self-worth. Balancing for body's energy levels, restoring vitality and motivation. Said to attract prosperity, new resources and good luck. A success stone that helps you follow through with plans. Stone of action that aids in overcoming procrastination. Helps in gaining more understanding of one's inner self. Stimulating to the Sacral Chakra, which, when in balance, allows one to enjoy life, feel its joys and pleasures, be flexible and 'go with the flow'.
DALMATIAN JASPER
Helps in removing barriers that prevent you from moving forward in life, and to discover your true purpose of being in the world. Brings joy and playfulness into one's life. The black spots in this stone are Black Tourmaline, which adds to this stone's protective qualities.
ALMANDINE GARNET
Stimulates one's life force. Opens the root chakra while drawing earth energy into the body, helping you to feel secure and centred. Awakens the "inner fire" of creativity. Highly protective stone and a great companion to keep you energised. Excellent good fortune and 'success' stone in both social and career ventures, adding positive vibes both in your personal or business life. Stone of purification and cleansing. Symbolises passionate, devoted love.
Recently Viewed