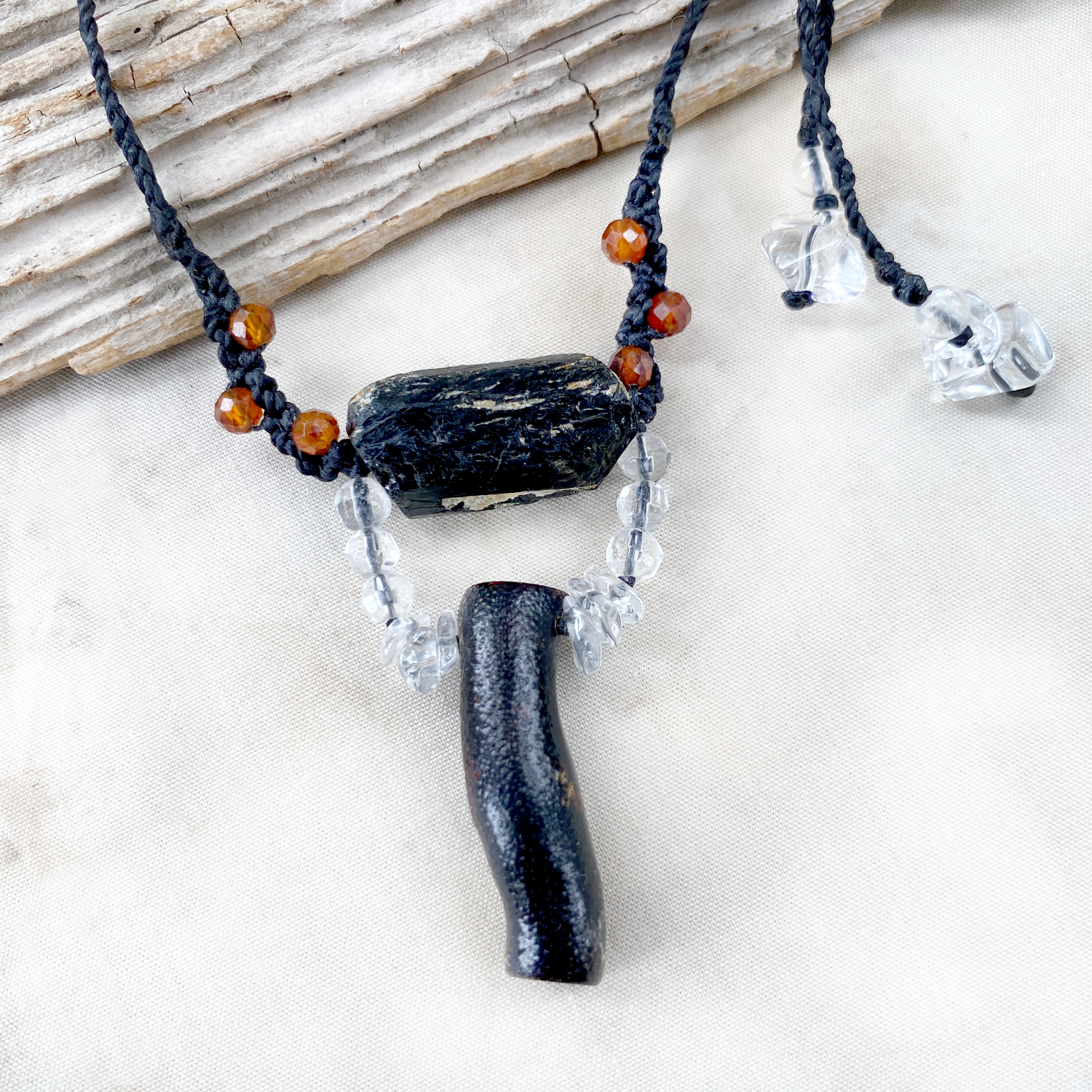 Crystal healing amulet with Black Tourmaline & Black Coral
DESCRIPTION
Protective amulet necklace combining the energies of Black Tourmaline, Black Coral, Spessartine Garnet & clear Quartz. The necklace is knotted with black micro-macrame cord, with the ends of the adjustable necklace cords decorated with matching crystals. This brings the crystal energy also for the chakras at the back, which is beneficial especially for energy shielding purposes.
The length of the necklace is adjustable from very short down to just above solar plexus level. The whole crystal pendant is just over 4.5 cm (1.8") tall, measured from the top edge of the Black Tourmaline to the base of the Black Coral. The Black Coral is approx. 3 cm (1.2") tall and the width of the Black Tourmaline is just over 2 cm (0.8").
There are no metals in this necklace so would be particularly suitable for those with metal sensitivities, energy workers and those who simply prefer not to wear metal.
You'll receive this crystal healing necklace in one of Spirit Carrier's fabric draw-string pouches, great for the safe-keeping of the necklace. Gift-wrapped at no extra charge.

Read here how to take care of your crystal jewellery.
CRYSTAL PROPERTIES
BLACK TOURMALINE (aka Schorl)
One of the most well-known protective stones, shielding its user from negativity. A shamanic stone used for grounding during vision quests. Empowering for those who work in challenging environments. Purifies and transforms denser energies into lighter vibrations and is also detoxifying for the body. If you're sensitive to electromagnetic smog, you may get relief by wearing black Tourmaline.
BLACK CORAL
Generates serenity and peace while absorbing negative energy. Excellent for psychic protection and for guarding one's personal space. Inspires creativity and enhances the flow of creative ideas. Associated with the third chakra, the 'seat of the soul', guarding one's personal power and strength from outside influences. Digs deep to heal hidden emotions that might hold you back in life. Energetically cleansing, and said to help in detoxing the body.
SPESSARTINE GARNET
Elevates mood and allows experiences of 'emotional sunshine' into one's life, thus making life more fulfilling. Helps in overcoming the fear of new experiences, encouraging you to live more spontaneously. Balances and vitalises the sacral chakra, supporting creative pursuits and intuition.
CLEAR QUARTZ
The universal master crystal that has a harmonising effect on all levels of being. Easily activated by intention, so can be used for versatile purposes. Quartz can clear, enhance, amplify, transmute, balance, focus and transmit energy. Raises one's energetic vibration. Brings clarity and filters out distractions. A deep soul cleanser, attuning its keeper to their higher self. Each Quartz crystal is unique with its own character and teachings it offers, all are known as "Stones of Power" and "Master Healers".
Recently Viewed