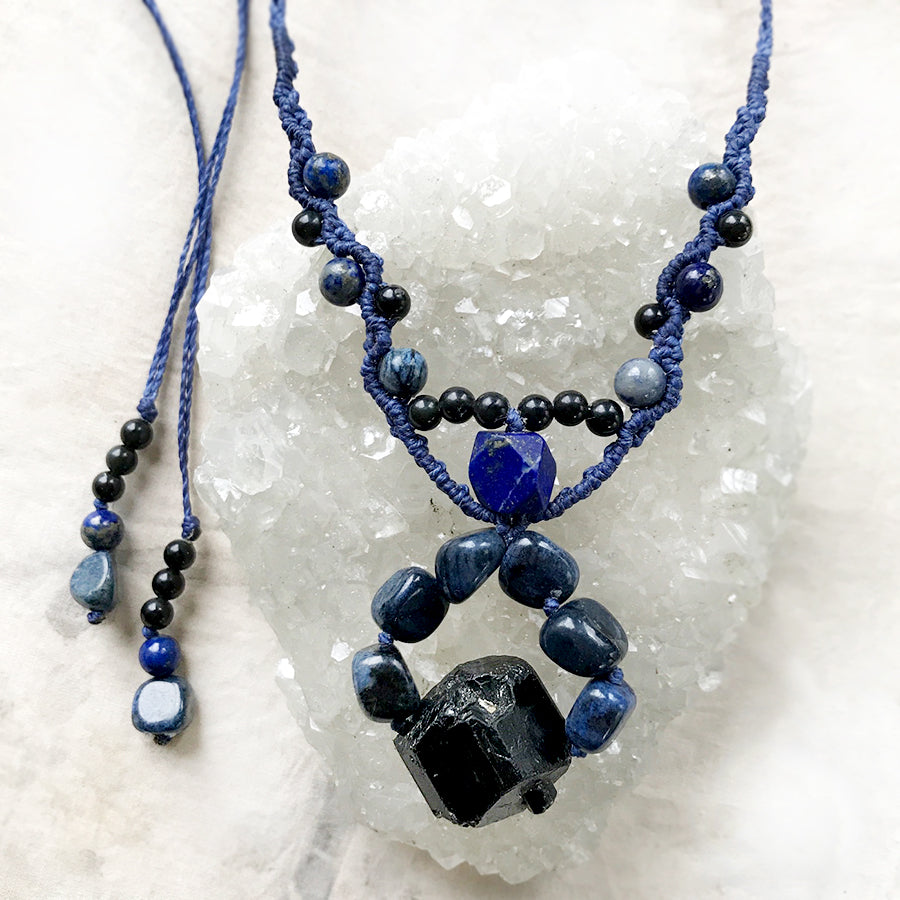 Crystal healing amulet with Black Tourmaline, Lapis Lazuli, Dumortierite & Golden Sheen Obsidian
DESCRIPTION
Crystal healing amulet combining the energies of Black Tourmaline, Lapis Lazuli, Dumortierite and Golden Sheen Obsidian. The necklace is minimally knotted in blue micro-macrame cord, very strong and durable, yet soft and comfortable to wear.
The length of the necklace is adjustable from very short down to solar plexus level. The crystal circle is just over 3.5 cm (1.4") in diameter and the raw Black Tourmaline is approx. 2 cm (0.8") in its longest dimension.

There are no metals in this necklace so would be particularly suitable for those with metal sensitivities / metal allergy, energy workers and those who simply prefer not to wear metal jewellery.

You'll receive this crystal healing necklace in one of my fabric draw-string pouches, great for the safe-keeping of the necklace. Gift-wrapped at no extra charge.

Read here how to take care of your crystal jewellery.
CRYSTAL PROPERTIES
BLACK TOURMALINE
One of the most well-known protective stones, shielding its user from negativity. A shamanic stone used for grounding during vision quests. Empowering for those who work in challenging environments. Purifies and transforms denser energies into lighter vibrations and is also detoxifying for the body. If you're sensitive to electromagnetic smog, you may get relief by wearing black Tourmaline.
DUMORTIERITE 
Stone of support and inner harmony. Offers soothing vibrations that encourage patience with the natural order of the Universe. Aids one's mental capabilities in overcoming tough situations. Regulates the third eye chakra. Acts as a protective shield against fear. Stabilising for relationships, also said to attract a soulmate.
LAPIS LAZULI
Creativity super charger stone. Ignites new ideas and encourages different creative ways of thinking. Stone of truthfulness, openness, inner power, intuition and manifestation. Thought to increase self-confidence as well as to promote spiritual healing, mental calmness and strength of will. Powerful tool for dream work. Historically a stone of royalty.
GOLDEN SHEEN OBSIDIAN
Protective stone that helps one achieve harmony and solve problems relating to past, present and future. Helps in settling inner emotional conflicts and keeps one from entering into outer conflicts so one is free to follow one's spiritual path. Shielding stone that encourages one to stay positive. Transmuting stone to keep negativity at bay. Said to open a window to one's soul and brings out any hidden talents one may have.
Recently Viewed