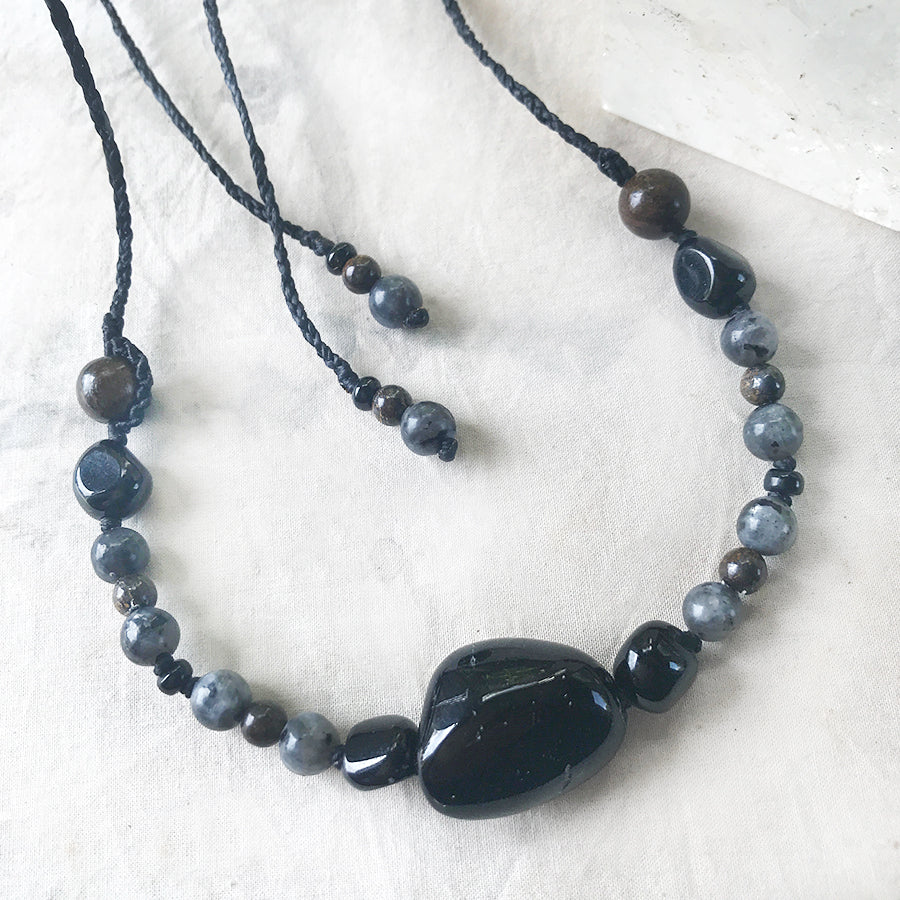 Crystal healing amulet with Black Tourmaline, Norwegian Moonstone & Bronzite
DESCRIPTION
Crystal healing amulet with Black Tourmaline, Norwegian Moonstone and Bronzite. The necklace is beaded with smooth stones, and minimally braided with intricately thin black micro-macrame cord, very strong and durable, yet soft and comfortable to wear. This would make a perfect crystal energy companion for those who prefer a more minimalistic style or who need to wear more understated jewellery for example in some work environments.
The length of the necklace is fully adjustable from as short as you wish to approx. 52 cm (20.5) all around length. The central Black Tourmaline is approx. 2 cm (0.8") wide and the beaded part extends approx. 6.5 cm (2.6") on both sides.
There are no metals in this necklace so would be particularly suitable for those with metal sensitivities, energy workers and those who simply prefer not to wear metal.
You'll receive this crystal healing necklace in one of my fabric draw-string pouches, great for the safe-keeping of the necklace. Gift-wrapped at no extra charge.

Read here how to take care of your crystal jewellery.
CRYSTAL PROPERTIES
BLACK TOURMALINE
One of the most well-known protective stones, shielding its user from negativity. A shamanic stone used for grounding during vision quests. Empowering for those who work in challenging environments. Purifies and transforms denser energies into lighter vibrations and is also detoxifying for the body. If you're sensitive to electromagnetic smog, you may get relief by wearing black Tourmaline.
NORWEGIAN MOONSTONE (aka Black Labradorite, Larvikite)
Repels negative energy and can make you more adaptable to life's situations. It also stimulates inner visions so it's very suited to meditation. Black Labradorite is also said to connect with nature spirits. On physical level, it is said to be good for renewing and maintaining vitality and youthfulness.
BRONZITE
Encourages loving, non-judgemental mindset. Helps in gaining certainty about one's decisions and the right course of action. Bronzite is said to bring harmony into discordant situations, protective when the wearer might feel a lack of control. Instils a feeling of calmness when having "many irons in the fire". A stone of focused action. Grounds you into the knowing that "All Is Well".
Recently Viewed