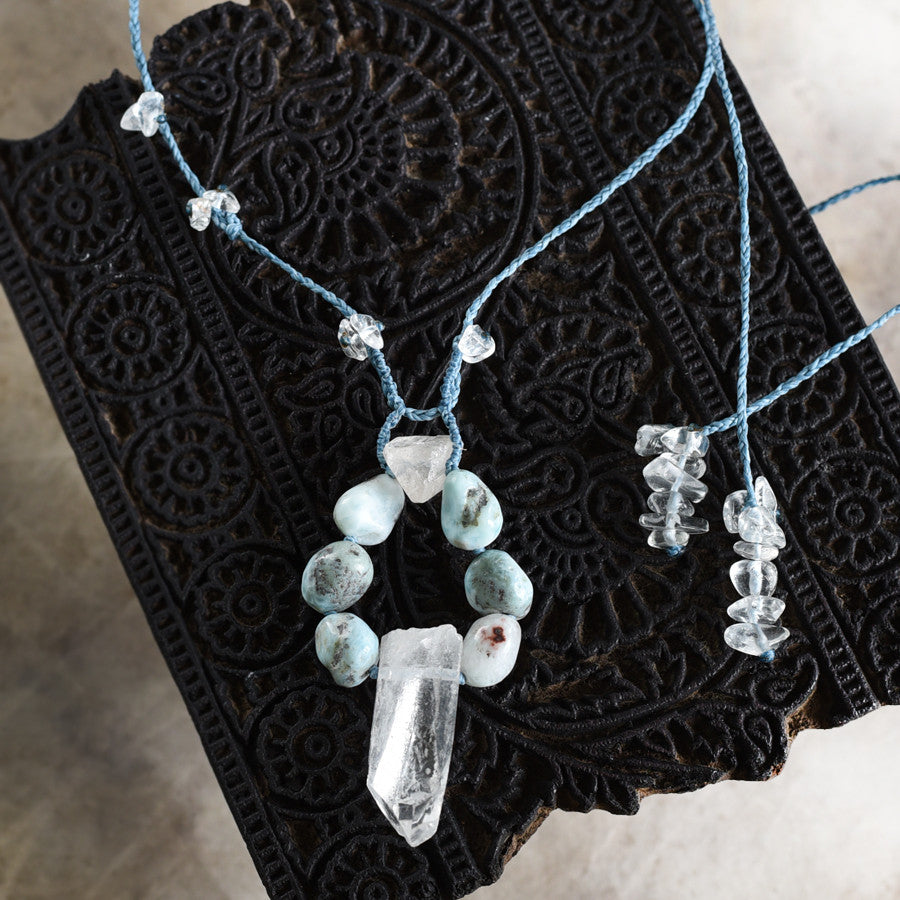 'Ocean Wisdom' ~ crystal healing amulet with clear Quartz point, Larimar & Topaz
DESCRIPTION
Crystal healing amulet with clear Quartz point, Larimar and Topaz. The necklace is minimally braided with intricately thin, sky blue micro-macrame cord, very strong and durable, yet soft and comfortable to wear. Both sides of the necklace braid are asymmetrically adorned with small clear Quartz crystal details.
The length of the necklace is fully adjustable from as short as you wish down to solar plexus level. The Quartz point is just under 3.5 cm (1.4") tall and the crystal pendant combination from the top edge of the Topaz down to the tip of the Quartz point is approx. 6.5 cm (2.55").
There are no metals in this necklace so would be particularly suitable for those with metal sensitivities, energy workers and those who simply prefer not to wear metal.
You'll receive this crystal healing necklace in one of my fabric draw-string pouches, great for the safe-keeping of the necklace. Gift-wrapped at no extra charge.
CRYSTAL PROPERTIES
CLEAR QUARTZ
The universal master crystal that has a harmonising effect on all levels of being. Programmable by intention, so can be used for versatile purposes. Quartz can clear, enhance, amplify, transmute, balance, focus and transmit energy. Raises one's energetic vibration. Brings clarity and filters out distractions. A deep soul cleanser, attuning its keeper to their higher self. Each Quartz crystal is unique with its own character and teachings it offers, all are known as "Stones of Power" and "Master Healers".
LARIMAR
A relatively rare stone, only found in the Dominican Republic. In crystal lore it is associated with the ancient civilization on Lemuria, and also sometimes called a "Dolphin Stone". Larimar is soothing and uplifting, bringing tranquility into heart and mind. It is said to support self-expression, creativity and patience.
TOPAZ
Stone of success and good fortune. Aligns and recharges body's meridians. In ancient legends, Topaz was said to make its wearer invisible if needed at times of emergency. Clear Topaz aids in spiritual development and in clarifying one's life purpose. With the strong magnification energy of Topaz, you may reach your heart's goals and desired manifestations faster. Increases energy and vitality. Increases cosmic awareness by activating the crown and the soul star chakras.
Recently Viewed